Tired of repeated injections? Consider ArteFill®, the permanent filler.
ArteFill® is the first FDA-approved permanent injectible dermal filler approved by the FDA for use in the United States. Treatment results with ArteFill® provide the longest lasting wrinkle correction available without surgery. ArteFill® is a unique combination of purified bovine collagen gel, tiny synthetic beads (polymethymethacrylate) and lidocaine (anesthetic agent).
Who is a Candidate for ArteFill®?
Anyone who wishes very long term or permanent correction or reduction of deep smile lines (naso-labial folds) may be a candidate for ArteFill®.
Anyone who has used injectable collagen, Restylane®, Juvéderm®, or similar fillers in the past, may be a candidate for ArteFill®.
Anyone who is not allergic to bovine collagen may be a candidate for ArteFill®.

Artefill before & after photos courtesy of Suneva Medical

Artefill before & after photos courtesy of Suneva Medical
How much does ArteFill cost in San Diego?
At La Jolla Cosmetic Surgery Centre, we price Artefill by the syringe at $875 for an 0.8cc syringe.* Be sure to check our specials page for current promotions and rebates for Artefill and other fillers. Learn more about our injectables fees. *Current pricing as of March 2014. These prices are subject to change. 
How ArteFill® Works
ArteFill® contains very tiny round smooth non-resorbable particles of polymehtymethacrylate (PMMA) that are carried in purified bovine collagen gel. Following injection, ArteFill® visibly corrects or improves the wrinkle. The microspheres, which do not disappear, provide support for the long term wrinkle correction.
The intended result is to smooth out your nasolabial folds and give you a more youthful look.
Procedure Description for ArteFill®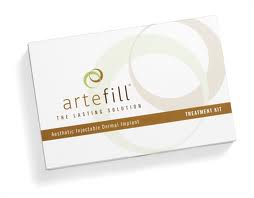 ArteFill® will require a skin test 28 days prior to treatment. If your test is negative, you may begin treatment immediately.
ArteFill® contains lidocaine to minimize post-treatment tenderness. The needle used for ArteFill® is very fine to minimize the pain with injection. An injection of numbing medicine (Lidocaine) or a topical numbing cream may be used, if you desire.
Because ArteFill® is not reabsorbed by your body, it should be injected in stages by an ArteFill®-trained physician over a period of several weeks to months. The injections are done under the surface of your skin. ArteFill® fills the gaps, raising the skin to its normal height. Over time (2 to 3 months), your body will permanently anchor ArteFill® for a long lasting effect. It takes about 3 months for the full effect to be seen.
The procedure is done in our doctor's office and takes only a few minutes.
Recovery following ArteFill Treatment
As with any injectable wrinkle filler, local swelling or redness may occur immediately following treatment and they are temporary.
ArteFill® actually had fewer severe complications during U.S. clinical trials than injectable collagen. Rare problems may be persistent that include lumpiness or granulomas. These conditions are easily treated by your physician. More details will be given at consultation.
Hear what actual patients say about Artefill's long lasting, natural solution for wrinkle correction:
Other Wrinkle Treatment Options
Many people choose to live with their wrinkles. Short term correction with Restylane®, Juvéderm®, your own fat, or other similar products is available. There are also soft implants that can be used to treat the nasolabial folds.
For more information about ArteFill®, please call La Jolla Cosmetic Surgery Centre at (858) 452-1981 or use our online contact form.