Breast Reduction Surgery at LJCSC
You may be a candidate for a breast reduction surgery if you have large, heavy breasts that cause of breathing difficulties, back, shoulder and neck pain, poor posture, bra-strap indentations, and chafing under the breasts. This procedure may also help if you have excessive breast size, which can sometimes lead to a lack of self-confidence. If large breasts interfere with normal daily activities or with exercise, a breast reduction may be the answer for you.
The intended result of a breast reduction surgery is a more attractive contour, a smaller breast size, and an improved self-image. Freedom from heath problems associated with excessively large breasts will be accomplished through this procedure.
How much does breast reduction surgery cost in San Diego?
The price of breast reduction at our San Diego plastic surgery office ranges from $9,500–$11,500. Be sure to check into cosmetic surgery financing for additional payment options.
The Breast Reduction Procedure
Breast reduction surgery is done under general anesthesia on an outpatient basis or in the hospital. The incisions are usually made around the pigmented area (the nipple-areolar complex) and extend vertically below the nipple and along the fold under the breast. The nipple-areolar complex is moved upward to the desired location and excess breast tissue, fat, and skin are removed.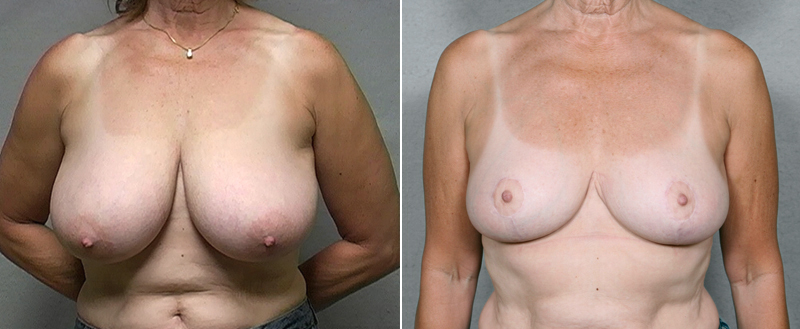 Learn more
Please call La Jolla Cosmetic Surgery Centre in San Diego at (858) 452-1981 for more information on our cosmetic surgery procedures, including Breast Lift surgery.
Note
The specific risks and the suitability of breast reduction surgery for a given individual can be determined only at the time of consultation. All surgical procedures have some degree of risk. Minor complications that do not affect the outcome occur occasionally. Major complications are rare. The information on this web site is not a substitute for a consultation. Call us at (858) 452-1981 or contact us online to schedule your complimentary personal consultation with one of our San Diego plastic surgeons.