Our Story
Through the years, La Jolla Cosmetic Surgery Centre gained national and international recognition both as a leading cosmetic surgery center and for our innovative approach to patient education and informed consent.
Yet once upon a time, specialized cosmetic surgery centers and better patient communication materials were simply a concept in the mind of our founder, R. Merrel Olesen, MD—as our story below goes on to explain.
The Birth of a Specialized Cosmetic Surgery Center
As you can see today, La Jolla Cosmetic Surgery Centre (LJCSC) is highly-respected practice in San Diego, California.
Our education and informed consent materials have been disseminated and translated into five languages, while our patient care and communication systems are used by more than 1200 plastic surgeons across the globe.
But twenty years ago, a center for cosmetic surgery was a rather unusual idea. Most people thought cosmetic surgery was for the "rich and famous." It was far from mainstream—to say the least.
During this time our founder, Dr. Olesen, was actually Head of the Division of Plastic Surgery at Scripps Clinic in La Jolla, CA.
It was in this traditional multi-specialty setting that Dr. Olesen realized his cosmetic surgery patients had very different needs than the typical medical patient. Unlike medical patients who were driven by disease, deformity or trauma, his cosmetic patients were driven by emotional concerns as well as physical complaints.
Specifically, Dr. Olesen wanted things for his patients that were not possible in a large multi-specialty setting.
He believed that the best care for cosmetic surgery patients involved a specialized and highly skilled team of professionals—including registered nurses, well-trained administrative staff, and medical photographers.
As he thought about creating such a practice, Dr. Olesen knew he would need more staff and an extremely competitive pay scale to attract the best and brightest minds in the medical field.
He also wanted his facility to be in a comfortable, private and home-like setting—as opposed to the clinical hospital setting in which he cared for his patients. He desired to provide a higher degree of privacy than was possible in a large clinic.
In getting started, Dr. Olesen first went to the hierarchy at the Clinic and shared his vision.
Specifically, he asked for a more private location for cosmetic patients. He also wanted a higher nurse-to-patient ratio and private settings for fee quoting and post-surgical care. He then asked the Clinic to let its 250,000 patients know that Scripps Clinic plastic surgeons were offering cosmetic surgery at this new location.
Dr. Olesen's Unique Idea of a "Cosmetic Surgery Center" Becomes Reality
Dr. Olesen's dream of a specialized cosmetic surgery center finally became reality in 1988 when LJCSC opened its doors on Prospect Street in La Jolla. Patients loved the beautiful ambiance and responded positively our unique team approach.
Patients were equally impressed with our Medicare-certified operating room and use of board certified MD anesthesiologists—which we insisted upon long before operating suite certification was required under law.
Dr. Olesen also found a turn of the century sign that embodied his beliefs (which still hangs in the practice today as a reminder of our values):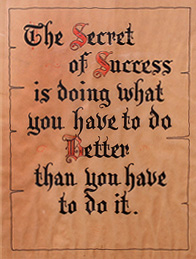 Involving Our Patients for True Success
Now with patient care, safety, and environmental issues in place, Dr. Olesen and his wife Marie Olesen (a healthcare administrator) made another unusual decision. They decided to survey their patients and ask them how to make LJCSC even better than before.
This was such a rare concept that Marie Olesen was unable to find patient satisfaction surveys to give out at the practice!
So in the spirit of true entrepreneurship, she adapted hotel surveys and created her own. And not surprisingly, her surveys are still in use twenty years later.
Surprising Responses in LJCSC Patient Satisfaction Surveys
Early responses to Marie's survey showed that while LJCSC patients were very happy with their surgical outcomes, they were less positive about their overall surgical experience.
Specifically, patients wanted more communication and education.
One patient expressed her desire to become a "partner" in the cosmetic surgery process. Another patient said she "felt like she was in a tunnel" because she didn't know what to expect with the evolving process of having—and recovering from cosmetic surgery.
Now mind you, these were pre-Internet days when patients had very little access to medical information should their doctor not explicitly provide it.
Yet based on the answers obtained in their surveys, Dr. Olesen (assisted by Lori H. Saltz, M.D.) spent the next two years writing comprehensive informed consent and medical education materials to meet the unanswered needs of our clients.
Marie Olesen also added educational materials to help patients prepare for surgery and understand recovery. She gathered all the materials which patients received and made them more coherent and cohesive.
Upon completion of the project, LJCSC began giving patients our personalized pre-operative booklets (which some jokingly referred to as their surgery "bible") and patient satisfaction soared.
Meanwhile, Marie continued on her quest in developing proactive patient care and communication systems to further client satisfaction. She began a process of listening to patients that continues to this day.
And to everyone's surprise, client loyalty and advocacy doubled as patients experienced our higher levels of communication and education. Word about the "books" also spread rapidly among patients—and soon to other local surgeons.
Through Technology, LJCSC Delivers Medical Information to the Masses
While our patients were undoubtedly thrilled with our steps to provide better information, the Olesens were still not satisfied. Soon, they were receiving requests from other surgeons that wanted to provide similar materials to their patients. This was all part of an age-old tradition that called for the sharing of advances and techniques within the medical field.
Accordingly, they decided to create a system that could be easily reproduced by other practices that also wanted to adopt LJCSC's approach to patient care and communication.
In 1994 then, Dr. and Mrs. Olesen released their first software program—INFORM&CONSENT®—to meet this need. Fifty plastic surgeons from all over the country were among the program's first users.
The INFORM&CONSENT® application enabled these other practices to offer personalized cosmetic surgery booklets to their patients—which would ultimately help with the overall surgical experience.
Interestingly enough, the positive response to this initial software application lead to the development of a second program—INFORM&ENHANCE®—the following year.
Adding to the building blocks of INFORM&CONSENT®, this new program featured the communication systems and practice performance metrics that Marie Olesen developed originally to measure patient satisfaction and pinpoint patient service issues at LJCSC.
It also included LJCSC's patient satisfaction surveys, prescriptions, and office forms as additional resources.
Consulting and Training Become a Permanent Fixture in LJCSC History
Over the next few years, hundreds of plastic surgery practices would go on to embrace our groundbreaking software programs. LJCSC began to host meetings and became a training center for plastic surgeons and their patient care teams.
Plastic surgeons and their staff would literally fly in from around the country and across the globe to learn LJCSC's systems and cutting-edge approach to cosmetic patient care and communication.
And as the number of practices using our software increased, consulting opportunities, speaking engagements and teaching opportunities grew. Clearly, other practices were hungry to implement the techniques and systems that had been so successful at LJCSC.
Moreover, Marie Olesen became a leading consultant to plastic surgery practices and a nationally known speaker and teacher on patient care systems and cosmetic surgery practice management. Dr. Olesen and other members of the LJCSC team also began to speak and teach nationally on similar subjects.
We Wrote the Book on Cosmetic Surgery
In 2003, Wiley Publishing decided to publish, Cosmetic Surgery For Dummies. Because of their leadership in the cosmetic surgery industry, Dr. and Mrs. Olesen were asked to write the book. They immediately turned to the other physicians at LJCSC to create a truly customer-focused guidebook for people wanting to learn more about the various procedures available as well as how to be a savvy shopper and ask the right questions.
Marie Olesen, our CEO and a consumer advocate, explains, "Shopping for cosmetic surgery is extremly complex and consumers need help understanding the issues that increase their safety and are more likely to help them have a positive outcome. We loved the casual For Dummies style and hoped it would reduce some anxiety for prospective patients."
Past President of the San Diego Plastic Surgery Society and LJCSC plastic surgeon Dr. Johan Brahme continues to champion patient education and safety. "There are so many choices out there that you should do your homework when shopping for cosmetic procedures. You want to be in the best hands possible and to do so you need to arm yourself with the best information available."
Transitioning from the Software Developing Phase to the Future of the Practice
To bring our story full circle, we sold the software and consulting company in 2003 to Mentor Corporation, the leading breast implant manufacturer in the United States.
Mentor is now using its substantial resources to improve the software and expand consulting and teaching.
This shows how the dedication and commitment of one group of professionals in one practice can influence change—while helping an ever-increasing number of practices take better care of their patients.
Looking to the Future
And as always, LJCSC continues to improve upon patient care systems using education, informed consent and open lines of communication with our patients and every member of our practice.
We're also exploring new ways to increase communication through blogging and social networking.
But no matter what the future holds for LJCSC, our commitment will always be to our patients and ensuring we provide the best experience possible to our cosmetic surgery patients.