Verified Patient Reviews
Verified Reviews by Realpatientratings.com
Jul 30, 2015

• Dr. John D. Smoot

Dr. Smoot listened to my VERY detailed commentary; no one knows my face as I do.He did EXACTLY what I wanted; and it turned out beautifully. If he didn't know what was doing, all my...

Jul 29, 2015

• Dr. John D. Smoot

My doctor was extremely helpful in sizing and making me feel comfortable with the process and that I would have the outcome that I desired I was extremely excited and happy about the...

Jul 27, 2015

• Dr. H. Michael Roark

Dr. Roark and his office staff were all very friendly, attentive and informative. They responded quickly to emails or messages, answered questions thoroughly and followed up when...
Browlift (Forehead Lift) at La Jolla Cosmetic Surgery Centre
You may be a candidate for a brow lift (forehead lift) if you have a sagging forehead or brows that hang too low and too close to the eyes. You may also desire a forehead lift if you have deep vertical furrows between the eyebrows (frown lines).
A forehead lift is intended to give a more youthful and rested appearance to the forehead and upper eyelids.
The Browlift Procedure
A forehead lift in San Diego is done on an outpatient basis under general anesthesia or monitored sedation. The incisions are usually made behind the hairline.
For patients with high foreheads, the incisions can be placed in front of the hairline. The operation is done by lifting and repositioning the forehead skin, during which time the muscles that cause frown lines are weakened.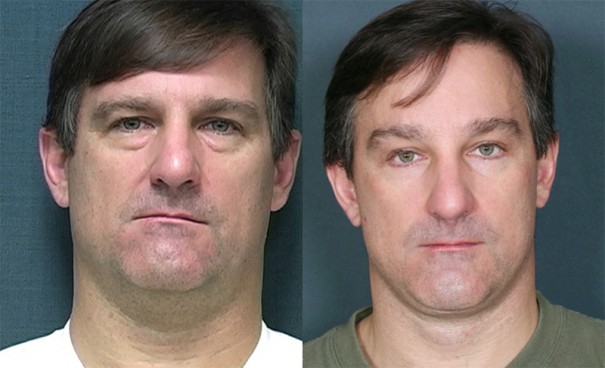 Forehead Lift before & after pictures
Which "Lift" is Best for Me?
It can be tricky to know exactly which procedure might give you the results you want when your eyes, forehead, and cheeks all work together to form your facial expressions. A common mistake is to assume that a "facelift" will improve all areas of the face, but that's not actually the case. Here's a nutshell version of what each procedure can improve:
Facelift: sagging, lax skin in the cheeks, jowls and neck
Browlift: sagging, heavy, and wrinkled forehead tissue
Eyelid Lift: drooping, heavy upper or lower lids that cause a tired or sad appearance
If you one or more of these common signs of aging is bothering you, click on a link to learn more!
How Much Does a Brow Lift Cost?
The price of a brow lift (forehead lift) can range from $5,000–$5,500. We offer a number of affordable payment options, including  plans available for as little as $111 per month!* Apply for financing now >>
Please call La Jolla Cosmetic Surgery Centre, San Diego, at (858) 452-1981 for more information on cosmetic surgery procedures including browlift surgery.