San Diego Tummy Tuck (Abdominoplasty)
You may be a candidate for a tummy tuck (abdominoplasty) in San Diego if you have loose or sagging abdominal wall skin that is frequently associated with abnormal relaxation of the anterior abdominal wall muscles (often secondary to multiple pregnancies or prior surgery). You may also desire a tummy tuck if you are unable to tighten your abdominal wall skin with exercise. An abdominoplasty is intended to give the patient a smoother, flatter abdomen.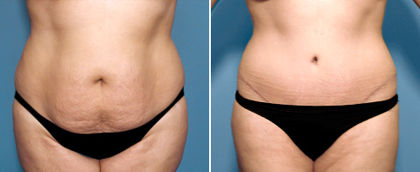 Tummy Tuck Before & After Pictures
Abdominoplasty is usually performed under general anesthesia either within the hospital or in an outpatient setting. (Mini-abdominoplasties can be performed under sedation and local anesthesia.)
Your body mass index (BMI) is an important factor in evaluating whether tummy tuck is a good solution for you. Calculate your BMI here.
A tummy tuck procedure can range in price from $6,200–$11,500 depending on whether you will need a mini, standard, or extended tummy tuck.
The Tummy Tuck Procedure
Mini-abdominoplasty tightens the lower abdominal wall skin only (shortest scar).
Standard abdominoplasty tightens all of the abdominal wall skin (standard scar).
Extended abdominoplasty tightens the abdomen and the flanks or sides (longest scar extending around the flanks onto lower back.)
Our article, "Considering a Tummy Tuck?" can help you understand more about the types of tummy tuck and if it might be the right procedure for you.
Recovery from Abdominoplasty
Abdominoplasty is one of the more uncomfortable plastic surgery procedures. One to three days of hospitalization or skilled nursing care may indicated for a full or extended tummy tuck.
Learn More About San Diego Tummy Tuck:
Please call La Jolla Cosmetic Surgery Centre at (858) 452-1981 for more information on our cosmetic surgery procedures, including tummy tuck plastic surgery.
Note
The specific risks and the suitability of tummy tuck surgery for a given individual can be determined only at the time of consultation. All surgical procedures have some degree of risk. Minor complications that do not affect the outcome occur occasionally. Major complications are rare. The information on this website is not a substitute for a consultation. Call us at (858) 452-1981 or contact us online to schedule your complimentary personal consultation with one of our San Diego plastic surgeons.