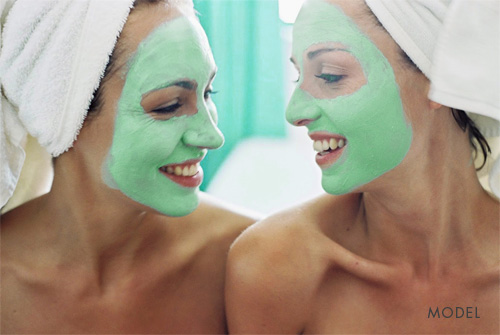 While professional, medical-grade skin care treatments and products are best for maintaining healthy skin and treating any underlying problems, there are plenty of things you can do at home to keep your skin happy in between appointments with your skin care professional.
Sure, you may already be familiar with the beauty benefits of a cucumber—the classic spa trick that is a great option for de-puffing tired eyes—but did you know that there are many other common items that are great for transforming your home into a mini-spa? Just grab one of these common foods for a quick beauty fix:
1. Yogurt: Is your skin red, irritated, or broken out? The probiotics in yogurt have been shown to decrease skin inflammation and repair dry skin by providing a moisture barrier, making it a key ingredient in many at-home facial scrubs. Grab a bowl and mix together ½ cup of plain yogurt, ½ cup cornmeal, and ¼ cup grapefruit juice to create your own exfoliating scrub and experience soft, bright skin.
Bonus tip: Don't use all your yogurt up in your mask. Eating yogurt regularly comes with a ton of health benefits, from a happy digestive tract to potentially lowering blood pressure.
2. Avocado: Unlock avocado's alleged anti-aging power by mashing an avocado with oil from one Vitamin E softgel, one tablespoon of honey, and a dash of cayenne pepper. Apply the mask in a thick coat over your face—avoiding your eyes—and neck and soak in the benefits for 20 to 30 minutes.
Bonus tip: If you're eating your avocado rather than making a facial mask with it, you can still reap some benefits—including fighting bad breath and lowering cholesterol.
3. Baking soda: Spend too long on the beach and find yourself rocking a painful sunburn? Pour a quarter-cup of baking soda into a cold bath to relieve the pain and follow it up by gently massaging aloe into the skin.
Bonus tip: Baking soda is also a great beauty trick for whiter teeth. Sprinkling a dash of baking soda on top of your toothpaste a few times a week can help remove surface stains for a brighter smile.
4. Olive oil: This secret ingredient is great for conditioning hair and protecting it against harsh, drying elements. Once a week, massage a small amount of olive oil into your hair as a pre-conditioner. Let the olive oil soak in for several hours before taking your shower and rinsing it out.
Bonus tip: Run out of makeup remover? An olive oil-soaked cotton ball will safely and gently wipe away even the most stubborn mascara.
It's good to know that there are quick and easy DIY beauty treatments between appointments, but nothing can beat the experience of an expert and the effectiveness of professional facial treatments. Luckily, the La Jolla Cosmetic Surgery Centre & Medical Spa has you covered. From BOTOX® and fillers to facials and peels, we offer everything you need to keep your skin looking great all year long.
So what are you waiting for? Contact us today to set up your free skin consultation and work directly with a skin care professional to design a customized plan that will give you results you'll love.