BOTOX, officially known as BOTOX Cosmetic, is one of the most popular cosmetic treatments in the world. These days, it seems like you can find an injector on every block, and there are so many deals and specials out there it makes our heads spin. But here's the thing: Not all BOTOX treatments are created equal. As you shop for the best BOTOX in San Diego, you need to be selective. Here's some information we at La Jolla Cosmetic Surgery Centre & Medical Spa believe you can use to guide yourself through the media maze.
BOTOX 101: Answering Your FAQs
Before we dive into BOTOX pricing, let's answer a few questions we often hear from people interested in BOTOX.
Q: What's the difference between BOTOX, Dysport®, and XEOMIN®?
A: BOTOX, Dysport, and XEOMIN are all derived from a form of botulinum toxin A. They all work in a similar way by relaxing the muscle movements that lead to wrinkles over time—think squinting, raising the eyebrows, and frowning. Each has a unique formulation, and one product may be slightly better for treating a certain concern than others. Dysport spreads more than BOTOX, for example, whereas XEOMIN is formulated without any additive proteins to reduce the chances of an adverse reaction.
Q: How long do BOTOX and other neurotoxins last?
A: If dosed correctly, results typically last about 3 months.
Q: Will my face be frozen? Will I look unnatural?
A: If you work with an injector who uses proper dosages and injects BOTOX into the appropriate locations, it's very unlikely you will look frozen or unnatural. BOTOX is designed only to relax specific muscles while allowing full natural movement across the rest of your face.
Q: What happens if I get a smaller dose injected than my provider recommends?
A: The product will work the same way; however, you'll likely notice less of a result as this will reduce its effectiveness. Your results will also fade a bit more quickly than the typical 3-month timeline.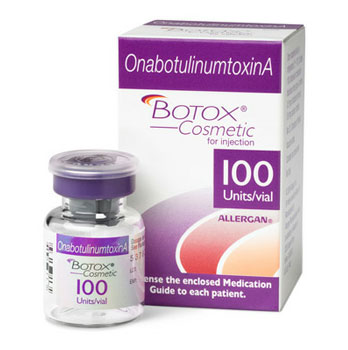 Don't Get Duped: How To Be a Smart BOTOX Shopper
Sure, there are some scams out there. But as long as your BOTOX (or Dysport or XEOMIN) is authentic, you're guaranteed to get a good result … right? If only that were true! Unfortunately, the BOTOX experience you get at one practice may not be exactly what you get at another.
Clostridium botulinum toxin type A is supplied in a manufacturer's vial containing 100 units of the vacuum-dried neurotoxin complex. A physician adds saline to liquefy the units, which enables them to extract the BOTOX from the vial into a syringe. From there, it's all about the art of injection, from selecting the right dosage to injecting it in precisely the right place to create natural-looking results.
There's no such thing as a "one size fits all" BOTOX treatment. That's why the most critical factor in being a smart BOTOX shopper is choosing the right injector—one with the expertise, knowledge, and skill required to achieve your dream results.
---
What Should I Look for in a BOTOX Injector?
A few must-haves in a BOTOX injector include:
Credentials: Your injector should be a physician (such as a board-certified plastic surgeon), physician assistant (PA), Nurse Practitioner (NP), or registered nurse (RN). Aestheticians are not qualified to inject BOTOX.
Knowledge & Experience: Choose an injector who has plenty of experience with BOTOX and regularly performs injections.
Patient Education: Your injector should be more than happy to educate you about the product, dosing choices, how to achieve your goals and more.
Results: Real patient results truly tell a story when it comes to an injector's abilities. Make sure to look through a practice's BOTOX before and after photos either online or in person before your treatment.
---
How Much Does BOTOX Cost?
As you start budgeting for your treatment, you may be asking yourself, "How much should I be paying for BOTOX?"
At our San Diego medical spa, the cost of BOTOX treatments is typically $12.95 to $16.50. This pricing is fully customized for every single person depending on the number of units needed, and it may vary depending on current specials and discounts.
Here's what goes into your cost:
Always authentic BOTOX, Dysport, or XEOMIN
Injections performed by our award-winning aesthetic team of medical spa providers, including PA-Cs, NPs, and RNs who are national leaders in their craft
The expertise of multiple board-certified plastic surgeons on staff
Our commitment to delivering your dream results through a thoughtful consultation process and supportive follow-up care
Curious about what a typical yearly BOTOX budget looks like? Check out this blog post!
---
How Many Units of BOTOX Will I Need?
BOTOX doses vary by treatment area and can range from as few as 2 units for chin dimples to 40 units for deep frown lines. The larger the area and the stronger the muscle, the more units you'll need to see results.
The right number of units for you will vary based on your sex, skin elasticity, whether you've had BOTOX treatments before, and other factors. We're often asked, "How much is BOTOX for frown lines, crow's feet, forehead lines," and so on. While a consultation is the only way to provide a personalized quote, the recommended guidelines can give you a basic idea of how many units you can expect to pay for.
To estimate your BOTOX cost, grab your calculator and multiply the practice's listed per-unit price by the average units injected in your target area, which you can find in the table below.
---
Table A: Typical BOTOX Units Needed per Treatment Area
| | | |
| --- | --- | --- |
| Treatment Area | Units (Female) | Units (Male) |
| Forehead Lines | 15 to 20 units | 20 to 30 units |
| Glabellar Area (Frown Lines or "11s") | 20 to 30 units | 30 to 40 units |
| Crow's Feet | 8 to 16 units per side | 12 to 16 units per side |
| Perioral Area (Lip Flip or Smoker's Lines) | 4 to 10 units | 4 to 10 units |
| Dimpled Chin ("Chin-ulite") | 2 to 6 units | 2 to 8 units |
---
Diagram A: Recommended Units per Area
---
BOTOX Pricing by Treatment Area
Some facilities quote a price based on a particular area. If this is the case at your practice of choice, the first question you need to ask is, "How many units do you inject in that area?" And that begs the next question: What is their definition of an "area?" For instance, a practice may advertise $99 per area, but they may actually be breaking up the crow's feet into two areas when it's considered one in many practices.
At La Jolla Cosmetic Surgery Centre & Medical Spa, we charge by the unit for BOTOX, so you only pay for the exact number of units you receive. We also follow the American Society of Plastic Surgeons (ASPS) guidelines on dosage so you can count on the efficacy of the product. Our injectors will spend time with you going over your unique treatment plan and any variables that may affect your total cost, such as the examples in the table below.
---
Table B: Variables Influencing Treatment Plan*
* Data from the Supplement to "Plastic and Reconstructive Surgery" provided by the American Society of Plastic Surgeons.
---
How To Save Money on BOTOX: 4 Tips for Scoring Deals Without Sacrificing Your Safety & Results
You don't have to cut corners to fit BOTOX into your budget. Follow these quick tips to get the best pricing and still see a before-and-after transformation you love:
---
Why Reviews Matter When Shopping for the Best BOTOX
Reviews give you the chance to peek inside the doors of a practice before you ever actually step foot in the office. Getting real insight from real people is incredibly important when choosing an injector. In addition to looking through before and after photos, you'll also want to read plenty of verified BOTOX reviews before you book your appointment.
---
The Bottom Line
If you're considering BOTOX, you want to be as educated as possible. You should always do your own research before you go through with an appointment. If you're well-informed, you can help ensure the safety of your treatment and your satisfaction with the results. You need to be aware of exactly what is being used in your treatment and whether the person administering your treatment is qualified. Last but not least, you should know whether BOTOX is the best way to bring your dream look to life. You can determine that by consulting with a qualified injector or answering a few questions in our interactive treatment planner.
---
Have More Questions About BOTOX Pricing?
Our board-certified plastic surgeons and trained aesthetic injectors can't wait to help! Click to book a free virtual consultation or in-office treatment with one of our San Diego BOTOX injectors or contact us at (858) 452-1981 with additional questions about the procedure.
Resources
Carruthers J, Fagien S, Matarasso SL. Consensus Recommendations on the Use of Botulinum Toxin Type A in Facial Aesthetics. Plastic and Reconstructive Surgery. 2004;114(Supplement):1S-22S.