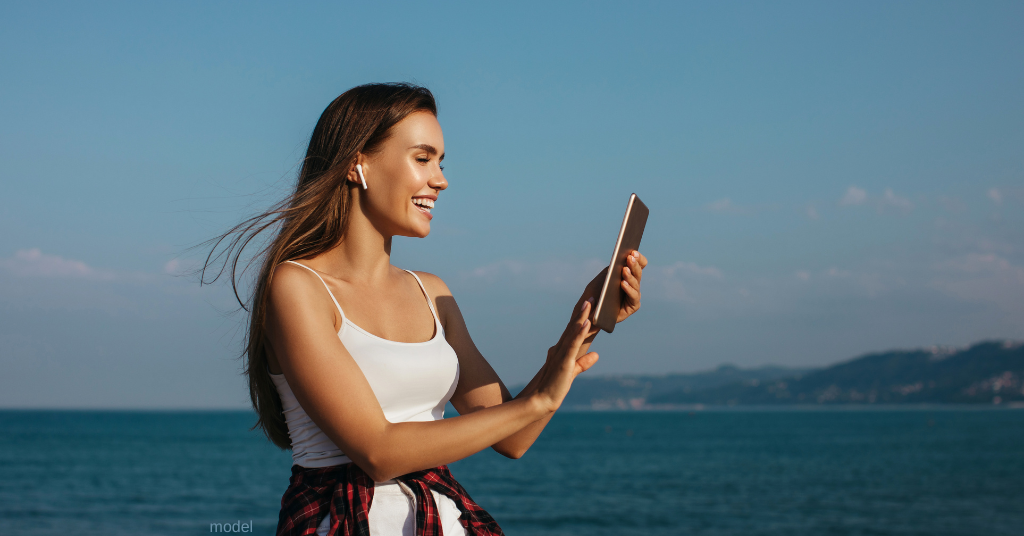 How much does BOTOX cost? If you've Googled this question before, you've probably found that there are very few straightforward answers. You'll find rough estimates that vary wildly from source to source or see per-unit prices listed with no info about how many units you'll actually be paying for.
We're here to set the record straight! In this blog post, we're answering all your questions about how much BOTOX really costs, what a yearly beauty budget looks like, how to save on treatments, and much more. Read on to get all the details!
How Much Does BOTOX Cost?
At La Jolla Cosmetic in San Diego, our BOTOX treatments typically cost $12.95 to $16.50. That's based on the starting price of $12.95 per unit for GLAMfam members and $14.50 for non-members. Because BOTOX is priced by unit, this price varies depending on the number of units you have injected. For this reason, we always recommend a one-on-one consultation as the best way to get a fully accurate and personalized BOTOX quote.
The price per unit ranges widely from practice to practice and area to area. On RealSelf.com, actual BOTOX recipients in the U.S. reported paying anywhere from $10 to $25 per unit.
How Many Units of BOTOX Will I Need?
To treat all 3 FDA-approved treatment areas, you'll need a total of 64 units. Here's how that breaks down:
Forehead lines: 20 units
Glabella ("11s"): 20 units
Crow's feet: 24 units
BOTOX follows what we call "the look of 3." That means 3 treatment areas, 3 times a year. When BOTOX first launched (20 years ago—happy birthday, BOTOX!), it was only FDA-approved for a single aesthetic treatment area that required 20 units. Because of this, some people only budget for 20 units when they schedule their appointment.
These days, however, 64 units are the standard. The bonus? The results are more comprehensive than ever before—but you'll need to keep that number in mind as you create your beauty budget!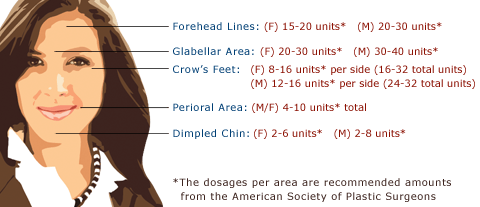 Why Does BOTOX Have Different Price Points at Different Practices?
This mostly comes down to 2 things:
Your geographic region. Larger cities tend to have higher price points, whereas smaller towns fall on the lower end.
Your injector's expertise. You truly get what you pay for when it comes to BOTOX injectors, and trust us when we tell you a true expert is more than worth the investment.
Your 1-Year BOTOX Budget
How much can you expect to pay for BOTOX each year? If you keep up with regular treatments (which you absolutely should—more on that later), here's how your budget might look:
January: Start the year off with a full-face treatment. At 64 units, your price may range from $640 to $1,600.
May: Touch up your regular areas and maybe even experiment with a lip flip (4 to 6 units), making your total $700 to $1,750.
September: Finish the year strong and stunning with a touch-up, and add a nonsurgical brow lift (5 units per side) to look extra chic in your holiday photos. Your total may range from $740 to $1,850.
Your yearly total: $2,080 to $5,200. Not bad for a full year of full-face flawlessness! Keep in mind that this is just an example, however, and your own budget may vary quite a bit.
How To (Safely) Save on BOTOX
We hear you. Not everyone has that kind of extra cash stored away in the old piggy bank. Fortunately, there are plenty of ways to score savings and bring your costs down without cutting corners:
Can I Finance My BOTOX Treatment?
You absolutely can! We accept payments through multiple third-party financing platforms. Most of these act like credit cards specifically for cosmetic treatments. Charge them at checkout and pay your cost off in affordable monthly installments.
Why Pencil In a Regular BOTOX Appointment?
Why is it worth it to stay on top of your BOTOX treatments rather than letting your results lapse? In addition to keeping you looking your best year-round, this approach actually saves you money in the long run.
The more regularly you use BOTOX, the longer you can go between treatments. Your muscles will eventually become used to relaxing, prolonging your results. That means fewer treatments throughout the year and more money in your pocket for other fun things, like that monthly HydraFacial® you can't live without.
Go By the Buyer's Guide
There are so many things to keep in mind when it comes to budgeting for BOTOX, but above all else is your safety. We know you're a smart shopper. That's why we compiled the "Ultimate BOTOX Buyer's Guide" to walk you through everything you need to know before you book, from how BOTOX is diluted to red flags worth watching out for.
Have Questions?
Want to learn more about BOTOX costs? We're happy to answer any questions! Click to book a free virtual consultation or in-office treatment or contact us at (858) 452-1981to get in touch with a member of our experienced injector team.