SoCal lifestyle blogger Danielle Reyes (@daniellealanareyes) is a new mommy who figured that at five months postpartum, her skin deserved some pampering after the hormone changes it went through during pregnancy. She chose the professionals at La Jolla Cosmetic to get the job done and give her skin the boost it needed after bringing a child into the world.
LJC's Virtual Consultations: Convenient for New Moms
Danielle attended her consultation appointment from the comfort of her home while the new baby napped, and easily scheduled her series of three microneedling treatments. LJC's star injector and laser specialist Julia Jowett, PA-C, and Danielle agreed that microneedling was the best option for her needs. Microneedling is ideal for patients like Danielle who are looking to alleviate the appearance of fine lines, scars, and pores. Danielle received three microneedling treatments in 2021: one in July, one in August, and one in September.
LJC's Microneedling Treatments Behind-the-Scenes
Danielle vlogged her whole experience at LJCSC via Instagram Story to give her followers a behind-the-scenes look at our office. She even took videos as she received each microneedling treatment. Her Stories walked followers through the process of getting the close-up "before" photos, applying numbing cream and waiting for it to set, and receiving the treatment. After each treatment, LJC would send her home with goody bags of the proper products to use post-treatment.
One Happy, Confident Mom
Danielle was impressed with the results after her final treatment, quickly noticing less scarring, clear skin, and even texture and pigmentation. The treatment targeted her acne scarring, fine lines, and overall texture of her skin, just as she hoped it would.
As a new mommy, "me" time is so rare and so rewarding, and we are so happy Danielle chose LJC to make her feel comfortable and bring out her new mom glow. We are also very thankful to her for sharing her full LJC experience in such a detailed manner that made readers/viewers near and far feel as if they were in the chair at our MedSpa.
See Danielle's side-by-side before and after: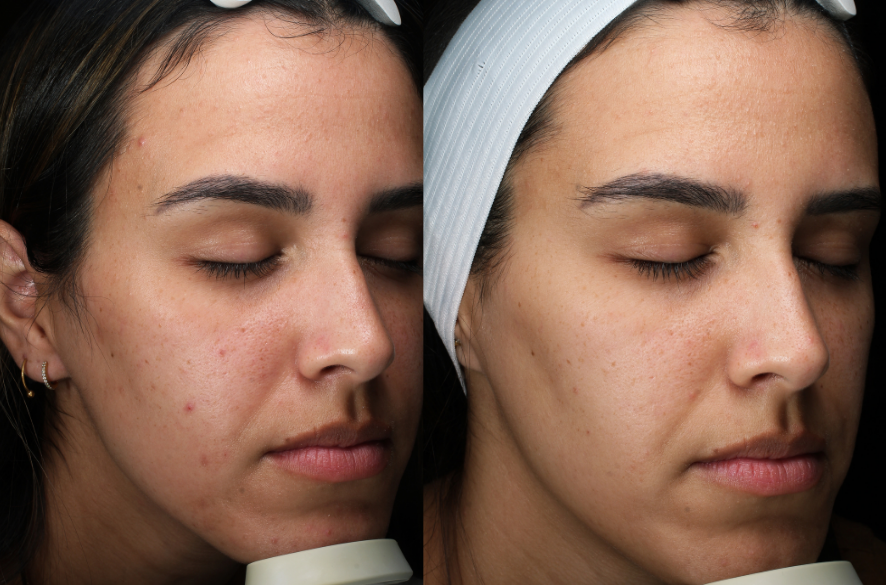 Watch Danielle's full LJC experience: