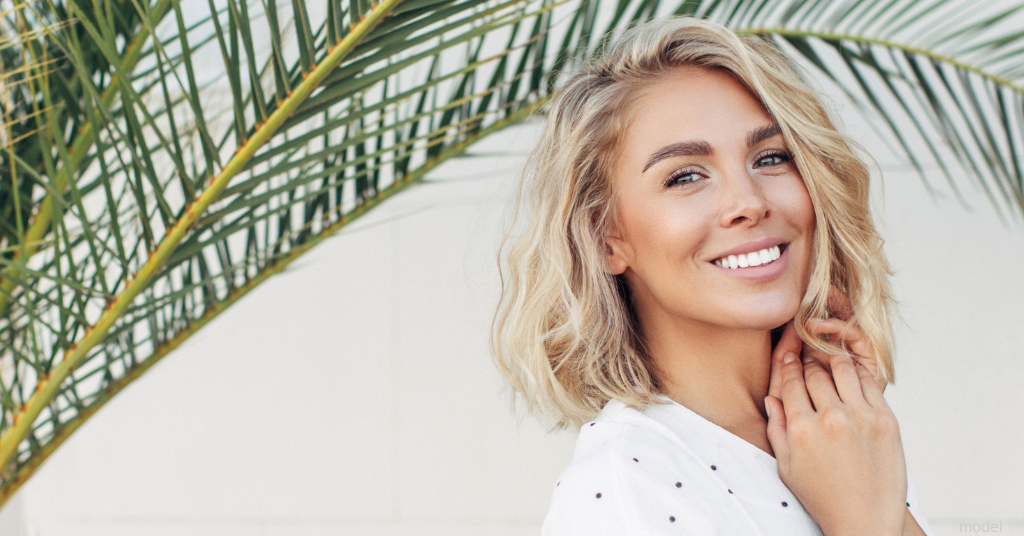 All the benefits of a facelift, minus the surgery. It might sound too good to be true, but thanks to today's minimally invasive injectables, it's possible! Meet the liquid facelift, a nonsurgical facelift alternative achieved with Restylane®, JUVÉDERM®, Sculptra®, and other dermal fillers available at La Jolla Cosmetic in San Diego.
How does a liquid facelift work, and is it really as good as surgery? Get all the details below!
What Is a Liquid Facelift?
A liquid facelift is a customized combination of nonsurgical treatments designed to rejuvenate the face much like a facelift would—but without the invasiveness or downtime. It typically consists of injectables that add volume and smooth away wrinkles to give the face a naturally refreshed and more youthful look.
What Does a Liquid Facelift Include?
Every liquid facelift is personalized and can include various approaches, but most people start with dermal fillers and neuromodulators.
Dermal Fillers
Dermal fillers, also called injectable fillers or facial fillers, add volume to areas that have sunk throughout the aging process. They come in several different formulas and work in a few different ways. All the fillers we use at LJC are FDA approved, and your injector will help you find the perfect fit.
JUVÉDERM
The JUVÉDERM family of fillers consists of several products that all contain hyaluronic acid (HA). This naturally occurring substance attracts and holds water to provide hydrating fullness just below the skin.
Formulations include:
Restylane
Like JUVÉDERM, the Restylane family contains several HA-based options, including:
Sculptra
Sculptra contains poly-L-lactic acid, which stimulates natural collagen production and helps your body produce its own volume. When injected into areas such as the temples, cheeks, laugh lines, chin, and jawline, it gives the face an overall fuller and more youthful shape.
Bellafill
The longest-lasting filler, Bellafill contains microspheres of polymethyl methacrylate (PMMA) that serve as a scaffolding for ongoing collagen production. It's known to minimize acne scars for up to a year and soften smile lines for up to 5 years.
Neurotoxins
Neurotoxins such as BOTOX® Cosmetic and Dysport® target a different type of wrinkle. These products relax muscle contractions to reduce expression lines on the face, such as crow's feet, horizontal forehead lines, and vertical frown lines ("11s") between the eyebrows.
How Much Does a Liquid Facelift Cost?
The cost of a liquid facelift at our San Diego medical spa varies quite a bit depending on the products used and the amount injected. You can find cost info for individual treatments on our pricing page.
How Long Is Liquid Facelift Recovery?
You'll likely have some swelling and minor bruising for about a week, but other than that, you can jump right back into your routine.
How Long Do Liquid Facelift Results Last?
HA fillers typically last between 6 and 18 months before dissolving, whereas Sculptra and Bellafill usually last longer. BOTOX and Dysport wear off naturally after 3 to 4 months. Once your injector determines your individual treatment plan, they will give you a more detailed estimate of how long you can expect your results to last.
Will a Liquid Facelift Give Me the Same Results as a Surgical Facelift?
Here's what surgical and nonsurgical facelift results have in common:
Reduced wrinkles.
Fewer folds.
More defined features.
Enhanced facial volume and structure.
And here's how they differ:
Facelift results last much longer than injectables.
Surgery is better for tightening loose skin.
Injectables don't address significant drooping or jowls as effectively as a facelift.
The bottom line: If you have advanced signs of aging, a facelift is probably the more efficient and effective route. If your signs of aging are mild to moderate, however, a liquid facelift is an excellent way to rejuvenate your face without having to go under the knife.
I'm Not Sure Whether I Need Fillers or a Facelift. How Can I Decide?
The best way to determine the right treatment plan for you is to ask an expert! At LJC, you have a team full of experienced injectors and plastic surgeons on your side who are ready to help you reveal the best version of you.
To explore the kinds of results you can expect from different treatments, check out real transformations in our before-and-after photo gallery.
If you'd like to meet with one of our San Diego dermal filler specialists to talk about your goals, please click to book a free virtual consultation or in-office treatment or contact us at (858) 452-1981 with additional questions about the procedure.