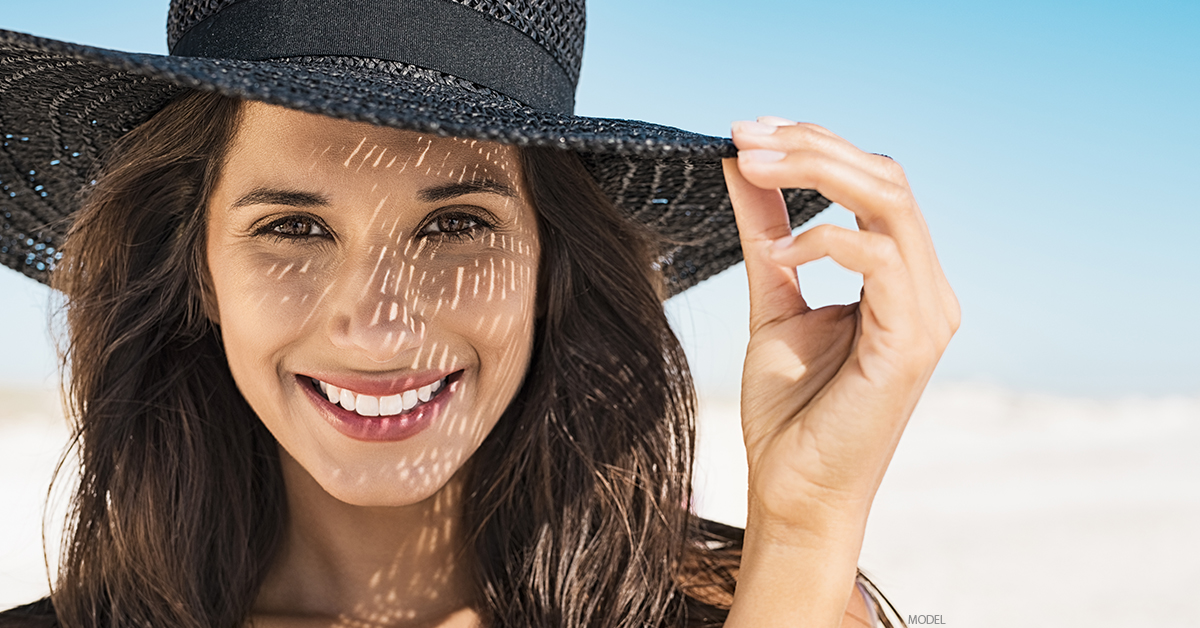 You layered on the SPF and tried your best to stay in the shade, but you still couldn't avoid that inevitable summer sun damage. Now your skin is in desperate need of a little extra love. We've all been there. Fortunately, we have quite a few medical spa treatments at our San Diego practice designed to get your skin back on track and healthier than ever.
Read on to learn more about our favorite treatments for reversing sun damage and reviving that glow.
BroadBand Light (BBL™ Photorejuvenation)
This light-based treatment uses pulses of light to break up sun-induced hyperpigmentation, including freckles and dark spots. It also stimulates collagen production for a smoother, more rejuvenated skin surface. BBL treatments are gentle, comfortable, and require little to no downtime, other than some mild redness that fades within a few hours.
DiamondGlow™
Get brighter, healthier skin by exfoliating away dry or damaged cells and infusing your skin with hydrating or antioxidant serums. This multifaceted facial treatment delivers the ultimate post-summer pick-me-up, not only treating existing sun damage but protecting your skin against future damage, too.
DiamondGlow treatments only take about 30 minutes, don't require any form of anesthesia, and allow you to jump back into your daily routine right away. It's definitely a treatment worth adding to your skin rehab to-do list.
View this post on Instagram
Bonus tip: Each DiamondGlow treatment is customized with SkinMedica® Pro-Infusion serums designed to target specific concerns. After a summer of sun, we recommend the Ultra Hydrating serum for restorative hydration and the vitamin C serum for protective antioxidants.
Chemical Peels
Chemically slough off damaged skin cells to reveal softer, fresher, more evenly pigmented skin. Different chemical peels offer different levels of intensity, so you have options for whatever your skin needs. Want a gentle boost, for example? The SkinMedica Illuminize Peel is a great choice. Need a more dramatic fresh start? Opt for The PERFECT™ Derma Peel.
Laser Skin Resurfacing
ProFractional laser treatments regenerate healthier, fresher skin to improve skin texture and pigmentation. This treatment requires about 4 days of downtime and delivers transformative results to keep your skin softer and more even for months to come.
Microneedling
Microneedling stimulates your skin's natural collagen production for a rejuvenating and renewing effect that turns back the clock. It's especially helpful for improving skin texture with minor downtime—typically just some redness that lasts for about 1 to 3 days.
Geneo® 3-in-1 Super Facial
The Geneo 3-in-1 Super Facial exfoliates, oxygenates, and nourishes your skin all in a single relaxing treatment. It's amazing for calming inflammation and restoring the nutrients your sun-damaged skin craves.
View this post on Instagram
HydraFacial®
Exfoliate away damaged cells and deeply hydrate your skin with this quick, gentle, and comfortable facial treatment. HydraFacials work beautifully as monthly supplements to your usual skincare routine, especially as you work to repair your skin after summer sun damage.
Preventing Future Damage
What's the best way to treat sun damage? Prevention! We're sure we don't need to remind you, but we will anyway: Wearing SPF is an absolute must even in the fall in winter here in sunny San Diego. Learn more about the sunscreen ingredients to look for (and avoid) in this previous blog post.
To see examples of the results you can expect after laser treatments here at our La Jolla medical spa, please visit our before-and-after photo gallery.
If you any questions at all about repairing or preventing sun damage, we're here to chat! To get in touch, click to book a free virtual consultation or contact us at (858) 452-1981 with additional questions about the procedure. We can't wait to hear from you!