Verified Botox Patient Reviews
Verified Reviews by Realpatientratings.com
Oct 20, 2016

• Lauren Amico Reed, PA-C

She understood my needs, and did excellent works*

Oct 07, 2016

• Lauren Amico Reed, PA-C

I no longer have and annoying crease in between my eyes. Lauren was awesome and I am very happy with my results of the botox. she was spot on in the number of units etc too*

Oct 07, 2016

• Lauren Amico Reed, PA-C

I feel like my eyes don't droop as much, now that Lauren administered botox. Lauren was great during my appointment . She had recommendations for future services that were specific...*
BOTOX® Cosmetic
San Diego BOTOX® Injections
You may be a candidate for BOTOX® Cosmetic if you would like to treat facial wrinkles in the forehead, between the eyes, and in the "crow's feet" areas around your eyes. BOTOX® Cosmetic works by weakening the muscles that cause facial expressions. Once the treated muscles are weakened, the pull of the muscle relaxes and the skin flattens.
1 unit of BOTOX® is equivalent to 3 units of Dysport®.
How much does Botox cost in San Diego?
We always price Botox by the unit, so you know you're getting exactly what you pay for. Our price for BOTOX® Cosmetic is $14 per unit when performed by one of our board certified plastic surgeons, and $13 per unit at our Laser & Skincare Clinic. Learn more about our injectables fees.
Be sure to read our Botox Buyer's Guide here to understand how our pricing works. Also remember that there are always rebates and discounts available from Allergan, the maker of Botox.
Which areas can I treat with Botox and what are the benefits?
Botox can be used as a wrinkle treatment to smooth:
Frown lines
Crows feet
Forehead furrows
Skin bands on the neck
Will my facial expressions continue to look natural?
Although the results are visible with a smoother surface, Botox® Cosmetic treatment does not radically change your facial appearance. You are able to show full expression without wrinkles and creases.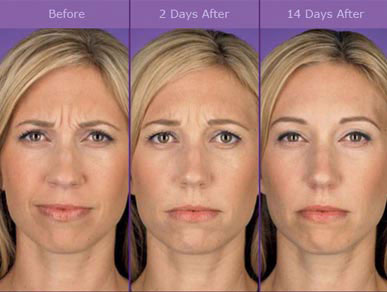 Botox before and after photo progression courtesy of Allergan*
Preparing for your Botox treatment
How BOTOX® Is Injected
BOTOX® Cosmetic can be administered in the office by appointment. BOTOX® Cosmetic is freshly prepared on the day of injection. Once prepared, the medication needs to be used within 12 hours, as the potency diminishes with time. Small amounts of BOTOX® Cosmetic are injected into the facial muscles using a very tiny needle.
Evening & Same Day Botox Appointments
Botox® treatments can be done in our La Jolla office by appointment, and you may be able to come in on the same day you call! We reserve time in our schedules for all filler and Botox appointments. We can also see you during your lunch break, or in the evening on certain days of the week. Call 858-452-1981 to check availability.
Lauren Amico Reed, PA-C, treats patient with Botox
Learn about Allergan's Brilliant Distinctions Program, a customer loyalty program through which you can earn discounts on future treatments and purchases at LJCSC.