Not sure how to get the look you want? Tell us about your goals, and we'll show you the possibilities.
Try Our Treatment Planner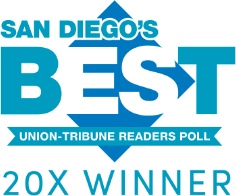 Best In the Region,
Best In the World 2020
LJC is your best choice for plastic surgery and med spa treatments in Southern California and around the globe.
Explore Cosmetic Procedures
Model
Meet Your
Dream Team
Trust San Diego's most awarded aesthetic team! Our board-certified cosmetic surgeons, licensed medical spa professionals, and dedicated staff are the secret behind more than 20 "Best of" awards.
Get to Know LJC
Popular Options for Looking Your Best Every Day
At La Jolla Cosmetic, we offer some of the most comprehensive surgical and nonsurgical service lines you'll find in Southern California. Here are just a few of the most popular procedures our patients choose.
When you're ready to make a long-lasting change and discover a radiant new you, nothing compares to the power of plastic surgery.
Hair Restoration
Take your look to new levels and don't sweat the downtime with these marvelously minimally invasive options.
Photo Gallery
Picture the Possibilities
Model