La Jolla Cosmetic Surgery Centre & Medical Spa
9850 Genesee Ave Suite 130
La Jolla, CA 92037
Call: (858) 452-1981 Text: (858) 203-2944
Monday–Friday: 7:30 a.m.–6 p.m.

La Jolla Cosmetic Medical Spa - Carlsbad
7730 El Camino Real Suite C
Carlsbad, CA 92009
Call: (858) 788-7989 Text: (858) 203-2944
Monday–Friday: 8 a.m.–8 p.m.
Saturday: 9 a.m.–5 p.m.

Anastasia Chu, MMS, PA-C, Injectable and Laser Specialist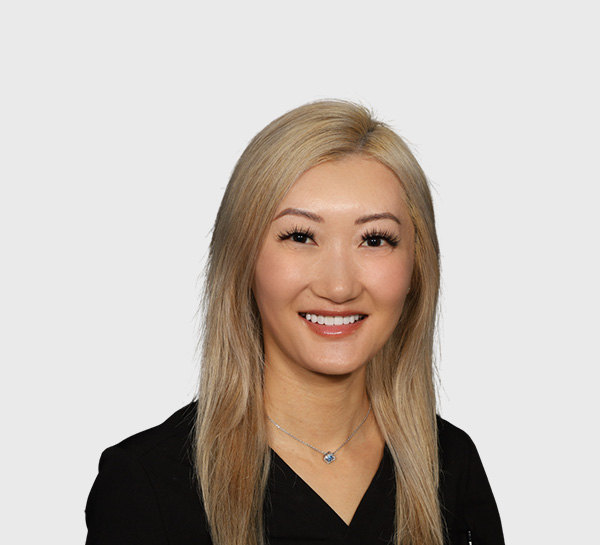 "I've always had an innate urge to help others. Medicine allows me to improve health and quality of life for people."
Anastasia Chu, PA-C, has been gracing the halls of our Carlsbad Medspa office with her talent for preserving natural beauty since 2023.
Consultations offered in:
English
Anastasia was drawn to the medical field because it allows her to do what she loves: helping others. She took the aesthetics path because she wants to help people look and feel their best. In addition, she is motivated by the psychological aspect of beauty. A person's mood and quality of life are affected when they look on the outside the same as how they feel on the inside.
Having lived in San Diego most of her life, the gorgeous weather and pleasant people keep her tied to this city. Anastasia earned her Physician Assistant degree in New York, and when one of her friends from New York visited her here in SD, she was amazed at the friendliness of everyone and the fact that strangers would greet each other passing by.
From Neurology to Aesthetics, A True Botox Specialist
Straight out of PA school, Anastasia practiced in neurology for three years. During this time, she used Botox to treat patients experiencing migraines. Since then, she has loved using the popular neurotoxin in different ways and has fallen in love with the aesthetic side of medicine.
Even if Anastasia were not working in medical aesthetics, she believes she would still be doing something that improves others' lives.
Small Procedures, Big Impacts
Seeing how her work impacts patients' lives keeps Anastasia inspired. For example, one patient visited her to correct facial fillers that had been done elsewhere, making her appear asymmetrical and botched. After witnessing the gratitude and tears in this patient's eyes when she saw the massive improvement she had made, Anastasia was reminded of how important it is to listen to your patients' needs.
The technological advancement Anastasia is most excited about is using ultrasound technology to perform fillers because it promotes more safety and decreases the chances of vascular occlusion.
Anastasia's favorite treatment to perform is complete facial rejuvenation using dermal fillers because the normal aging process involves changes to the entire face, not just the cheeks or lips.
Known for her excellent bedside manner, Anastasia strives to treat others the way she would want to be treated. As someone who has been in the treatment chair countless times herself, she understands the nervousness her patients feel preparing for treatments.
"A needle in the face is never a comfortable thought, so when I treat my patients, I make sure I do everything I can to make their experience as pleasant as possible."
Outside of the Office
Anastasia is an active soul inside and outside of the office. When she's not at our Carlsbad medspa helping people achieve their beauty goals, you can find her on the golf course, at the gym, or discovering new hiking trails. If she had a month totally to herself, she would travel to as many destinations on her bucket list as possible.