La Jolla Cosmetic Surgery Centre & Medical Spa
9850 Genesee Ave Suite #130
La Jolla, CA 92037
Call: (858) 452-1981 Text: (858) 203-2944
Monday–Friday: 7:30 a.m.–6 p.m.

BOTOX Cosmetic in San Diego
Looking to smooth away forehead wrinkles, frown lines between the eyebrows, and crow's feet around your eyes? You may be the perfect candidate for BOTOX! San Diego men and women visit La Jolla Cosmetic Surgery Centre & Medical Spa to leave these wrinkles in the past and achieve fresher, younger-looking skin.
It only takes a few quick injections to enjoy wrinkle-free skin for months at a time. With the help of our experienced injectors, you'll be in and out in just minutes and on your way to a brighter, more rejuvenated you.
View Before & After Photos
What Is BOTOX?
BOTOX is a prescription neurotoxin used to temporarily smooth lines. It works by blocking nerve impulses that trigger wrinkle-causing muscle contractions. Once the treated muscles weaken, the pull of the muscles relaxes and the skin flattens.
Neurotoxin injections are incredibly popular, with millions of treatments in the United States every year. When performed by a qualified provider, injections are a safe and effective way to refresh your appearance.
Best in the Region,
Best in the World 2020
LJC is your best choice for plastic surgery and med spa treatments in San Diego and around the globe.
Get the Full Story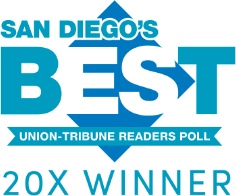 What Areas Can BOTOX Treat?
BOTOX can be used as a wrinkle treatment to smooth:
Frown lines
Crow's feet
Forehead furrows
Skin bands on the neck
It also works beautifully for reducing excessive sweating in the armpits and hands. For lines and shadows caused by volume loss, dermal fillers such as JUVÉDERM® are an excellent option.
The BOTOX Buyer's Guide
There's so much to know about buying BOTOX, from safety concerns, to proof of authenticity, to how many units you'll need per area, and more. Get answers to all your questions (and then some!) in this handy guide.
Check it out!
What It's Like To Get BOTOX
BOTOX injections are done in our office by appointment. BOTOX is freshly prepared on the day of injection. Once prepared, the medication needs to be used within 12 hours, as the potency diminishes with time.
Your injector will administer small amounts of BOTOX into specific facial muscles using a very tiny needle. The whole thing only takes about 15 minutes, and you can return to your normal routine right away.
Your Safety Is
Our #1 Priority
Since 1988, more than 36,000 patients have had safe, successful procedures at La Jolla Cosmetic Surgery Centre & Medical Spa.
Enjoy Pain-Free BOTOX Injections With PRO-NOX™
You deserve a comfortable experience, so we now offer PRO-NOX as an add-on during injectables and other medical spa services.
What Is PRO-NOX?
PRO-NOX is a self-administered nitrous oxide (laughing gas) system that allows you to be in full control of your comfort. If at any point you feel you need something to take the edge off, simply breathe through the PRO-NOX mouthpiece for instant relief from pain and anxiety.
Unlike oral pain medication, PRO-NOX takes effect in seconds, but wears off minutes after your treatment, leaving no trace of the chemical in your body. You can safely drive and return to your normal routine without worrying about side effects.
Ask us about adding PRO-NOX to your treatment at your consultation!
Other Options for Neurotoxins
BOTOX isn't the only neurotoxin option out there. In fact, there are a few different brands you can choose from. Here are LJC, we offer BOTOX, Dysport®, and XEOMIN®.
The different brand name products are very similar, but each has a unique formulation that may be more closely suited to your needs. We will happily help you determine which product is the best fit for you.
Design the New You
Not sure how to get the look you want? Tell us about your goals, and we'll show you the possibilities.
Try Our Treatment Planner
How Much Does BOTOX Cost?
At our San Diego med spa, the cost of BOTOX is typically $250+.. We always price BOTOX by the unit, so you know you're getting exactly what you pay for. Get all the info you need about costs on our pricing page.
LJC is happy to accept payments through several affordable financing plans. Learn more on our financing page.
Evening & Same-Day BOTOX Appointments
When you reach out to schedule your BOTOX appointment, you may be able to come in on the same day you call! We reserve time in our schedules for all filler and BOTOX appointments. We can also see you during your lunch break, or in the evening on certain days of the week.
BOTOX FAQs With Lauren Amico Reed, PA-C, MMS
Our Director of Aesthetic Services, Lauren Amico Reed, PA-C, MMS fields a lot of questions about neurotoxins like BOTOX. As a state-licensed, certified physician assistant, Lauren has extensive training in performing cosmetic injections. Check out Lauren's answers to the most common questions our BOTOX first-timers ask us.
Q: Do BOTOX injections hurt?
A: We use a very tiny needle to inject each unit of BOTOX. Most people say they feel a slight sting or pinch, but not very much pain.
Q: When can I return to work, resume normal activity, driving, and exercise?
A: You can resume normal activities immediately after treatment; however, we advise you not to participate in strenuous exercise for 24 hours.
Q: How long will it take to notice the final results?
A: On average, you'll notice full results within 14 days.
Q: How long can I expect my BOTOX results to last?
A: The benefits from BOTOX will vary from person to person. Results typically last 3 to 4 months.
Q: Will BOTOX make my face look frozen?
A: Although you'll notice smoother skin, BOTOX won't radically change your facial appearance. When you have your treatment done by an experienced injector, you'll still be able to show full expression, just without wrinkles and creases.
Q: Are there any long-term side effects of BOTOX?
A: There are no known long-term side effects from BOTOX injections. Side effects are generally temporary and well-tolerated. Common side effects include bruising, swelling, and headache. Eyelid and eyebrow droop are rare temporary side effects.
Q: Are BOTOX parties safe?
A: Do your research before attending "BOTOX parties" or using deals found through online coupon sites. These may seem like a good way to get BOTOX at a bargain, but if the practitioner isn't adequately trained in giving injections, your results may be subpar and your risk of experiencing side effects may increase. Stick with an experienced injector you trust.
Your Dream Starts Today
Ready to reveal smoother, more rejuvenated skin? Request a free consultation online or call (858) 452-1981 to get started!