La Jolla Cosmetic Surgery Centre & Medical Spa
9850 Genesee Ave Suite #130
La Jolla, CA 92037
Call: (858) 452-1981 Text: (858) 203-2944
Monday–Friday: 7:30 a.m.–6 p.m.

Vollure XC injections in San Diego
Fewer lines & wrinkles now. More time to enjoy your youthful look.
Bothered by lines around your nose and mouth that only seem to grow worse with each passing year? Time won't make smile lines, nasolabial folds or pre-jowl creases any better, but dermal fillers can!
By restoring facial volume loss responsible for lines and wrinkles, fillers can instantly refresh your appearance and restore youthfulness to your features for many months. At LJC, we're excited to now offer the latest filler from Juvéderm that not only achieves immediate results, but also lasts nearly twice as long as most other fillers: Vollure XC!
Vollure is FDA approved to treat moderate to severe facial lines and wrinkles and provide subtle lip enhancement for naturally smooth results that last up to 18 months.
What can Vollure injections treat?
Moderate to severe nasolabial folds
Smile lines
Marionette lines
Pre-jowl folds
Other unwanted lines on the mid to lower face
Lack of volume & definition in the lips
Why consider Vollure?
You want a safe, predictable low-maintenance wrinkle treatment
You ♥ the results you get with Juvéderm, just wish they'd last longer
You're looking for immediate improvements
You prefer a naturally-occurring formula vs. synthetic
Best in the Region,
Best in the World 2020
LJC is your best choice for plastic surgery and med spa procedures in San Diego and around the globe.
Get the Full Story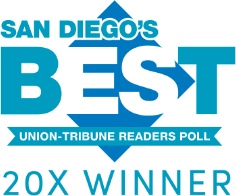 Most importantly, Vollure looks and feels totally natural
Because Vollure is made from hyaluronic acid, just like Juvéderm, you can expect a subtle look and soft, smooth texture that feels as natural as your own skin. Our experienced, certified injectors and board-certified plastic surgeons have years of medical training and an inside-out knowledge of facial anatomy that our patients trust for safe treatment and results they absolutely love.
What to expect with Vollure injections at LJC
Our #1 priority is to make sure the treatments you receive are the very best for your skin type, concerns, and goals, so we begin with a thorough, complimentary consultation. If Vollure is right for you, we'll cleanse the area and give you a topical anesthetic to help numb the injection points. Injections are made using a very fine needle, and Vollure contains the mild, temporary anesthetic lidocaine to enhance comfort.
Following treatment, you can return to your normal routine. Side effects are typically limited to mild, temporary redness, swelling, and tenderness at the injection site.
Enjoy pain-free filler injections with add-on option PRO-NOX™
Every patient deserves a comfortable experience, so we now offer an add-on option to use PRO-NOX™ during injectables and other medical spa services.
What is PRO-NOX™?
PRO-NOX™ is a self-administered nitrous oxide (laughing gas) system that allows you to be in full control of your comfort. Simply breathe through the PRO-NOX™ mouthpiece for instant relief from pain and anxiety if you need to take the edge off.
Unlike oral pain medication, PRO-NOX™ takes effect in seconds but completely wears off minutes after treatment. You can safely drive and return to your normal routine without worrying about side effects.
Ask us about adding PRO-NOX™ at your consultation, or contact us for more information!
Your Safety Is
Our #1 Priority
Since 1988, more than 36,000 patients have had safe, successful procedures at La Jolla Cosmetic Surgery Centre & Medical Spa.
We'll see you in 18 months…
Vollure XC achieves soft, smooth and natural-looking results you'd expect from Juvéderm, but thanks to VYCROSS technology, Vollure is sturdier than "regular" Juvédermand lasts a whole lot longer—up to 18 months is typical.
Unlike some other longer-lasting fillers, Vollure utilizes a 100% naturally-occurring substance, hyaluronic acid. Your body absorbs it naturally over time, and you have the safety net of knowing it can be adjusted or reversed, just in case you change your mind about your results down the line.
Contact us today to learn more or book your treatment!