La Jolla Cosmetic Surgery Centre & Medical Spa
9850 Genesee Ave Suite #130
La Jolla, CA 92037
Call: (858) 452-1981 Text: (858) 203-2944
Monday–Friday: 7:30 a.m.–6 p.m.

JUVÉDERM® in San Diego, CA
You may be a candidate for Juvedérm® if you have wrinkles on your face or around your lips that you wish to diminish.
Juvéderm® is approved by the FDA for volumizing and correcting deep folds and wrinkles such as nasolabial folds (the "smile lines" between the nose and the corners of your mouth).
Same Day & Late Appointments
Juvedérm treatments can be done in our La Jolla office by appointment. It usually takes 30-45 minutes for a Juvéderm appointment. Your first appointment may take a little longer as we'll include a thorough skin evaluation and consultation.
You may be able to come in on the same day you call! We reserve time in our schedules for fillers and Botox appointments. We can also see you during your lunch break, or in the evening on certain days of the week. Call (858) 452-1981 to check availability.
Can Juvéderm be used for lip enhancement?
Yes! We often recommend Juvéderm Ultra Plus for lips because of the softness it provides for lip enhancement. Many women worry that getting lip injections will make them look like a duck, but having Juvéderm injected in the lips can be quite subtle.
Watch below as our certified physician assistant Lauren uses filler to give a patient fuller, more defined lips.
Enjoy pain-free filler injections with add-on option PRO-NOX™
Every patient deserves a comfortable experience, so we now offer an add-on option to use PRO-NOX™ during injectables, laser treatments, and other medical spa services.
What is PRO-NOX™?
PRO-NOX™ is a self-administered nitrous oxide (laughing gas) system that allows you to be in full control of your comfort. If at any point you need something to take the edge off, simply breathe through the PRO-NOX™ mouthpiece for instant relief from pain and anxiety.
Unlike oral pain medication, PRO-NOX™ takes effect in seconds, but wears off minutes after your treatment, leaving no trace of the chemical in your body. You can safely drive and return to your normal routine without worrying about side effects.
Ask us about adding PRO-NOX™ to your treatment at your consultation, or contact us for more information!
Best in the Region,
Best in the World 2020
LJC is your best choice for plastic surgery and med spa procedures in San Diego and around the globe.
Get the Full Story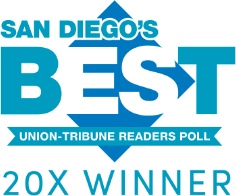 How much does Juvéderm® cost?
The cost of Juvéderm at our San Diego med spa is typically $470 to $995. Your price may vary depending on the amount of product needed to create your dream look. To put that in terms of a lip enhancement treatment, you can achieve a voluminous look with a 1cc syringe, or a subtler look with a .4cc syringe.
Learn more about our injectables fees.
Juvéderm Specials & Deals in San Diego
Your Safety Is
Our #1 Priority
Since 1988, more than 36,000 patients have had safe, successful procedures at La Jolla Cosmetic Surgery Centre & Medical Spa.
How long does Juvéderm® last?
Juvéderm® produces smooth and natural results that can last up to 6 months or longer. It can fill in and reduce the depth of the nasolabial fold or depressed acne scars. Its hyaluronic acid with gel particle suspension formulation creates a smooth gel that flows easily into the skin, creating volume.
Have more questions? Brilliant DistinctionsRead our Dermal Filler Q & A with Lauren Amico Reed, PA-C
Juvéderm family of fillers at LJC
We are proud to offer the full family of Juvéderm fillers so we can best meet your needs and accomplish your goals.
VOLUMA® XC to improve cheek contour and add natural volume
VOLLURE® XC for the long-term treatment of nasolabial folds
VOLBELLA® XC and Juvéderm Ultra & Ultra Plus XC for lip plumping and softening of lines around the mouth.