La Jolla Cosmetic Surgery Centre & Medical Spa
9850 Genesee Ave Suite #130
La Jolla, CA 92037
Call: (858) 452-1981 Text: (858) 203-2944
Monday–Friday: 7:30 a.m.–6 p.m.

NovaThreads Thread Lift in San Diego
So you're starting to notice signs of aging such as jowls, sagging skin on your neck, or deepening nasolabial folds. You need a little more help than fillers can provide, but you're not ready for facelift surgery. Have you considered a thread lift?
If not, we encourage you to reconsider—because thread lifts are totally different (and infinitely better) today than what was available in the past. And you couldn't make a better choice for your treatment; La Jolla Cosmetic Surgery Centre & Medical Spa was named a 2020 top NovaThreads thread lift provider in San Diego, CA.
Best in the Region,
Best in the World 2020
LJC is your best choice for plastic surgery and med spa treatments in San Diego and around the globe.
Get the Full Story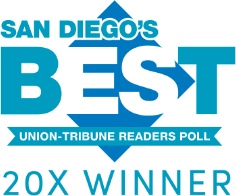 What Are NovaThreads?
NovaThreads are an FDA-cleared product made in the USA from polydioxanone (PDO), a substance that your body can naturally break down and safely absorb without forming scar tissue. In fact, PDO threads have been used for close to 30 years in the medical field, known as a safe suturing option for delicate procedures like heart surgery.
NovaThreads are specially designed to be used in aesthetic medicine to lift and contour sagging skin. Threads are inserted using a small needle, where they sit beneath the skin, helping to lift and add structure to aging tissues. But that's not all—while NovaThreads are in your skin, they trigger natural collagen production, helping your skin become naturally firmer, smoother, and stronger.
NovaThreads absorb in about 4 to 6 months, but the extra collagen stays for long-lasting improvements.
What Are the Benefits of NovaThreads?
There are so many benefits to enjoy with these innovative threads! Here are a few of the big ones:
Minimally invasive, in-office treatment
Local anesthetic only (lidocaine)
Noticeably lift and smooth sagging skin on the face and neck
Immediate results
Little to no downtime
Minimally invasive, in-office treatment
Local anesthetic only (lidocaine)
Noticeably lift and smooth sagging skin on the face and neck
Immediate results
Little to no downtime
NovaThreads Treatment Areas
While thread lifts became popular for lifting the lower and face and neck, they also work beautifully to firm the skin in many different areas of the body. Popular treatment areas include:
Face (brow, cheeks, nose, jawline, lips)
Neck
Chest
Breasts
Upper arms
Abdomen
Knees
Thighs
Buttocks
Design the New You
Not sure how to get the look you want? Tell us about your goals, and we'll show you the possibilities.
Try Our Treatment Planner
What Is a PDO Nose Thread Lift?
A PDO nose thread lift is a nonsurgical rhinoplasty ("nonsurgical nose job") approach that uses PDO threads to temporarily reshape the nose without surgery. This customizable technique can:
Straighten the bridge of the nose
Lift a drooping tip
Build out the radix (the top of the nose near the forehead)
Results from nose thread lifts typically last up to 2 years.
How Does the PDO Nose Thread Lift Work?
We use 4 to 8 threads (either barbed or specially designed nose threads) for this approach. When injected into the bridge or tip of your nose, the threads elevate and reposition the tissues to give your nose a straighter and more lifted look. While these threads will eventually dissolve, they stimulate extra collagen production to give you even longer-lasting results.
Am I a Candidate for a PDO Nose Thread Lift?
You may be a candidate for a nose thread lift if you are looking for minor nose corrections or don't want to commit to surgical rhinoplasty just yet. You may also be a candidate for a liquid rhinoplasty or "filler nose job" with JUVÉDERM® VOLUMA™ XC. We'll discuss all your options with you during your one-on-one consultation to determine the very best treatment plan for you.
If you have plans to have a surgical rhinoplasty done in the next 12 months following your thread lift, we recommend speaking to your surgeon first to make sure you will still qualify for surgery with your threads in place.
Take Your BOTOX®, Filler, or Skin Tightening Treatment to the Next Level
NovaThreads are especially awesome when performed in conjunction with BOTOX, dermal fillers like JUVÉDERM®, or other skin-tightening treatments.
While your BOTOX and filler injections plump the skin and smooth lines and wrinkles, your NovaThreads provide a more youthful foundation by lifting the underlying tissues—it really is like a non-surgical facelift!
When used in tandem with skin-tightening treatments like Ultherapy® or ThermiSmooth®, your NovaThreads provide the instant results you want, while the collagen-building power of the energy-based treatments follow through with long-lasting, natural skin remodeling.
What to Expect at Your NovaThreads Appointment
We perform NovaThreads treatments in our LJC office treatment rooms. Appointments typically last between 30 and 60 minutes, depending on how many threads we are placing. Prior to treatment, we will numb the area with lidocaine, a mild local anesthetic. This will keep you comfortable throughout your treatment, and wear off in the hours afterward.
What Is NovaThreads Recovery Like?
Following your treatment, you can return to your normal day right away. We will ask that you not rub your face or do any vigorous exercise for the first 1 to 2 days. And of course, the best part is that your results are noticeable right away!
How Long Do NovaThreads Last?
The lifting effects from NovaThreads typically last between 6 and 12 months, after your body naturally absorbs the PDO material in the threads and collagen production starts to slow again. If you wish to maintain your results, you can repeat treatment.
Your Safety Is
Our #1 Priority
Since 1988, more than 36,000 patients have had safe, successful procedures at La Jolla Cosmetic Surgery Centre & Medical Spa.
How Much Does a NovaThreads Thread Lift Cost in San Diego, CA?
The cost of a thread lift at our San Diego med spa is typically $1,300 to $3,600. Your price will vary depending on the size of your treatment area and the number of threads injected.
Learn about financing your treatment on our financing page.
Your Dream Starts Today
Ready to enjoy all the benefits of an instant nonsurgical facelift here in San Diego? Request your consultation online or call (858) 452-1981 today to get started!