La Jolla Cosmetic Surgery Centre & Medical Spa
9850 Genesee Ave Suite 130
La Jolla, CA 92037
Call: (858) 452-1981 Text: (858) 203-2944
Monday–Friday: 7:30 a.m.–6 p.m.

La Jolla Cosmetic Medical Spa - Carlsbad
7730 El Camino Real Suite C
Carlsbad, CA 92009
Call: (858) 788-7989 Text: (858) 203-2944
Monday–Friday: 8 a.m.–8 p.m.
Saturday: 9 a.m.–5 p.m.

When you're considering plastic surgery in San Diego, CA, your primary goal is to bring your dream look to life. You want a plastic surgeon who's known for delivering amazing results—but you also need to be in safe, experienced hands.
At La Jolla Cosmetic Surgery Centre & Medical Spa, your safety comes above everything else. You can count on your LJC family to keep you informed and safe from start to finish so you can focus on enjoying the process and loving the new you.
Our 5 Safety Promises to You
Here are 5 non-negotiable safety promises we always have, and always will, offer you at LJC.
1. Our surgeons are Real Plastic Surgeons®.
There are more than 100 doctors offering cosmetic surgery in the San Diego area, but did you know that not all of them are actually trained plastic surgeons? Choosing a board-certified plastic surgeon is essential for your safety, as only these doctors will have undergone years of residency training specifically in cosmetic and reconstructive plastic surgery.
Our plastic surgeons go one step further. They are Real Plastic Surgeons, meaning they are:
Certified by the American Board of Plastic Surgery—the only plastic surgery certifying board recognized by the American Board of Medical Specialties.
Members of the prestigious American Society of Plastic Surgeons (ASPS). Several are also members of The Aesthetic Society, and are Fellows of the American College of Surgeons (FACS).
Experienced in all areas of cosmetic plastic surgery and have operating privileges at several San Diego area hospitals, including Scripps Memorial Hospital in La Jolla.
2. Our surgical facility is AAAASF accredited.
Our private, on-site surgical facility is accredited by the American Association of Ambulatory Surgical Facilities (AAAASF), which is considered the gold standard in the accreditation of surgical centers in the United States.
What does AAAASF accreditation mean? It means you can rest assured that:
Our operation room is fully equipped to carry out your procedure safely and efficiently and to respond to an emergency, should one arise.
Our anesthesiologists and OR support staff are fully trained and certified to perform their jobs.
Our board-certified plastic surgeons have full hospital privileges for the procedures they perform, meaning they can provide care in the hospital, if needed or preferred.
Our operating and recovery rooms are spotlessly clean and designed for privacy and comfort.
3. Our anesthesiologists are board-certified MDs with decades of experience.
While anesthesia today is significantly safer than it was just a few years ago, you still want to be sure you are in the most capable hands. We've worked with the same anesthesiology team at LJC for more than 15 years. Our anesthesiologists are board certified in multiple specialties (including anesthesiology, of course), and also routinely provide services at area hospitals—they have experience working with people of all ages, levels of health, and walks of life.
4. We keep you informed throughout your experience.
At LJC, we believe that a safe plastic surgery experience is not limited to the operating room. Our entire team, from our front desk to your plastic surgeon and nurses, will do everything we can to keep you fully informed, including:
Educating you about your procedure options.
Providing thorough pre- and post-operative care instructions before you make a final decision.
Answering all your questions honestly and to the best of our ability.
5. We don't cut corners on follow-up care.
Our commitment to your care and safety doesn't end when you go home after your procedure. At La Jolla Cosmetic, our surgeons, nurses, and medical assistants will follow up with you as often as needed or desired after your procedure with phone calls as well as in-office visits to monitor your healing. We will support you through the physical and emotional aspects of recovery, and help you optimize your recovery to help you return to full activity and enjoy your results as quickly as possible.
We've served thousands of people and are constantly working to educate the public on how to have safe and successful cosmetic surgery. Our founders are frequently asked to help educate other plastic surgery practices in medical care and customer service at professional society meetings.
Best in the Region,
Best in the World 2020
LJC is your best choice for plastic surgery and med spa treatments in Southern California and around the globe.
Get the Full Story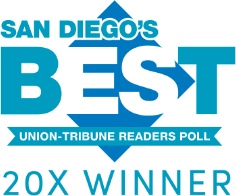 Top 10 Plastic Surgery Safety Points to Ponder
Here's an at-a-glance guide to everything you need to know about plastic surgery safety.
Plastic Surgeon: If you're thinking about surgery, we recommend that you choose a plastic surgeon. Plastic surgeons have years (not days or months) of rigorous surgical training.
Board Certification: You want to be sure that your surgeon is board certified. All the plastic surgeons at LJC are board-certified plastic surgeons, hence our trademark: Real Plastic Surgeons.
Experience: When you meet with surgeons, you need to know about their qualifications. LJC plastic surgeons have almost 100 years of combined plastic surgery experience.
Training & Techniques: You have many different surgical options to help you achieve your dream look. For example, there are different types of tummy tucks, facelifts, and breast lifts. All plastic surgeons at LJC have extensive training in many different techniques and are respected for their surgical quality.
A Caring Doctor & Staff: When you choose a surgeon, you also choose their office. That means the staff, the facility, their reputation, their longevity in the community, and their commitment to patient care and safety.
Before & After Surgery Care: Be sure you understand how the practice will care for you and communicate with you before and after surgery. Who will be involved in your care? What can you expect in terms of pre-op and post-op visits?
Hospital Privileges: Surgeons and doctors typically have a hospital affiliation, meaning they have "hospital privileges" at a local accredited hospital. All of our plastic surgeons are members in good standing at Scripps Memorial Hospital La Jolla.
Operating & Recovery Room Team: When you have surgery under general anesthesia, your OR team will include: your plastic surgeon, a physician anesthesiologist, a registered nurse (RN) who "circulates" and a "scrub tech" that assists the surgeon. Another RN will care for you while you are recovering.
Anesthesia: Most cosmetic procedures are done under general sedation, and at LJC you can be assured that any case done under general, MAC, or even IV sedation is done by an experienced board-certified anesthesiologist.
Facility Safety: Have your surgery in a facility that is accredited by the AAAASF, JACHO, or AAAHC. Accreditation by one of these groups assures you that their standards of care are being set and scrutinized by a third party.
Is Your BMI Safe for Surgery?
Having a BMI within a certain range means you can safely and smoothly undergo surgery with a low risk of complications. Wondering if you're in the safe zone? Find out using our BMI calculator.
Understanding Facility Accreditation
As with any surgery, the single most important factor in the success of aesthetic plastic surgery is the qualifications of the plastic surgeon you select. Another key safety factor is the facilities in which your surgeon operates. Here's what you need to know about evaluate operating facilities.
How to Choose a Properly Accredited Plastic Surgery Facility
A surgeon can operate in a hospital operating room or in an independent facility. You should check if the facilities are accredited by an independent organization like AAAASF, JCAHO, Medicare, or AAAHC:
If the surgeon operates in a hospital: Check the surgeon's hospital affiliation(s) and make sure each one has been accredited by the Joint Commission on Accreditation of Healthcare Organizations (JCAHO). If a surgeon has been appointed to a surgical staff of an accredited hospital, it indicates that the surgeon's capabilities and performance have been reviewed and judged acceptable by medical colleagues.
If the surgeon operates solely in an office-based operating room: Make sure the facility is accredited by the American Association for the Accreditation of Ambulatory Surgery Facilities (AAAASF). This association evaluates the safety of independent surgery facilities, checking on things such as emergency readiness, equipment, and cleanliness that are critical to your safety.
Other accreditations: Other facility accreditations that qualify an office-based operating room are Medicare and the Accreditation Association for Ambulatory Health Care (AAAHC).
Accreditation ensures that certain basic operating room criteria are met and that the facility meets standards of staffing, licensing, certification, equipment, and physical plant standards.
Operating rooms in an office-based or free-standing operating facility should be at the same standards you would expect to find in a hospital. Typically, non-hospital operating rooms provide only outpatient surgical services and do not provide ongoing 24-hour care within the facility. They do, however, usually provide increased privacy and personal care.
Your Pre-Op Consultation
During a pre-op consultation, your surgeon will examine you, explain the operation, and give you information describing pre-operative considerations and post-operative care. You should feel comfortable discussing your expectations and questioning the surgeon on any aspect of the surgery. A qualified and reputable plastic surgeon—like one of our board-certified plastic surgeons—will be happy to answer your questions and inform you of the possible risks and side effects associated with the surgery. When you schedule surgery at LJC, you're given extensive written materials about the entire operative experience.
Your Dream Starts Today
We hope you will choose La Jolla Cosmetic Surgery Centre & Medical Spa for your procedure, but even if you don't, you should still be sure that you use the criterion listed above to choose your surgeon and facility. Ask questions and be sure that your qualified plastic surgeon operates in an accredited facility. We strongly believe this will help you obtain the best and safest medical care.
If you would like to learn about LJC's safety promises or schedule an appointment to meet with one of our surgeons, please request a consultation online or call (858) 452-1981.