Beautiful Results, Shorter Downtime
Sciton® Halo is the world's first and only hybrid fractional laser and La Jolla Cosmetic Surgery Centre & Medical Spa is thrilled to offer patients treatment with this revolutionary new technology.
Offering maximum benefit while minimizing downtime, Halo provides fully customizable, minimally-invasive laser skin resurfacing suitable for treating a variety of skin concerns on all skin types.
Get the 5-star patient care you deserve at LJC Our promises to you
Meet the First Hybrid Fractional Laser
Traditionally, lasers come in two options: ablative and non-ablative. Halo offers both options in a single pass, addressing both mild concerns in the epidermis and more severe skin issues in the dermis during the same treatment. This both provides more dramatic, comprehensive results and minimizes total downtime.
When you come in for your treatment with Halo, we are able to fully customize your experience to specifically address your unique skin concerns. The Halo system will determine the exact level of energy needed to safely and effectively treat your skin through intelligent energy delivery and Dynamic Thermal Optimization. This results in a precise treatment that evenly covers the area.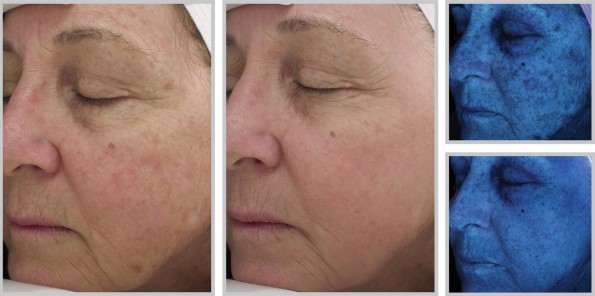 Halo can treat a variety of mild to severe skin concerns. Depending upon the areas to be treated and your goals, you may choose to have a single Halo treatment or a series of Halo treatments. Simulations of your Halo result after two or four Halo treatments are available to help you visualize the possibilities of the wonderful new technology. The Halo Hybrid Fractional Laser is a great option for:
Diminishing the appearance of sun damage, such as sun spots, uneven skin tone and texture, and hyperpigmentation.
Reducing visible signs of aging, such as deeper wrinkles and creases on the face (ablative setting) and age spots or uneven tone (non-ablative setting).
Improving the appearance of scarring, such as from acne, chickenpox, or miscellaneous blemishes or injuries.
What Are You Waiting For?
If you're looking for a great laser result with minimal and manageable downtime, we have just what you need. La Jolla Cosmetic is one of the first practices in the country offering Sciton's Halo hybrid fractional laser, the latest advance in laser technology available on the market today.  Your team at LJC is always looking for ways to provide optimal laser treatments: which we define as quality result with minimal recovery that enables you to return to work and activities as quickly as possible. We think the Halo laser treatment nails it in both categories, quality of results and minimal downtime.
If you're ready to experience beautiful, youthful skin for yourself, give us a call. The aesthetic services team at La Jolla Cosmetic will work closely with you to find the best treatment to bring out your glow.