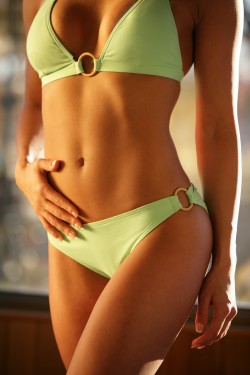 It's round three of our Real Life Recovery Series! This time we're covering a topic that any cosmetic surgery patient can relate to: scars. Keep reading to get our surgeons' top tips for post-surgical scar care.
We admit it. There's hardly anything less glamorous to talk about than scars, right? But if you're considering plastic surgery, chances are you've given them some thought: What kind of scars will I have? Will they be obvious?
It's true that scars are an unavoidable part of having cosmetic surgery, but we have good news! With most procedures, your scars will be camouflaged by your natural body contours or easy to hide beneath a bathing suit. Plus, there are a number of easy things you can do to help your scars heal as inconspicuously as possible.
Choose an experienced, board certified plastic surgeon. A skilled plastic surgeon will take care to place incisions as inconspicuously as possible. You can get an idea of how your scars might look by studying your surgeon's before & after photos.
Take it easy! It takes time for your skin to rebuild its natural support system, and putting unnecessary strain on healing incisions can result in wider scars. Follow your surgeon's instructions for resuming activity after surgery.
Leave surgical tape on as instructed after surgery. This tape is your friend, protecting your incisions and providing support that helps your scars heal better. For scars under stress due to their location (a tummy tuck scar is a great example), you may benefit from wearing surgical tape for a longer amount of time. Doing so prevents stretching and can help you end up with a finer scar.
Protect your scars from the sun. Healing skin is extra sensitive, and sun exposure can cause unprotected scars to darken. Keep the area covered and wear a full-spectrum sunscreen even after your incisions have healed. We recommend bioCorneum+ SPF 30, a topical silicone treatment that doubles as a sunscreen. It forms an invisible protective layer over the scar, keeping it clean, supported, and shielded from the sun.
Try a topical scar-minimizing treatment. Your surgeon can recommend a product to help you keep the area moisturized and minimize the scar's appearance. Our patients have seen excellent results with SkinMedica Scar Recovery Gel with Centelline™, which has naturally derived ingredients that help scars heal less visibly.
Ask your surgeon about massage. Spending just a few minutes each day massaging your scars may help them heal more smoothly. It's important not to put stress on your incision site too early, so do not start self-massage unless your surgeon says it's okay and has shown you the proper technique.
Consider laser treatments. Occasionally, even with proper scar care after cosmetic surgery, a patient will have more prominent or raised scars. Laser skin treatments can help smooth and diminish visible scars long after they have healed.
While everyone heals a little differently after surgery—genetics, skin tone, and the location of the incisions also influence scarring—being proactive about scar care after cosmetic surgery gives you the best odds of having scars that are easy to hide and hard to see.
Want more info about reducing plastic surgery scars? Contact us! We'll be happy to answer your questions at a consultation with one of our surgeons.