La Jolla Cosmetic Surgery Centre & Medical Spa
9850 Genesee Ave Suite 130
La Jolla, CA 92037
Call: (858) 452-1981 Text: (858) 203-2944
Monday–Friday: 7:30 a.m.–6 p.m.

La Jolla Cosmetic Medical Spa - Carlsbad
7730 El Camino Real Suite C
Carlsbad, CA 92009
Call: (858) 788-7989 Text: (858) 203-2944
Monday–Friday: 8 a.m.–8 p.m.
Saturday: 9 a.m.–5 p.m.

Breast Lift With Augmentation (Implants) in San Diego
Have you noticed that your breasts have begun looking deflated? Perhaps you've considered a breast augmentation to restore lost fullness or a breast lift to reposition the breasts and nipples and remove excess skin. Did you know that many actually benefit most by combining these two popular procedures?
A breast lift with augmentation is one of our most popular procedures at LJC in San Diego, CA, and it's easy to see why. By combining these two procedures, we can help improve two of the main concerns of women who've had children, lost a significant amount of weight, or who are simply at the mercy of normal signs of aging: sagging skin and loss of breast fullness. By both lifting and reshaping the breasts and adding volume, a breast lift with augmentation can drastically improve the appearance of drooping or deflated breasts.
Breast Augmentation with Lift

Before & After Photos
WARNING:
This feature contains nudity. Please click OK to confirm you are at least 18 years of age and are not offended by such material.
OK
Breast Augmentation with Lift

Before & After Photos

Keep in mind that each patient is unique and your results may vary.
How Strattice™ helps us get better results for more patients
Pairing these procedures can make surgery more challenging for many patients with stretched, thin or weakened skin. These patients may have insufficient tissue to reinforce the bottom part of the breast following a lift. Without additional support, this means a greater chance that implants may bottom out or that sagging may reoccur. This is where Strattice™ comes into play.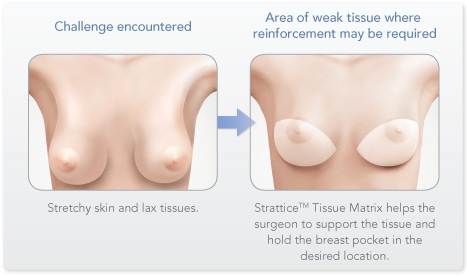 Using Strattice™ in Breast Lift with Augmentation
Strattice™ Reconstructive Tissue Matrix is a tool we can use to reinforce existing weakened tissue for breast lift with augmentation patients. A soft, natural tissue support made from porcine dermis, Strattice™ comes in three Contour Shapes to accommodate a range of breast pockets for mastopexy augmentation cases.
During your procedure, your surgeon will make the incision type discussed in your consultation, then attach the selected size of Strattice™ to the chest wall and pectoralis major muscle. This helps to reinforce the breast pocket and keep it in position. After this is finished, he or she then removes the excess breast tissue and lifts the breasts into their perkier new position.
For more information on your options for breast augmentation with lift using Strattice™, contact us online or call (858) 452-1981! We'll be glad to tell you more at a personal free consultation with one of our board-certified plastic surgeons.
Last reviewed by a La Jolla Cosmetic Surgery Centre & Medical Spa Editor on January 24th, 2023. Meet Our Medical Editors
Not sure how to get the look you want? Tell us about your goals, and we'll show you the possibilities.
Try Our Treatment Planner