La Jolla Cosmetic Surgery Centre & Medical Spa
9850 Genesee Ave Suite 130
La Jolla, CA 92037
Call: (858) 452-1981 Text: (858) 203-2944
Monday–Friday: 7:30 a.m.–6 p.m.

La Jolla Cosmetic Medical Spa - Carlsbad
7730 El Camino Real Suite C
Carlsbad, CA 92009
Call: (858) 788-7989 Text: (858) 203-2944
Monday–Friday: 8 a.m.–8 p.m.
Saturday: 9 a.m.–5 p.m.

Vaginoplasty in San Diego
If you have noticed that sex is not as enjoyable for you or your partner since having children due to loss of tone in the muscles and tissues of the vagina, a plastic surgery procedure called vaginoplasty may help.
Childbirth, aging, and/or genetics, can cause the vaginal tissues and supporting muscles to become stretched. As a result, they lose strength and tone. The looseness can be felt not only by the woman, but by her partner during intercourse.
Best in the Region,
Best in the World 2020
LJC is your best choice for plastic surgery and med spa treatments in Southern California and around the globe.
Get the Full Story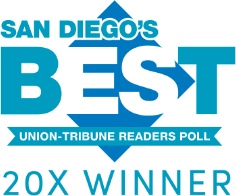 How vaginoplasty can help
Vaginoplasty can tighten these tissues and result in a more satisfactory and stimulating sexual experience. Non-surgical treatments such as ThermiVa® and the O-Shot® can help as well. In addition, many vaginal rejuvenation patients elect to undergo simultaneous labial contouring, commonly called labiaplasty.
If you think you could benefit from vaginal rejuvenation surgery, please contact us. Our patient coordinators will be happy to set up a consultation for you at La Jolla Cosmetic Surgery Centre & Medical Spa with one of our surgeons to discuss your concerns.
Your Safety Is
Our #1 Priority
Since 1988, more than 36,000 patients have had safe, successful procedures at La Jolla Cosmetic Surgery Centre & Medical Spa.
Costs of San Diego Vaginoplasty Procedures
The typical price range for vaginoplasty surgery at La Jolla Cosmetic is $8,000 to $8,500. See our payment & financing options. You can apply for financing online!
Are There Risks Associated with Vaginoplasty?
The specific risks and the suitability of vaginoplasty surgery for a given individual can be determined only at the time of consultation at our San Diego plastic surgery office. All surgical procedures have some degree of risk. Minor complications that do not affect the outcome of vaginoplasty occur occasionally. Major complications are rare. The information on this San Diego plastic surgeons' website is not a substitute for a consultation.
Request your free consultation online or call (858) 452-1981 to get started today.
Last reviewed by a La Jolla Cosmetic Surgery Centre & Medical Spa Editor on March 29th, 2023. Meet Our Medical Editors