La Jolla Cosmetic Surgery Centre
9850 Genesee Ave Suite 130
La Jolla, CA 92037
Call: (858) 452-1981 Text: (858) 203-2944
Monday–Friday: 7:30 a.m.–6 p.m.

La Jolla Cosmetic Medical Spa - Carlsbad
7730 El Camino Real Suite C
Carlsbad, CA 92009
Call: (858) 788-7989 Text: (858) 203-2944
Monday–Friday: 8 a.m.–8 p.m.
Saturday: 9 a.m.–5 p.m.

La Jolla Cosmetic Medical Spa
9850 Genesee Ave # 380
La Jolla, CA 92037
Call: (858) 452-2066 Text: (858) 203-2944
Monday–Friday: 8:30 a.m.–5 p.m.

360 Lipo in San Diego
Available at our San Diego plastic surgery practice, 360 Lipo is an advanced liposuction technique best known for its focus on thinning the waist from every angle and unmasking your existing natural hip and buttock curves. The goal is to achieve the thinnest waist possible all around, which, in turn, serves to unmask the curves beneath. If you can "snatch the waist", everything else looks better.
What Is 360 Lipo?
360 Lipo refers to full-circle liposuction of the torso, including the:
Upper and lower abdomen
Flanks
Bra bulge areas
Upper and lower back
No two patients are exactly alike, and some people need more attention in specific areas than others. A 360 approach allows your surgeon to create the exact improvements you're looking for, all in a single procedure.
360 Lipo also recognizes that no specific "area" of the torso is ever an isolated problem—they blend together in a continuous, all-around contour. The procedure uses multiple body positions to sculpt your shape with that in mind, giving you your own stunning, individualized result.
Experience 360 Lipo Expertise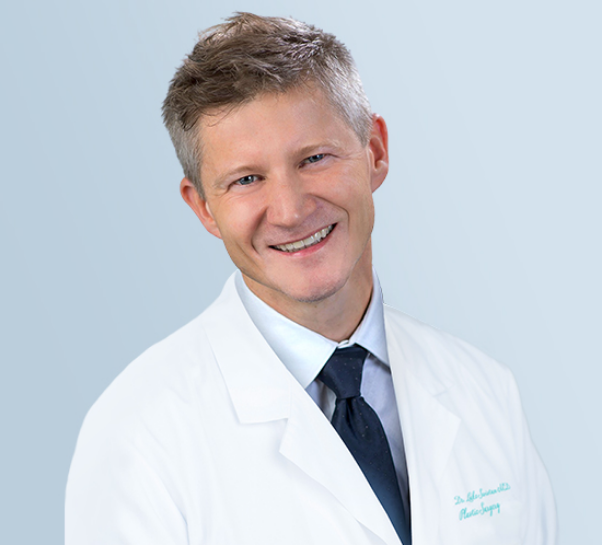 Meet board-certified plastic surgeon Dr. Luke Swistun, LJC's 360 Lipo specialist. Dr. Swistun is highly trained and experienced in the 360 Lipo approach to body contouring. He uses gold-standard technology and techniques to perform this procedure, including MircoAire power-assisted liposuction (PAL). He frequently combines 360 Lipo with the newest and most advanced skin tightening modalities on the market today, including Renuvion®, depending on your goals.
When you visit Dr. Swistun at La Jolla Cosmetic Surgery Centre & Medical Spa, you benefit from an in-depth individual evaluation and a focused surgical approach tailored specifically for you. You can also count on a safe, supportive experience from start to finish.
Dr. Swistun performs all procedures in our AAAASF-accredited surgical center alongside our award-winning patient care team.
Your Total Body Transformation
Complete your 360 Lipo transformation with:
Fat grafting: Fat transfer to the buttocks, hips, or breasts naturally "rounds out" critical areas that have lost volume over time.
Skin tightening: Surgical skin tightening options such as a tummy tuck and nonsurgical options such as Renuvion® tightens loose or dimpled skin to create an even more attractive result.
Design the New You
Not sure how to get the look you want? Tell us about your goals, and we'll show you the possibilities.
Try Our Treatment Planner
How Is 360 Lipo Different From Traditional Liposuction
Rather than focusing on 1 or 2 specific "problem areas," 360 Lipo uses multiple body positions during the surgery to address all areas of the torso, blending them for a natural, seamless contour. While traditional liposuction works well for those looking to reduce isolated pockets of fat, 360 Lipo is an excellent choice for those searching for a total torso and core transformation.
If you're looking to etch your abs or bring out the fine details of your muscle definition on your arms, legs, chest, and more, you may be a better candidate for HD lipo, another advanced liposuction approach available at LJC. During your consultation, your surgeon will talk through your concerns and goals to make sure you get the best results with the right approach for you.
| | | |
| --- | --- | --- |
| Traditional Lipo | HD Lipo | 360 Lipo |
| Contours 1 or 2 specific problem areas by removing pockets of fat | Ideal for abdominal etching and highlighting muscle definition | Slims and sculpts the entire torso, including the upper and lower abdomen and back |
Considering 360 Lipo in San Diego? Let's Find Out If Your a Good Candidate
The ideal 360 Lipo candidate is a healthy person with a BMI of 25 to 29. These candidates typically have the best experience and see the most dramatic results.
It's important to note that liposuction is not a weight loss procedure and works best as a complement to a healthy lifestyle. Often, 360 Lipo patients find themselves more motivated to exercise and stay active after their recovery, improving their health and appearance even more as they continue to tone and sculpt their body over the long term.
How Long Is 360 Lipo Recovery?
Power-assisted liposuction causes less swelling, bruising, and soreness than traditional liposuction, allowing you to get back to your usual routine as quickly as possible. Depending on your procedure's complexity, you can expect to resume light activity after 1 to 2 weeks and more intense exercise after 6 to 8 weeks. Most people see their initial results within a week, and that result continues to improve as it matures and swelling subsides for up to 9 months after surgery.
How Much Does 360 Lipo Cost?
Guess what? You can slim your waist while keeping your wallet plump! We're ready to help! Begin your transformation with a $5,000 down payment and qualify for monthly payments of $239 spread over 60 months. If you have above-average credit or you can pay more upfront, you'll reap more monthly savings. That's really all it takes to fine-tune your torso!
Your 360 Lipo pricing may vary based on your specific needs and goals, so visit our handy pricing page for fee ranges and other details.
Did you know that we make applying for financing a total breeze? Handle it effortlessly online or in person with us during your consultation. Now, there's nothing stopping you from achieving the slim, sexy waistline you've always wanted!
Your Safety Is
Our #1 Priority
Since 1988, more than 36,000 patients have had safe, successful procedures at La Jolla Cosmetic Surgery Centre & Medical Spa.
Learn More About 360 Lipo at Your Free Consultation
Next time you hit the beach or put on your favorite jeans, you can step out with the waistline of your dreams. Request your free consultation online or call (858) 452-1981 to meet with Dr. Swistun virtually or in person.
Last reviewed by a La Jolla Cosmetic Surgery Centre & Medical Spa Editor on September 15th, 2023. Meet Our Medical Editors