La Jolla Cosmetic Surgery Centre
9850 Genesee Ave Suite 130
La Jolla, CA 92037
Call: (858) 452-1981 Text: (858) 203-2944
Monday–Friday: 7:30 a.m.–6 p.m.

La Jolla Cosmetic Medical Spa - Carlsbad
7730 El Camino Real Suite C
Carlsbad, CA 92009
Call: (858) 788-7989 Text: (858) 203-2944
Monday–Friday: 8 a.m.–8 p.m.
Saturday: 9 a.m.–5 p.m.

La Jolla Cosmetic Medical Spa
9850 Genesee Ave # 380
La Jolla, CA 92037
Call: (858) 452-2066 Text: (858) 203-2944
Monday–Friday: 8:30 a.m.–5 p.m.

Travel Support for Out of Town Patients
Welcome to our beautiful San Diego home! We're happy we made your cosmetic surgery center shortlist, and we can't wait to help you make your dream real.
Whether you've heard La Jolla Cosmetic Surgery Center & Medical Spa is "the best," prefer to have your procedure out-of-town for privacy, or want to recover from plastic surgery with loved ones in San Diego, we're confident you can find what you need here.
As our many out-of-town visitors will tell you, La Jolla Cosmetic is THE place to get your new look. As one of the longest-established private cosmetic surgery centers in the nation, we've been helping people like you get glam for more than 30 years. Our board-certified plastic surgeons and patient care team will make sure you feel like part of our family from the moment you arrive.
La Jolla & San Diego Accommodations
Enjoy a comfortable and relaxing stay with luxurious hotels and accommodations that will make your visit a breeze.
Hotels
Here are some of our favorite hotels in the area:
Transportation and Overnight Care
These companies provide transportation and overnight care. Fees are $600 per night.*
*Cost of hotel is extra.
Other Transportation Services
Of course, Uber and Lyft are always options, but if you want something a little more luxurious, catch a ride to and from your destination with a car service:
Best in the Region,
Best in the World 2020
LJC is your best choice for plastic surgery and med spa treatments in Southern California and around the globe.
Get the Full Story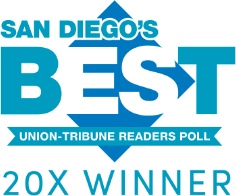 Getting To La Jolla & San Diego
San Diego is about a 2.5 hour drive from Los Angeles. All major airlines fly into San Diego International Airport, and La Jolla is only minutes away. Here are some quick links to help you plan your travel:
Enjoying Your Stay
Located about 15 minutes north of downtown San Diego, La Jolla has many beautiful beaches, enticing attractions, and fine restaurants. La Jolla has a wonderful and mild climate year-round. The sun shines approximately 300 days a year and has an average temperature of 70 degrees, which makes La Jolla a serene and ideal retreat. You can indulge in La Jolla and San Diego's coastal culture or take a trip to the mountains and desert all within in day's drive. Let La Jolla's lovely combination of European resort atmosphere and coastal community culture embrace you during your stay here.
La Jolla Activities
San Diego Activities
Shopping
Why Make LJC Your Destination for Plastic Surgery?
Still comparing locations for your transformation? Here are just a few of the reasons people from across the country choose us:
Your Dream Starts Today
Ready to make the trip and start your journey here in La Jolla? We can't wait to welcome you! To get started, please request a consultation online or call (858) 452-1981.