As a mother to seven children (yes, seven!), Janice was seeing some pretty noticeable changes to her face and body, thanks to the toll of aging and childbearing. For around five years, she contemplated surgery and began researching her options.
Janice knew she wanted to make a change, but didn't want to lose herself in the process; natural was a must!
"The condition of my post-children body was really distressing to me. When I undressed and looked in the mirror, it was almost as if I didn't recognize myself! It's really difficult to feel feminine and confident when you can't seem to converge the inner 'you' with what you see of your physical self reflected." Janice
Janice wanted to improve the appearance of her breasts first, and she was interested in the very natural look and feel of silicone breast implants—an option that wasn't widely available at that time.
That's when she found Dr. Smoot, and she was willing to travel for the results she wanted. She was impressed by Dr. Smoot's board certification, credentials, and experience, and after meeting, she knew he was the best choice for her.
"Dr. Smoot did such an incredible job on my breast augmentation (almost a reconstruction after so many years of nursing children!) that a short time later, I asked him to perform a tummy tuck, brow lift, upper blepharoplasty, and ear pinning." Janice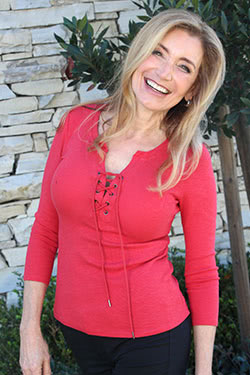 For Janice, working with a surgeon who operated in an AAAASF accredited surgery center with a board certified anesthesiologist was critical—and when Dr. Smoot joined LJC, she happily followed him after hearing their reputation and seeing their gorgeous, clean facility.
Janice has been a loyal LJC patient for years, and she loves the consistently beautiful outcomes the board certified plastic surgeons and talented La Jolla Cosmetic Surgery Centre & Medical Spa staff provide her. Since her cosmetic procedures, Janice has returned for injectable treatments, laser skin resurfacing, and various minimally and non-invasive anti-aging solutions.
"LJC has, without a doubt, the most thorough communication and education possible regarding options, procedures, after-care and every aspect of your experience. You always feel as if you can ask questions and that everyone there is totally invested in achieving your best experience and best results. I actually think that the degree of confidence and comfort that this inspires in patients contributes to the great outcomes for which this practice is known." Janice