La Jolla Cosmetic Surgery Centre & Medical Spa
9850 Genesee Ave Suite 130
La Jolla, CA 92037
Call: (858) 452-1981 Text: (858) 203-2944
Monday–Friday: 7:30 a.m.–6 p.m.

La Jolla Cosmetic Medical Spa - Carlsbad
7730 El Camino Real Suite C
Carlsbad, CA 92009
Call: (858) 788-7989 Text: (858) 203-2944
Monday–Friday: 8 a.m.–8 p.m.
Saturday: 9 a.m.–5 p.m.

Hand Rejuvenation
Almost anyone can benefit from better-looking hands
Best in the Region,
Best in the World 2020
LJC is your best choice for plastic surgery and med spa treatments in Southern California and around the globe.
Get the Full Story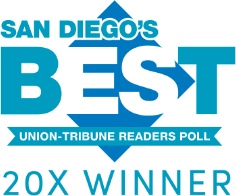 What do you see when you look at your hands? Do you notice your favorite ring or your great manicure? Or are you greeted by prominent veins, brown spots, or thinning skin that you find very bothersome?
If you're bothered by how old your hands look, our La Jolla Cosmetic Surgery Centre & Medical Spa team can help with a personalized plan to help get smoother, younger-looking hands in no time.
How non-surgical hand rejuvenation can help
Restore volume to thinning hands
Reduce visibility of tendons and veins
Smooth and soften a bony hand appearance
Reduce fine lines & wrinkles on the hands
Minimize brown spots, freckles and sun damage
Minimize scars
Improve skin texture & firmness
Option 1: Smooth the backs of your hands with filler injections
We talk a lot about addressing facial volume loss with fillers. Age-related volume loss also affects the hands and can result in a wrinkled or bony appearance. Fillers are an effective way to restore a smooth, youthful and elegant appearance to the hands. They instantly replace lost volume, leaving you with smoother, softer and more youthful hands right after your treatment.
Option 2: Reduce brown spots and sun damage with BBL Photorejuvenation
Brown spots, redness, and scars can make your hands look years older than the rest of you. BBL (BroadBand Light) is our top treatment to address these issues. Gentle MOXI™ laser treatments are also effective, and combining the treatments is even better.
By sending pulses of light through the skin that absorb brown and red pigments, BBL can dramatically reduce unsightly veins and pigmentation problems. There's little to no downtime needed, and results are evident within 2 to 3 weeks after your first treatment.
Option 3: Add hands onto your HALO or MicroLaser Peel facial
Laser resurfacing can dramatically improve your complexion and help your face look smooth, healthy and radiant—why let your hands defy your age? It only makes sense that you'd want your hands to look as youthful as the rest of you. At LJC, you have the option to add on hand treatment to your HALO Hybrid Laser Resurfacing or MicroLaser Peel.
Both treatments are excellent for achieving an overall improvement in skin tone, texture, and appearance on the backs of your hands, helping to:
Reduce fine lines & wrinkles
Minimize scars & keratoses (pre-cancerous lesions)
Neutralize sun spots, age spots & hyperpigmentation
Firm lax or crepey skin
Our highly experienced laser specialists can help you determine which of these lasers is best for your skin type and goals.
Interested in hand rejuvenation? Get started at a free consultation.
We personalize your treatment plan at LJC to meet your specific needs, goals, and budget. Many patients combine hand rejuvenation treatments to quickly achieve the most dramatic improvements. Our laser & skincare team will go over all of your options and help you decide what's best for your hands. Call (858) 452-1981 or contact us online to request your free consultation.