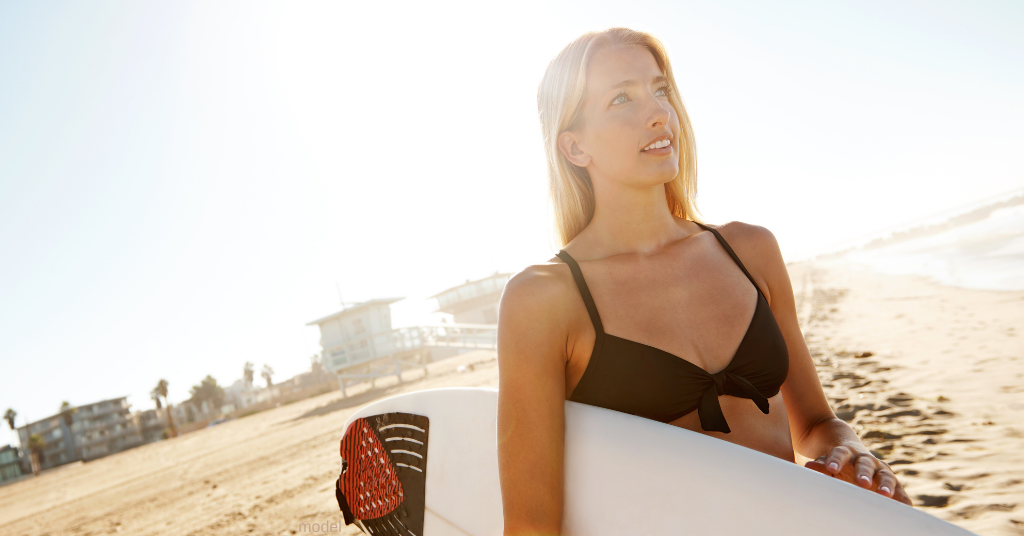 Explant surgery, also called breast implant removal, is on the rise at our San Diego plastic surgery practice and across the country. With celebs like Chrissy Teigen opening up about having their implants removed, more women are learning about the benefits of revising their breast augmentation results. You might be considering it, too, if your implants no longer feel like "you."
It's no secret that breast augmentation helps thousands of women feel more confident in their bodies every year. Still, it's important to note that implant removal can be just as empowering and even life-changing. That's why in this post, we're showcasing a few of our favorite explant before-and-after photos that highlight how beautiful breast implant removal can really be.
A More Lifted Look
This 48-year-old woman had a bilateral capsulectomy with explantation of breast implants and a breast lift. The surgery, performed by board-certified plastic surgeon Dr. Hector Salazar-Reyes, brought her breasts back into proportion with her frame. An added breast lift gave her an extra rejuvenating boost, completing her refreshed new look.

A Subtle Size Adjustment
This 30-year-old woman had her breast implants removed by board-certified plastic surgeon Dr. Luke Swistun. Because the surgery used the same incisions as her initial breast augmentation, she was left with very little visible scarring. She also had enough skin elasticity that she didn't need any additional lifting to achieve a beautiful and natural-looking result.

When Less Is More
After having her implants removed and her breasts lifted by Dr. Salazar-Reyes, this 36-year-old woman achieved a more youthful and proportionate breast appearance. Many women who have a similar transformation report they experience less shoulder and back pain, feel more comfortable when working out, and have an easier time finding clothes that fit and flatter them.

A Total Transformation
This 47-year-old woman had her breast implants removed by Dr. Salazar-Reyes. Her implants were large for her frame, making her top half look disproportionately full. After implant removal, her whole body looks slimmer and more balanced.

Looking Like New
This 30-year-old woman complimented her explant surgery with a nipple reduction or areolar reduction. These combined procedures turned the clock back on her appearance and gave her a fresh start with breasts that look like they had never been operated on.
Learn More About Breast Implant Removal On Our Podcast
Want even more insights into breast implant removal? Dr. Swistun joined us for an episode of The La Jolla Cosmetic Podcast to talk all about the procedure and his approach. In the episode, he answers questions such as:
Is breast implant removal right for me?
What is an en bloc capsulectomy?
Should I have a breast lift performed with my explantation?
What is recovery like after breast implant removal?
And much more!
To get the full story, listen to the podcast episode or read the transcript here.
Your Dream Starts Here
Want to meet personally with one of our board-certified plastic surgeons to discuss having your implants removed? Please request a consultation online or call (858) 452-1981. We can't wait to hear from you!