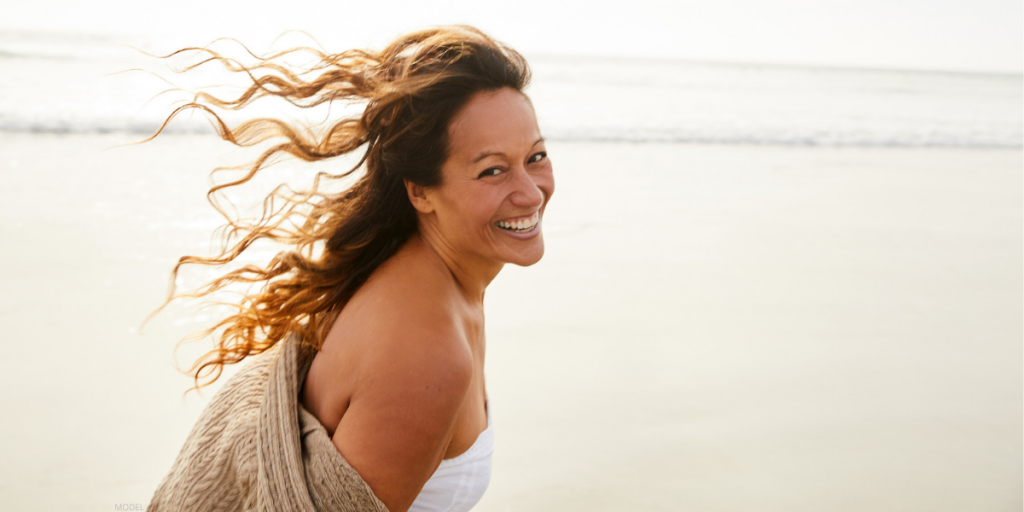 There's no "right" age for a facelift. That's one thing our board-certified plastic surgeons often tell facelift candidates here in San Diego, CA. Different people are ready for the surgery at different phases of their lives—some in their early 40s and others in their late 70s. It's all about when the time is right for you, and that's different for everyone.
How does a facelift change for people of varying ages? In this blog post, we're showcasing a few real transformations our clients of all ages have achieved with facial rejuvenation.
Before & After a Facelift in Your 40s
For most people who opt for a facelift in their 40s, the goal isn't to turn back the clock as much as it is to catch signs of aging early and maintain a fresh and youthful look. Sometimes these individuals abused their skin (hello, sun-worshippers) when they were younger and have since repented. They just need a little help to get them feeling fresh and fabulous.
(Not sure you're ready for a facelift at this age? Learn more about nonsurgical alternatives in our previous blog post.)
Subtle Results Make All the Difference
This gorgeous 45-year-old facelift candidate lifted her lower face for a sleeker, more defined jawline and minimized marionette lines (the lines that run from the corners of the mouth to the chin). She also combined her facelift with upper eyelid surgery (blepharoplasty) to complete her refreshed new appearance.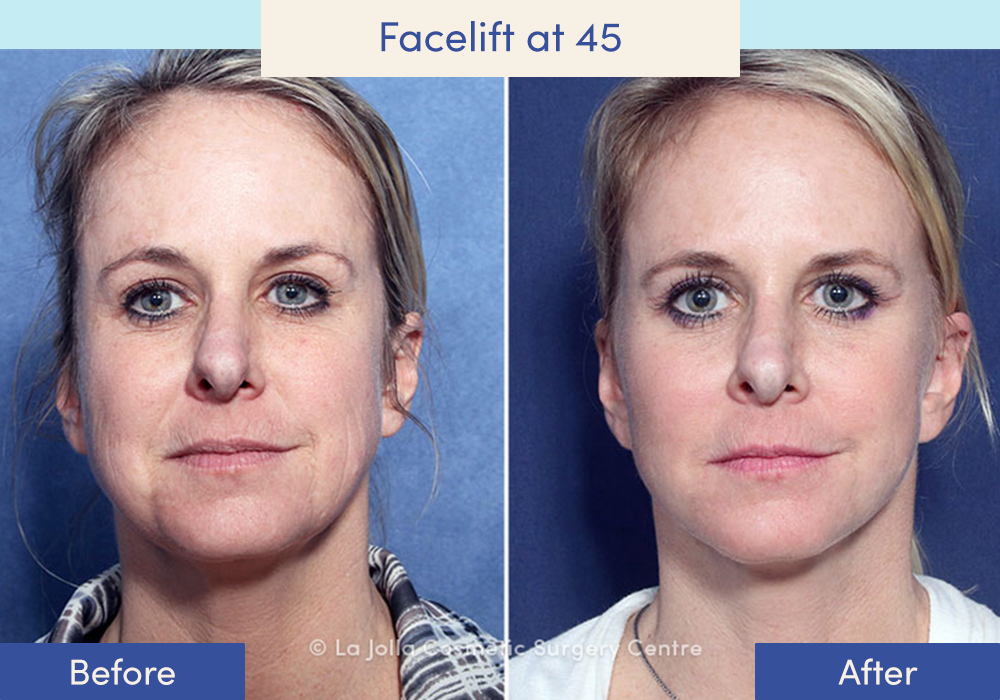 A Proactive Approach to Aging
Though this radiant 43-year-old woman only had some mild signs of aging on her lower face and neck, she decided to nip it in the bud and preserve her youthful look with a facelift and neck lift. The surgery addressed laxity on her neck and jawline to keep her looking as fresh and vibrant on the outside as she felt on the inside.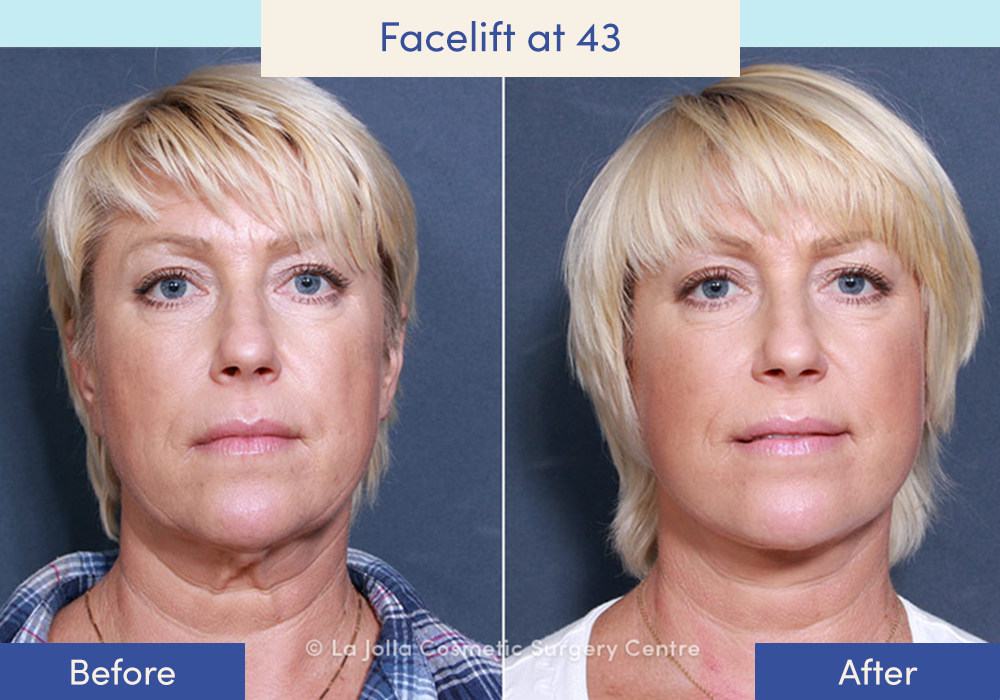 Before & After a Facelift in Your 50s
By the time they reach their 50s, most people are looking at some of the signs of aging that facelifts are designed to treat. This is around the time you may start to notice jowls, deep nasolabial folds, skin laxity in your face and neck, and flat cheeks.
A Jaw-Dropping Jawline Transformation
This 53-year-old woman took years off her already beautiful face by tightening up the skin and tissues on her lower face and neck. She now has a sharper, more defined jawline and a more slender neck. She also opted for upper eyelid surgery to give her whole look a bit of an extra lift.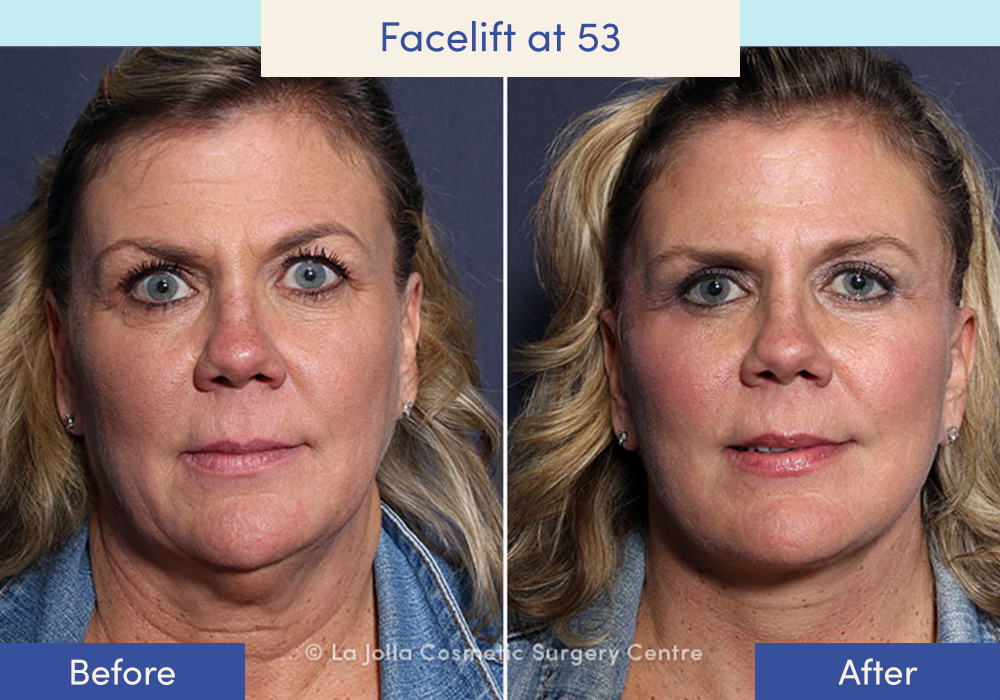 A Post-Weight Loss Victory Lap
For this 54-year-old man, getting a facelift was less about reversing signs of aging and more about tightening skin after an amazing achievement of losing more than 100 pounds. His facelift and neck lift removed excess skin to reveal the slim and sculpted look he worked so hard for.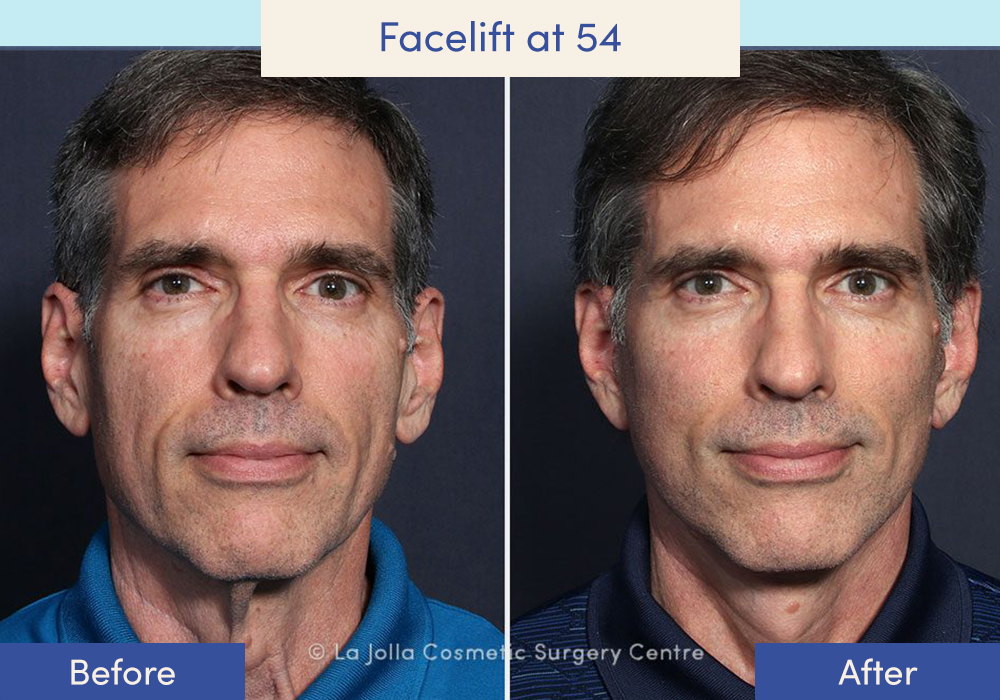 Before & After a Facelift in Your 60s
Along with the 50s, the 60s are one of the most popular ages for facelifts. In 2020, 64% of all facelifts were performed on people aged 55 to 69, according to the American Society of Plastic Surgeons. Rejuvenating the face at this age is all about creating structural improvements that restore a younger appearance without creating that infamous pulled-back or "windblown" look.
The Same Face, But Younger
This 62-year-old woman's facelift is a fantastic example of rejuvenating the face without compromising its unique features. She doesn't look "worked on" or like a different person after surgery. She still looks like her same radiant self, just with smoother skin and more youthful contours.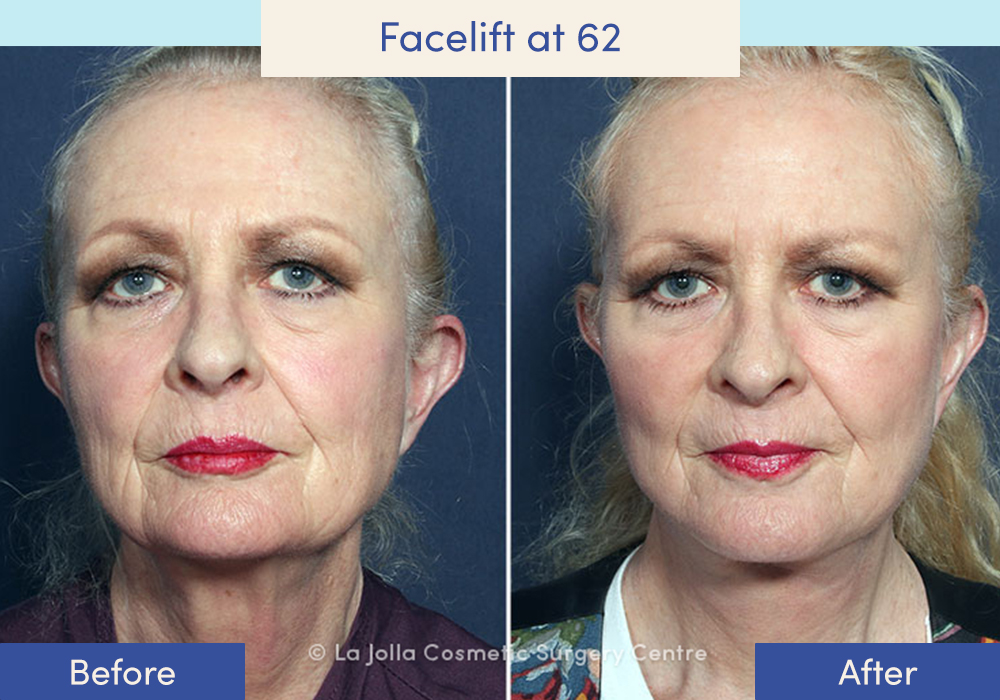 Bringing Back the Old You
With the help of a facelift, neck lift, and eyelid lift, this 65-year-old man turned back the clock and brought the younger-looking version of himself back to the surface. Just take a look at his rejuvenated neck and jawline and his more alert-looking eyes.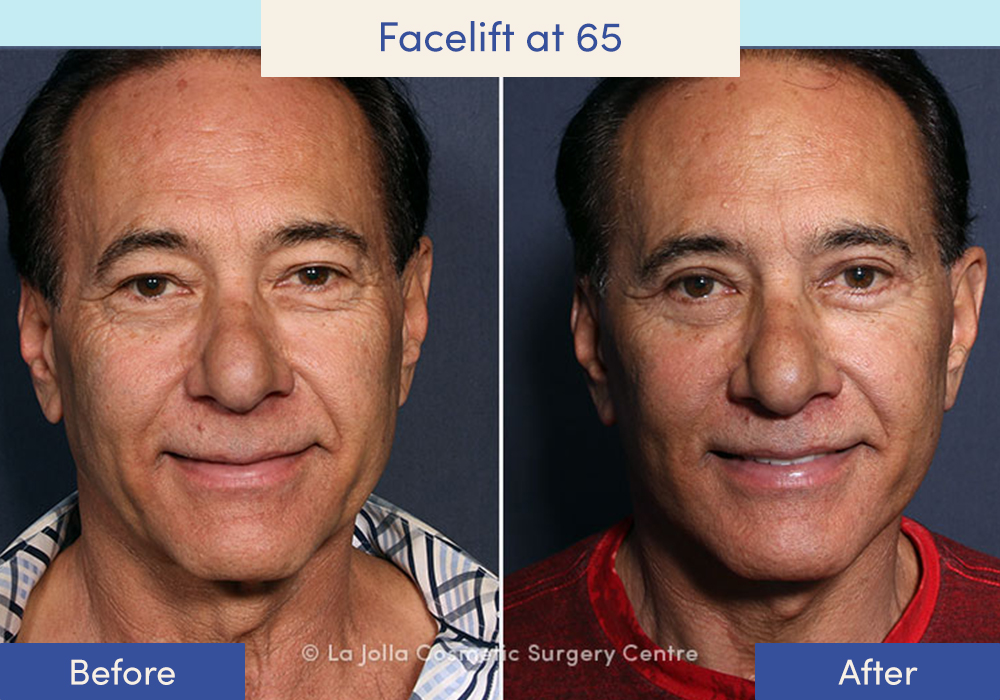 Before & After a Facelift in Your 70s
People in their 70s often have skin laxity in the lower face and neck, hollowness in their cheeks, nasolabial folds, marionette lines, and jowls.
Turning Back the Years
What a transformation! This stunning 75-year-old woman looks years younger a facelift, neck lift, and lower eyelid surgery. Her cheeks look firmer and fuller, her skin is beautifully smooth with fewer wrinkles, and the best part is she still looks like her uniquely lovely self.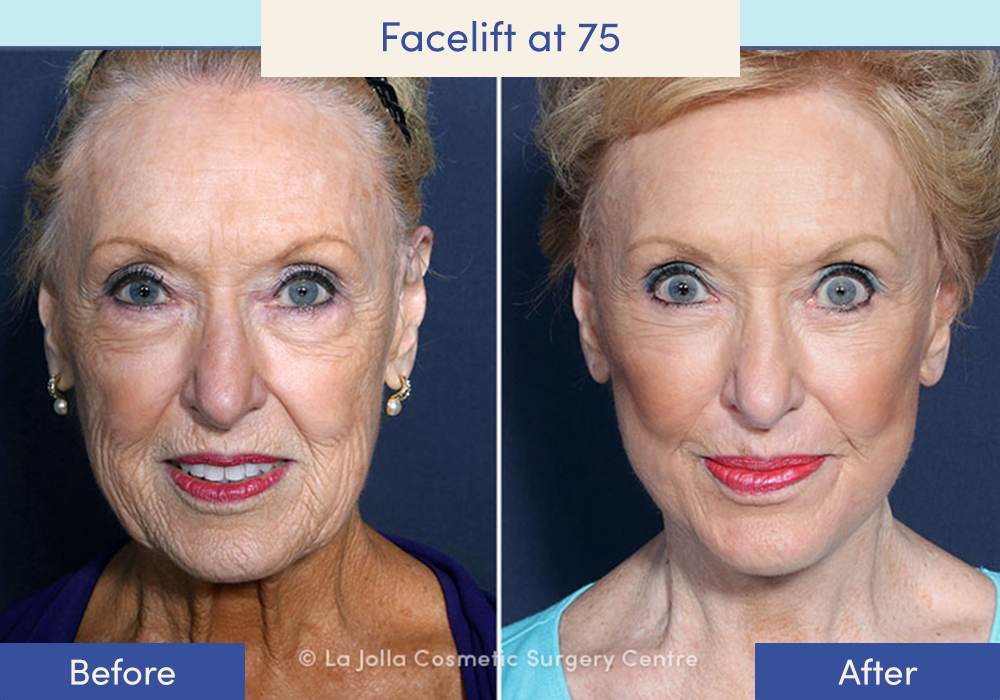 More Vibrant & Vital Than Ever
Here's one of our absolute favorite results. This handsome 71-year-old man seemingly aged backward after his facelift! Though he was struggling with jowls and drooping neck tissues before, his facelift revealed a look that reflected how he felt: healthy, youthful, and vibrant.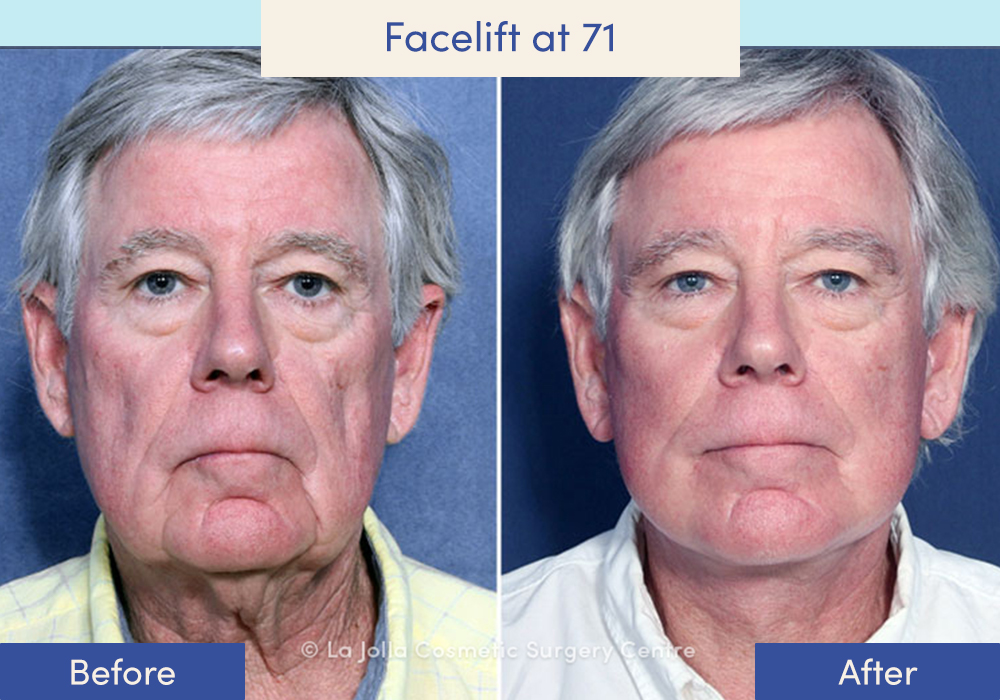 Want to see even more examples of what's possible with a facelift? Visit our before-and-after photo gallery.
If you would like to learn more about bringing your dream face to life with plastic surgery in San Diego, please contact us online or call (858) 452-1981.