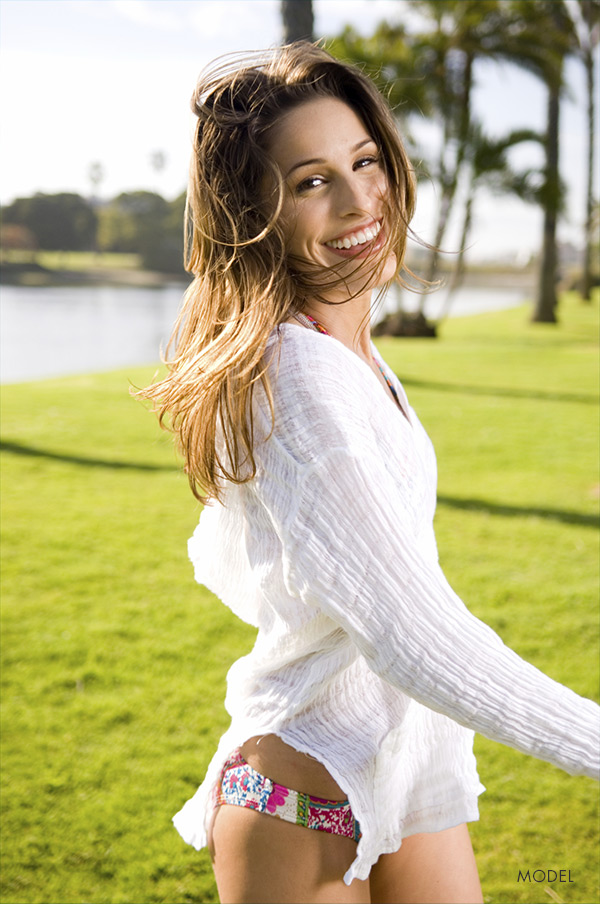 We've all heard of miracle lotions and creams that promise to enhance the appearance of your breasts, or secret exercises that combat gravity's pull—and most women would love to know how to keep their breasts perky. But the truth is that there is no cure-all for sagging breasts outside of surgery. There are, however, many habits that can help you retain your breasts' perkiness, even if there's no regaining it.
So let's go through a couple of "do's and don'ts" of breast maintenance:
Don't buy in to creams and lotions that promise enhanced breast shape. Breasts sag due to the Cooper's ligaments and surrounding tissues naturally losing their integrity. No product can reverse this.
Do invest in quality moisturizer and sunscreen. Moisturizing your breasts won't reverse the sagging process, but can help skin remain stronger and firmer for longer. Additionally, UV rays can increase the rate at which tissues break down, so make sure to protect your breasts from the sun with an SPF 30 or higher.
Don't wear bras that give too much lift to your breasts. Studies show that wearing bras that are too supportive can actually weaken the muscles supporting your breasts, which can potentially speed up the sagging process.
Do wear properly fitted bras that aid your body in supporting your breasts. It might be appealing to have a beautiful lacy push-up—and we're all for lingerie that makes you feel good about yourself—but the truth is that how a bra fits your breasts should be the most important factor in choosing your everyday bras. If you've not been professionally fitted at a lingerie store or your shape has changed since your last fitting, treat yourself to a bra fitting soon.
Don't avoid exercises that make your breasts bounce. There is no proven connection between your breasts bouncing up and down and increased sagging. Effective and valuable exercises require a lot of movement and that's no reason to shy away.
Do maintain a consistent weight through regular exercise and a healthy diet. Fluctuations in weight stretch the skin of your breasts and result in decreased elasticity of your breast tissue, which contributes to drooping. Increasing your core strength through exercise is a great way to build up the muscles that support your breasts.
Don't expect breast implants to beat gravity. If you decide to invest in breast augmentation surgery, know that implants increase breast fullness, but do not combat sagging. If you already have noticeable sagging, implants alone are unlikely to cure the issue.
Do consider a breast lift. This procedure is designed to reverse the effects of gravity on your breasts to help restore a youthful shape. Combining a breast lift with augmentation can give you both perkiness and fullness; it's no wonder the combined procedure is so popular among our patients.
Beauty blogs, popular magazines, and old wives tales may include tips, tricks, and remedies for avoiding or even reversing sagging, but the truth is, breast drooping is an inevitable part of your breasts' lifespan. But just because it's inevitable doesn't mean you have to let drooping breasts affect your confidence. Breast enhancement procedures can help restore a youthful firmness and contour to your breasts by reducing excess, lax skin. Contact us if you'd like to talk about options in a personal consultation with one of our board certified plastic surgeons.