Breast augmentation is a procedure that La Jolla Cosmetic Surgery Centre & Medical Spa has been renowned for since 1988!
Para ver la pagina en Español haga click aquí.
At LJC, our board certified San Diego plastic surgeons have the training and experience you can count on. We offer free consults. And you can read verified patient reviews to see what our patients are saying about us.
Breast augmentation patients are statistically happy with their decision, with 98% patient satisfaction reported nationally. Women who've had breast augmentation talk about the positive changes in their life—including increased self-confidence, more pleasure in relationships, and the freedom to wear clothing they had avoided in the past.
Understanding what breast augmentation can do for you
So you've decided to consider breast augmentation. We're here to help! We have plenty of info, breast augmentation before & after photos, a free implant sizing program, financing, verified reviews and real stories to help you decide what is best. We're committed to educating our San Diego breast augmentation patients to help them make informed choices about breast implant size, type, and shape. We believe that interaction and communication make for the best experiences and results.
Get the 5-star patient care you deserve at LJC
Our promises to you
Breast augmentation is intended to give you larger and shapelier breasts—and it is one of the top-performed cosmetic surgeries in the United States. It's also a great option for addressing breast asymmetry, restoring lost volume after weight loss or pregnancy, and giving your breasts a bit more perkiness when combined with a breast lift.
What to expect from your breast augmentation surgery & recovery
Breast augmentation is a straightforward and safe surgery in the hands of an experienced plastic surgeon. At La Jolla Cosmetic, we perform breast augmentations in our accredited operating room using general anesthesia. Trust us—though the procedure is not extensive, it's better to be comfortably under anesthesia during the operation. Rest assured that a board certified anesthesiologist will be taking care of you, while your board certified plastic surgeon concentrates on the procedure. Post-operatively, newer pain control techniques reduce your discomfort to very low levels.
Since 1988, more than 32,000 patients have had safe, successful procedures at La Jolla Cosmetic Surgery Centre & Medical Spa.
Recovery from breast augmentation is surprisingly quick for most patients. If you have a desk job, you can usually return to work within a week. Although you'll have to take a break from workouts, you should be able to ease back into aerobic activity and exercise not involving the chest in about 4 weeks. Your surgeon will let you know when it's okay to resume any activity.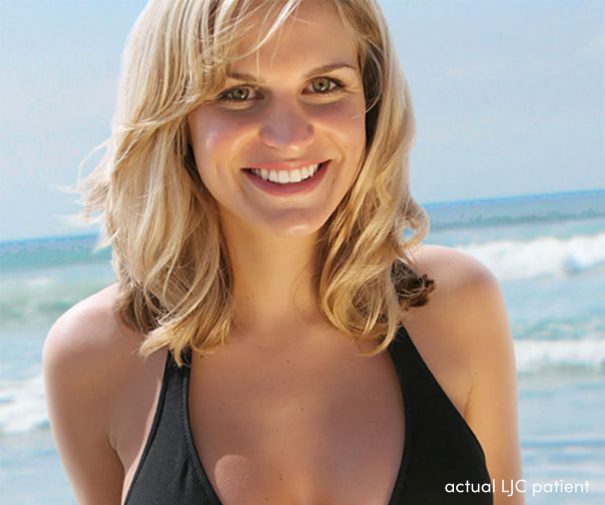 Get a super helpful sizing session with your free breast augmentation consult at LJC
Choosing your new breast size is important and personal, so your free breast augmentation consultation includes a unique sizing session we call the Curves Connection™. In addition to meeting with the board certified plastic surgeon of your choice, you'll get to try on different implant sizes and shapes until you find the look you like. Once you are happy, we take "after" photos of your new look and give you a copy to take home, so that you can think further about your size choice and even get opinions from trusted friends.
¡Hablamos Español!
Learn More
You've got nothing to lose and can gain lots of intel, so contact us to schedule your free breast augmentation consultation!