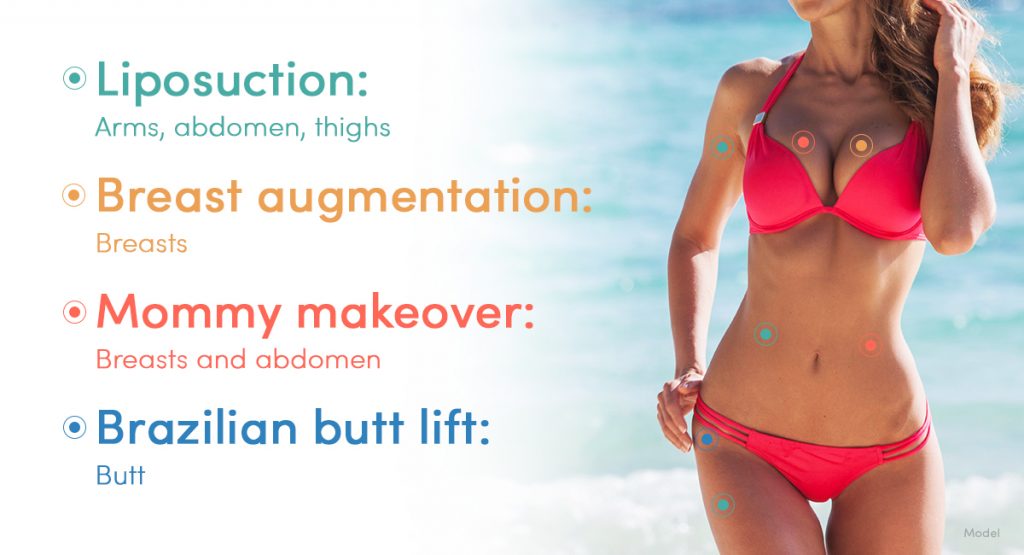 We all want to feel amazing when we make our beach body debuts in the summer. Whether that means toning up, slimming down, or filling out your figure in all the right places, cosmetic plastic surgery in San Diego can help.
Read on for your guide to achieving your best beach body from head to toe.
Liposuction
Cost range: $9,000 to $16,000.
Recovery: Back to work in 4 to 5 days
Looking to slim down stubborn areas and sculpt a body that makes you feel amazing? Liposuction, or its sculpting-focused alternative HD Lipo, can tone the shoulders, upper arms, abs, thighs, and more. Our HD lipo specialist, Dr. Hector Salazar-Reyes, is specially trained in the MicroAire high-definition technique, which is designed to highlight the natural lines of your musculature. He's one of only a handful of plastic surgeons in the country with expertise in the advanced technique.
See liposuction and HD Lipo before-and-after photos.
Mommy Makeover
Cost range: $25,000+.
Recovery: Back to work in 2 weeks
It may be named for its post-pregnancy popularity, but the mommy makeover is definitely not just for moms. This multi-procedure surgery creates a dramatic transformation by addressing multiple areas of the body at once, typically with a combination of breast enhancement, liposuction, and a tummy tuck. It's the ultimate beach body transformation that allows you to recover from multiple procedures all at the same time.
See mommy makeover before-and-after photos.
Breast Augmentation
Cost range: $8,000 to $8,500.
Recovery: Back to work in 4 days
The desire to fill out a bikini is one of the biggest reasons women choose breast augmentation. In fact, it's the main reason actress Anna Faris opted for the surgery, she revealed to Women's Health. Whether you're looking to dramatically increase your breast size or just subtly enhance your curves, our board-certified plastic surgeons are here to help with a fully customized procedure.
See breast augmentation before-and-after photos.
Brazilian Butt Lift
Cost range: $18,000 to $22,000.
Recovery: Back to work in 3 weeks
Growing in popularity year after year, the Brazilian butt lift offers multiple beach body benefits at once. If you've ever wished you could transfer excess fat from your abdomen to your backside, this is the procedure you're looking for.
See Brazilian butt lift before-and-after photos.
CoolSculpting®
Cost range: $750+.
Recovery: Same day
Want to sculpt your shape without surgery? CoolSculpting reduces fat deposits by freezing fat cells, which kills them and causes the body to flush them out naturally. Upper arms, flanks, thighs, tummy, bra bulge— CoolSculpting can trim them all down.
See CoolSculpting before-and-after photos.
Cellfina®
Cost range: $4,500 to $6,000.
Recovery: Back to work in 2 days
Cellfina reduces the appearance of cellulite by disconnecting the bands of connective tissue that pull on the surface of the skin and create dimples. It's a great confidence booster for anyone feeling insecure about showing off their thighs in swimsuits or short summer dresses.
Spider Vein Treatment
Cost range: $225 to $900.
Recovery: Back to work in 4 days
Minimize pesky purple veins on the face, legs, and ankles with laser spider vein treatments. Laser pulses break these veins up and allow the body to resorb them, leaving behind clearer, more youthful-looking skin.
Not sure where to start? Your first step is a free consultation. You can either visit our office in person or connect with us via a virtual consultation to start your journey from the comfort of your own home.
Want to learn more about ways to achieve your best beach body with cosmetic plastic surgery in San Diego? Contact us online or call or text us at (858) 452-1981. We can't wait to hear from you!