Para ver la pagina en Español haga click aquí.
Moms in San Diego, let's get real. We love being parents, but pregnancy and childbirth are just not always nice to our bodies. Even if you take care of yourself, eating right and exercising religiously, "sagging" seems to be the status quo. Breasts that were full and curvy while you were expecting are now droopy and deflated. You might even have sagging skin on your belly that wasn't there before.
If you've decided you don't want to keep your badges of motherhood, then you might want to consider a mommy makeover. This customized cosmetic surgery is designed to help you get your body back, restoring your figure more to the way you remember it back in your pre-baby days. Since your mommy makeover is tailored to your needs, you decide what procedures you would like to have with the help of our board certified plastic surgeons.
Get the 5-star patient care you deserve at LJC
Our promises to you
What is included in a mommy makeover?
The great thing about your mommy makeover is that it's truly customized to your needs! Most patients concentrate on three areas: breasts, tummy, and hips. A growing number of women are also choosing feminine rejuvenation procedures as part of their mommy makeovers. The 4 top mommy makeover procedures are:
Non-Surgical Options
If you'd like to spruce up your post-baby body, but just can't take time for recovery right now, consider a non-surgical treatment. CoolSculpting can help you reduce stubborn fat on your belly, hips, and thighs without any downtime. And don't forget about your face! Botox & fillers can help rejuvenate your look after those sleepless nights, and laser treatments can banish a variety of blemishes for clear skin and a youthful glow.
Mommy makeover recovery
Most of our mommy makeover patients want to know when they'll be back on their feet and able to get back to their busy lives and parenting. Because mommy makeovers are customized, recovery time may vary. For instance, if your mommy makeover includes a tummy tuck, you may experience more downtime and have additional considerations to make.
Typically, our patients are able to return to their non-strenuous jobs and day-to-day to-dos (light housework, errands, etc.) within around two to three weeks, though it's normal to still need a bit of help lifting heavier options or chasing after your kids.
Since 1988, more than 32,000 patients have had safe, successful procedures at La Jolla Cosmetic Surgery Centre & Medical Spa.
Your La Jolla mommy makeover with breast augmentation
A lot of patients come to see us with the idea that they want to get their old bodies back – until they realize that a Mommy Makeover provides the perfect opportunity to get the breast size & shape they've always wanted. Our San Diego plastic surgeons will help you decide if a breast augmentation along with a lift is right for you. If you're on the fence, you can even come in for a free sizing & imaging session. You can try on implants of different sizes, and we'll take "before & after" photos for you to take home and share while you're considering your options.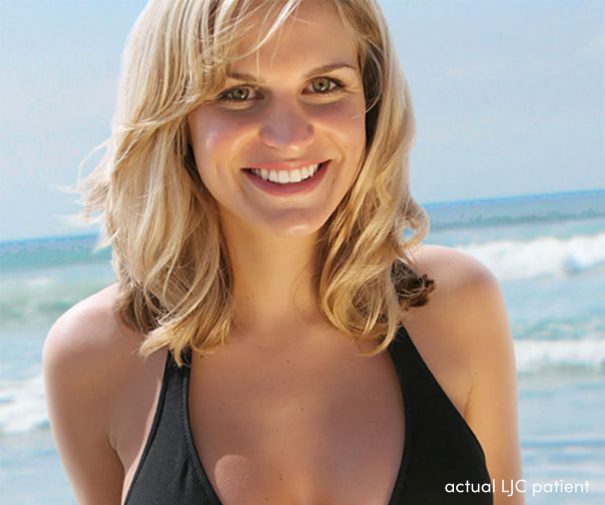 Please call or text La Jolla Cosmetic Surgery Centre & Medical Spa at (858) 452-1981 for more information on our cosmetic surgery procedures, including mommy makeover plastic surgery.