La Jolla Cosmetic Surgery Centre
9850 Genesee Ave Suite 130
La Jolla, CA 92037
Call: (858) 452-1981 Text: (858) 203-2944
Monday–Friday: 7:30 a.m.–6 p.m.

La Jolla Cosmetic Medical Spa - Carlsbad
7730 El Camino Real Suite C
Carlsbad, CA 92009
Call: (858) 788-7989 Text: (858) 203-2944
Monday–Friday: 8 a.m.–8 p.m.
Saturday: 9 a.m.–5 p.m.

La Jolla Cosmetic Medical Spa
9850 Genesee Ave # 380
La Jolla, CA 92037
Call: (858) 452-2066 Text: (858) 203-2944
Monday–Friday: 8:30 a.m.–5 p.m.

Diana Breister Ghosh, M.D.
Diana Breister Ghosh, M.D., San Diego Plastic Surgeon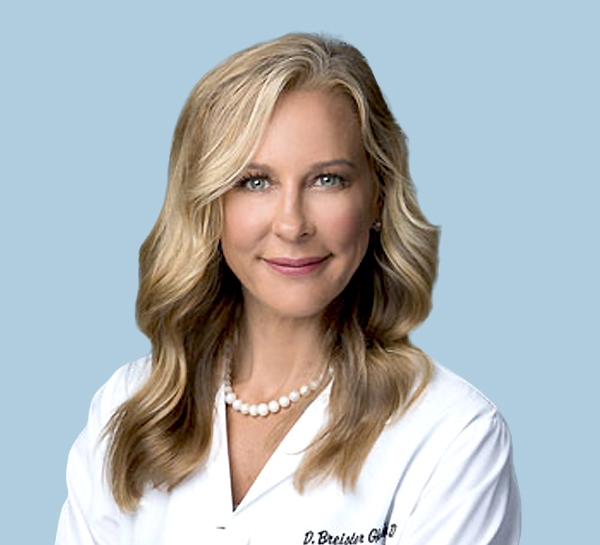 "I've always liked to work with my hands. I wanted a job in which I could see results...Transformations are gratifying. When you know what you're doing, and you're good at it, it flows very smoothly."
A board-certified plastic surgeon and San Diego native, Dr. Breister Ghosh has delivered exceptional results and care to local women and men for more than 20 years. She is known for the personal relationships she builds with her patients and her work to empower women through confidence-building plastic surgery.
Consultations offered in:
English
Surgical Results That Speak For Themselves
If you are considering making a change in your appearance, view Dr. Breister's private before and after gallery to learn more about different procedures, see realistic expectations, and get motivated to achieve your aesthetic goals.
View Dr. Breister's Private Before and After Gallery
From the time I was a child, I had a calling for medicine. I first considered a path in dermatology, but as I went into rotations during my training, I discovered my passion for surgery. I was drawn to aesthetics because of its artistic touch. As someone with a creative eye, I fell in love with the specialty and enjoy using my talents to help people look and feel better.
Though I'm skilled at several types of procedures, I'm most known for my excellence in performing face and neck lifts, eyelid surgery, feminine rejuvenation, breast augmentation, breast lift, and tummy tucks. With a specialization in loose skin removal, I'm passionate about helping people who have lost weight become less self-conscious about the loose skin left over.
Empowering Women One Surgery at a Time
Breast surgery is a big focus for me as a female plastic surgeon in La Jolla. This, along with my specialization in feminine rejuvenation, is motivated by my passion for women's empowerment.
Practicing in a field that centers around beauty and confidence for over 20 years, I have become fluent in understanding the general self-image of women. As a woman and a mother to a daughter in her early 20s, I'm highly knowledgeable of the pressures and expectations women are under from a young age.
"Women always put themselves in a role of helping others but rarely themselves. You deserve to do something that helps yourself. It's a very valuable form of self-care."

Dr. Diana Breister Ghosh
Training & Education
I received my undergraduate degree at the University of California San Diego before going on to earn my medical degree at New York Medical College. I then returned to California and completed my training at the University of Southern California. My talent was recognized early in my career, as I was honored with a position on the clinical faculty at the University of Southern California and the City of Hope Cancer Center straight out of school.
I moved back home to San Diego in 2002 and established my own successful practice. Being born and raised here, I know a lot about the people of San Diego and am ready to help in an environment I'm comfortable in.
Outside of the Office
When I'm not standing in an operating room for hours on end, you can find me keeping myself physically active, whether that's by running, spinning, or snow skiing.
Make Your Dream Real With Dr. Breister
To start your surgical journey with Dr. Breister Ghosh, please request a consultation  or call (858) 452-1981.