La Jolla Cosmetic Surgery Centre & Medical Spa
9850 Genesee Ave Suite 130
La Jolla, CA 92037
Call: (858) 452-1981 Text: (858) 203-2944
Monday–Friday: 7:30 a.m.–6 p.m.

La Jolla Cosmetic Medical Spa - Carlsbad
7730 El Camino Real Suite C
Carlsbad, CA 92009
Call: (858) 788-7989 Text: (858) 203-2944
Monday–Friday: 8 a.m.–8 p.m.
Saturday: 9 a.m.–5 p.m.

Why Real People Choose Cosmetic Procedures
You're Not Alone: Why Real People Choose Cosmetic Procedures
It takes courage to make your dream real with cosmetic options like plastic surgery and med spa procedures, but you're not alone. Our San Diego clientele at La Jolla Cosmetic Surgery Centre & Medical Spa includes people from all backgrounds who each share a common reason for visiting: They want to look and feel their very best. And we're here to help them do just that.
If you were around when LJCSC started out in 1988, chances are you might have dismissed cosmetic procedures as something for the rich and famous. Our culture is changing. Collectively, we're doing away with the idea that plastic surgery is a luxury, and recognizing that it is a real solution to help people feel better about themselves. It's no longer unusual for your neighbor, sister, or co-worker to talk about her breast augmentation, his facelift, or their BOTOX® Cosmetic injections.
Why Cosmetic Surgery & Med Spa Procedures? The Personal Reasons
These days, men and women who have cosmetic surgery or med spa treatments see it as a positive solution to a particular problem. While each person's goals are unique, generally they fall under the following categories:
They didn't think aging would do this much, so soon. Aging-related changes can negatively affect our professional and social relationships when others perceive us as tired, angry, or even unhealthy. For many who choose facial rejuvenation, it's about more than looking young—it's about looking as vibrant as they feel.
They want to change a specific feature. These people usually don't want to look perfect, but there's something about their appearance that's always bothered them. Some have never been happy with the bump on their nose, while others feel their breasts are too small. Cosmetic procedures help people stop fixating on their perceived flaws and feel more confident in their appearance.
They're tired of feeling limited in clothing choices. If you have sagging breasts, you know it's practically impossible to find a bra that fits comfortably. If excess skin on your body limits your clothing choices to loose, baggy, sweaters, you might realize that you don't want to live with this wardrobe indefinitely. Cosmetic surgery procedures like a breast lift or tummy tuck can be life-changing.
They just want their body back. Injury or prior surgery can leave visible scars. Even joyous events like pregnancy and childbirth can bring unwelcome changes to the body. A lot of people never dreamed they'd have a cosmetic procedure—until something happened to change that. Cosmetic surgery restores your body so you feel more like yourself again.
There are some things that can't be "life-styled" away. While dieting can help you lose fat, makeup can hide discoloration, and a strategic wardrobe can help you hide imperfections, these methods can't do anything to remove excess skin, correct pigmentation issues, or lift sagging parts. Cosmetic procedures make changes that aren't otherwise possible.
Your Safety Is
Our #1 Priority
Since 1988, more than 36,000 patients have had safe, successful procedures at La Jolla Cosmetic Surgery Centre & Medical Spa.
Why Cosmetic Surgery & Med Spa Procedures? The Practical Reasons
People today are much more likely to view cosmetic procedures as a safe, effective, and accessible solution. Advancements in both surgical and nonsurgical care and technology, and the likelihood that you know people who have undergone successful procedures, help to confirm our confidence in cosmetic treatments:
Surgery is a lot safer now when performed by an experienced, board-certified plastic surgeon. Less invasive techniques, higher standards for plastic surgeons, improved anesthesia, and better methods to prevent infection all have sharply reduced the risk of dangerous complications.
Nonsurgical options just keep getting better. Whether you want to slim a trouble area, get younger-looking skin, or add volume to your lips or cheeks, you have more choices than ever before if you're not ready for surgery.
Results these days can look really natural…and really good! Advancements in surgical techniques make it possible for a well-trained, skilled surgeon to make your new contours look like the work of Mother Nature. The same goes for facial injections, laser treatments, and nonsurgical body contouring options.
They see the positive changes in friends and family who've had cosmetic procedures. When you find out your friend's refreshed look and newfound confidence are the result of a cosmetic procedure, you might feel inclined to explore your options.
Information about plastic surgery is more readily available. It's so easy now to find basic info on cosmetic procedures, research surgeons, and view before-and-after pictures without setting foot in a surgeon's office. As a result, people are more aware of the different cosmetic options that wouldn't have been on their radar before.
It's more affordable for more people. Cosmetic surgery is an investment, for sure, but these days you have lots of helpful financing options that don't require a lifetime of savings. Plus, med spa treatments can be great options for those who want something less invasive and more affordable.
Ultimately, most people have realistic expectations about plastic surgery. They're happy being themselves, but a cosmetic improvement could make them just a bit happier. They're not trying to "fix" themselves, they just want to improve a part of themselves. And they know cosmetic procedures probably won't transform their life, but they will make it that much better.
Best in the Region,
Best in the World 2020
LJC is your best choice for plastic surgery and med spa treatments in Southern California and around the globe.
Get the Full Story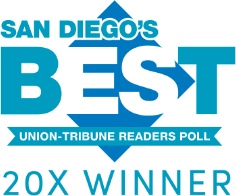 Your Dream Starts Today
A more confident you is just around the corner. Let's make your dream real together. To get started, request a free consultation online, or give us a call at (858) 452-1981. We can't wait to join you on your journey!