La Jolla Cosmetic Surgery Centre & Medical Spa
9850 Genesee Ave Suite #130
La Jolla, CA 92037
Call: (858) 452-1981 Text: (858) 203-2944
Monday–Friday: 7:30 a.m.–6 p.m.

Neck Liposuction & Contouring San Diego
You may be a candidate for neck liposuction if you have localized deposits of fat in the anterior part of the neck—under the chin. Neck contouring is intended to provide better contours to the neck and chin.
Additional procedures that may enhance your results are Facelift and Chin Augmentation.
At La Jolla Cosmetic Surgery Centre & Medical Spa, the procedure is done on an outpatient basis under sedation and local or general anesthesia. The procedure may require an incision under the chin, behind the ears, or both. Fat is suctioned or excised, muscles may be tightened, and skin may be removed—all depending on individual findings.
You will go home with chin and neck wrapped in dressings or in an elastic neck sling. Initial discomfort is easily controlled with oral medication. Facial shaving can be resumed in about one week or with doctor approval. Swelling and bruising disappear over approximately 2 weeks. The final result is evident in 1–3 months.
Best in the Region,
Best in the World 2020
LJC is your best choice for plastic surgery and med spa procedures in San Diego and around the globe.
Get the Full Story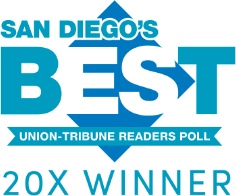 What Gets the Best Results: Neck Lift or Neck Lipo?
You may be wondering why some people have neck lifts and other have neck liposuction, or if there's even a difference. These two procedures share the goal to create a more refined, youthful neckline, but they actually address two very different problems:
When to consider a neck lift…
Best for "turkey neck" or "jowling"
Lifts neck muscles; removes excess skin
Typical patient has poor skin elasticity
Commonly paired with facelift surgery
When to consider neck liposuction…
Best for a full or "double chin"
Removes fat and reshapes chin area
Ideal patient has good skin elasticity
Typical patient is a younger adult
The specific risks and the suitability of neck contouring plastic surgery for a given individual can be determined only at the time of consultation. All surgical procedures have some degree of risk. Minor complications that do not affect the outcome occur occasionally. Major complications are rare.
Please call or text La Jolla Cosmetic in San Diego, at (858) 452-1981 for more information on cosmetic surgery procedures including neck contouring surgery.