La Jolla Cosmetic Surgery Centre
9850 Genesee Ave Suite 130
La Jolla, CA 92037
Call: (858) 452-1981 Text: (858) 203-2944
Monday–Friday: 7:30 a.m.–6 p.m.

La Jolla Cosmetic Medical Spa - Carlsbad
7730 El Camino Real Suite C
Carlsbad, CA 92009
Call: (858) 788-7989 Text: (858) 203-2944
Monday–Friday: 8 a.m.–8 p.m.
Saturday: 9 a.m.–5 p.m.

La Jolla Cosmetic Medical Spa
9850 Genesee Ave # 380
La Jolla, CA 92037
Call: (858) 452-2066 Text: (858) 203-2944
Monday–Friday: 8:30 a.m.–5 p.m.

How to Find the Right Provider for Your Procedure
You're smart. You know you should choose a board-certified plastic surgeon for your cosmetic or plastic surgery procedure—and San Diego has dozens. And in La Jolla and Carlsbad, there is no shortage of medical spas. This is great news, because it means that you can choose from plenty of experienced cosmetic specialists close to home.
However, having more choices can seem like a mixed blessing. And while we encourage you to consult with more than one provider before scheduling your procedure, it's unrealistic to expect anyone to consult with 50!
That's why we've devoted this page to helping you become a research rockstar. When you finish reading, you'll have the skills to save time and stay sane as you compare the best plastic surgeons and medical spa providers in San Diego and find the one who's right for you.
Plastic Surgeons Medical Spa Providers
Checking Out a Surgeon's Track Record Online
You've done a little browsing online and found some surgeons with beautiful before-and-after photos and awesome reviews. Now you're excited to schedule a consultation with them. But before you pick up the phone, you've got a little more homework to do. Your health and safety are more important than anything, so you must make sure any surgeon you're going to see has the right credentials and reputation. Here's how!
First Things First: Is This Surgeon Licensed To Practice Medicine?
Your plastic surgeon should be licensed by the state medical board where he or she practices. Most state medical boards have a free online search function that allows you to check the status of a physician's license.
To check your doctor's state licensing, visit Doc Info.
What you're looking for: Though the precise language will vary from state to state, you'll want to see a license status of "current" or "active."
I Want a Board-Certified Plastic Surgeon. How Can I Check?
If there's one organization name you memorize, let it be this: American Board of Plastic Surgery. This is the only certifying body acknowledged by the American Board of Medical Specialties, the gold standard for recognizing qualified physicians since 1933. There are other self-designated boards out there, but we recommend you choose an ABPS certified plastic surgeon for a number of reasons.
What you're looking for: Look for a status of "Certified by the American Board of Plastic Surgery."
Your Safety Is
Our #1 Priority
Since 1988, more than 36,000 patients have had safe, successful procedures at La Jolla Cosmetic Surgery Centre & Medical Spa.
What Does it Mean to Be a Real Plastic Surgeon®?
"Real Plastic Surgeons" is our trademarked term that captures the safety you can count on here at LJC:
Board certification: All of our surgeons are certified by the ABPS.
Hospital privileges: Our surgeons have hospital privileges at Scripps Memorial Hospital, and our on-site operating rooms are all certified by the American Association for the Accreditation of Ambulatory Surgical Facilities (AAAASF).
Professional societies: Many of our surgeons are members of either the American Society of Plastic Surgeons (ASPS) or the Aesthetic Society®, professional organizations that reflect peer approval and exceptional expertise.
Choosing a plastic surgeon is a breeze at LJC because each one of our surgeons is a Real Plastic Surgeon—someone you can trust to keep you safe as you work together to bring your dreams to life.
Next, I Want to Know About Any Complaints or Malpractice.
Each state has its own laws regarding medical practice; likewise, each state's medical board is subject to different regulations regarding licensing issues and public information.
For example, in California, complaints filed against physicians are not public record because they're considered allegations that need to be reviewed. However, you do have access to records of any disciplinary action taken in response to a complaint.
The Medical Board of California will note if any disciplinary action, including felony convictions, malpractice judgments/arbitration, and orders to suspend practice are on a physician's record. Here's a complete list. If you would like more details about a disciplinary action, you can request documentation through the Medical Board.
What you're looking for: a clean record, period. Keep in mind, state medical boards generally only publish disciplinary actions taken in that state, by that medical board. If you need to, inquire about other states where a surgeon has practiced.
All This is Great. How Else Can I Learn About a Surgeon?
Browse the Surgeon's Blog
Surgeons like to write about the procedures they specialize in. While a lot of posts about BOTOX® Cosmetic doesn't mean a surgeon isn't also a fine breast augmentation specialist, what they say about the procedure you want can help you learn more about a surgeon's dedication to the procedure, aesthetic vision, surgical approach, and personality.
Read Reviews from Past Patients
…and not just from the surgeon's website. Check out verified reviews from sites such as Real Patient Ratings® to make sure you're getting fair feedback from actual patients.
If You Want to Get (Really) Technical
…read your doctor's Curriculum Vitae. This will include more information on the surgeon's training and background, as well as research projects. If you have access to a university library, you can even read the clinical research papers your surgeon has completed.
Best in the Region,
Best in the World 2020
LJC is your best choice for plastic surgery and med spa treatments in Southern California and around the globe.
Get the Full Story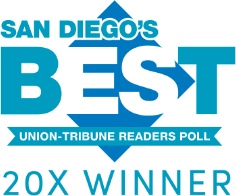 What About Nonsurgical Treatments? What Should I Look for in a Med Spa Provider?
The term "medical spa" encompasses lots of different treatments, some of which require different types of credentials:
For injectables, laser treatments, and body contouring: You'll want to find either a plastic surgeon, a registered nurse (RN), a certified physician assistant (PA-C), or a nurse practitioner (NP).
For facials and skin treatments: Trust any of the above providers or a licensed aesthetician to administer your facials and chemical peels.
The same steps for choosing a plastic surgeon apply to choosing a med spa provider, too. On top of checking credentials, reading reviews is an exceptional way to find out if a provider has a track record of keeping people safe and creating results they love.
Okay, Can I Call for That Consultation Now?
If your favorite candidates are licensed, board-certified, and check out to your satisfaction, then go ahead and schedule a personal consultation. This can be an exciting appointment, but we totally understand if you're a bit nervous. Check out our game plan for nailing your consultation.
Your Dream Starts Today
Ready to take the first step and meet with a San Diego board-certified plastic surgeon? Request your free consultation online or call (858) 452-1981 to get in touch. We can't wait to meet you!