La Jolla Cosmetic Surgery Centre & Medical Spa
9850 Genesee Ave Suite 130
La Jolla, CA 92037
Call: (858) 452-1981 Text: (858) 203-2944
Monday–Friday: 7:30 a.m.–6 p.m.

La Jolla Cosmetic Medical Spa - Carlsbad
7730 El Camino Real Suite C
Carlsbad, CA 92009
Call: (858) 788-7989 Text: (858) 203-2944
Monday–Friday: 8 a.m.–8 p.m.
Saturday: 9 a.m.–5 p.m.

Kiersten L. Riedler, M.D.
Kiersten L. Riedler, M.D., Plastic Surgeon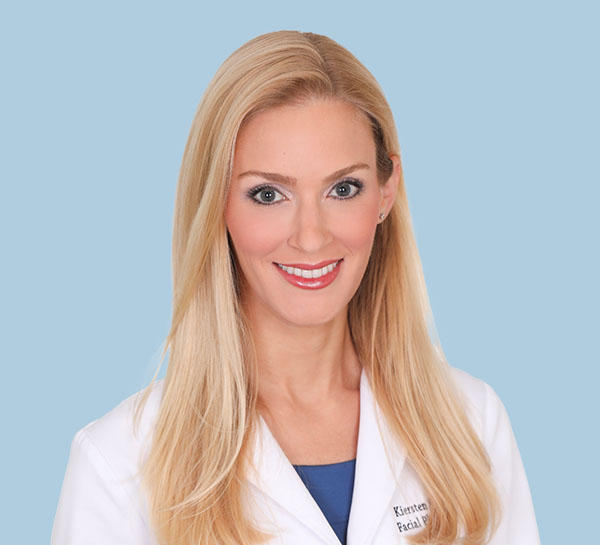 "Using my attention to detail and aesthetic eye to help my patients face the world with newfound confidence is so rewarding. When my patients tell me, "I look like myself, but better," I know I've succeeded in creating a beautiful and natural result."
A bilingual Harvard honors graduate and double board-certified facial plastic and reconstructive surgeon, San Diego native Dr. Riedler brings dedication to all she does here at La Jolla Cosmetic.
Consultations offered in:
English
,
Spanish
Dr. Kiersten Riedler has spent her life training to deliver the very best care as a facial plastic surgeon. She was born and raised in San Diego and graduated from Harvard University with honors in neurobiology and a foreign language citation in Spanish. Double board certified in otolaryngology – head and neck surgery by the American Board of Medical Specialties (ABMS) and in facial plastic and reconstructive surgery by the American Board of Facial Plastic Surgery, she offers exceptional expertise in bringing facial cosmetic dreams to life.
Dr. Riedler is passionate about creating natural-looking results and providing compassionate, supportive care. As a certified bilingual English-Spanish healthcare provider, she prioritizes communication, trust, and building relationships with everyone she treats. If you have been thinking about elevating or rejuvenating your look through facial plastic surgery, she can't wait to meet you and help make your vision a reality.
Training & Education
Dr. Riedler earned her medical degree from the University of Southern California Keck School of Medicine, where she also completed a 5-year residency program in otolaryngology – head and neck surgery. At USC, much of her training took place at LAC+USC Medical Center, also known as LA County Hospital, where she predominantly cared for underserved, Spanish-speaking patients.
She spent the summer after her first year of medical school in Guatemala as part of a Spanish immersion program. She is fluent in written and spoken Spanish and became a certified medical interpreter at LAC+USC Medical Center. After residency, she completed a one-year fellowship in facial plastic and reconstructive surgery under the direction of Dr. Jonathan Sykes, former president of the American Academy of Facial Plastic and Reconstructive Surgery.
Research & Publications
As part of her dedication to advancing the field of plastic surgery, Dr. Riedler has published multiple articles on subjects such as facelift surgery, rhinoplasty, and injectable dermal fillers. She has presented at multiple industry symposiums and meetings about various facial cosmetic topics, including improving filler placement techniques, reducing swelling after rhinoplasty, using micro-injections of BOTOX® Cosmetic in the lower face and neck, and much more.
Memberships
American Academy of Facial Plastic and Reconstructive Surgery
American Academy of Otolaryngology – Head and Neck Surgery
American College of Surgeons
American Medical Association
California Medical Association
San Diego County Medical Association
The Triological Society
Outside of the Office
When she's not helping people like you look and feel their best, Dr. Riedler can be found baking, cooking, cycling, surfing, and spending time on the beach. She also has a heart for music, having served as first violinist of The Harvard Pops Orchestra and a member of the Harvard TAPS Dance Company.
Make Your Dream Real with Dr. Riedler
If you would like to meet with Dr. Riedler in the San Diego area to discuss your facial plastic surgery options at La Jolla Cosmetic, please request a consultation online or call (858) 452-1981.