San Diego Plastic Surgery Specials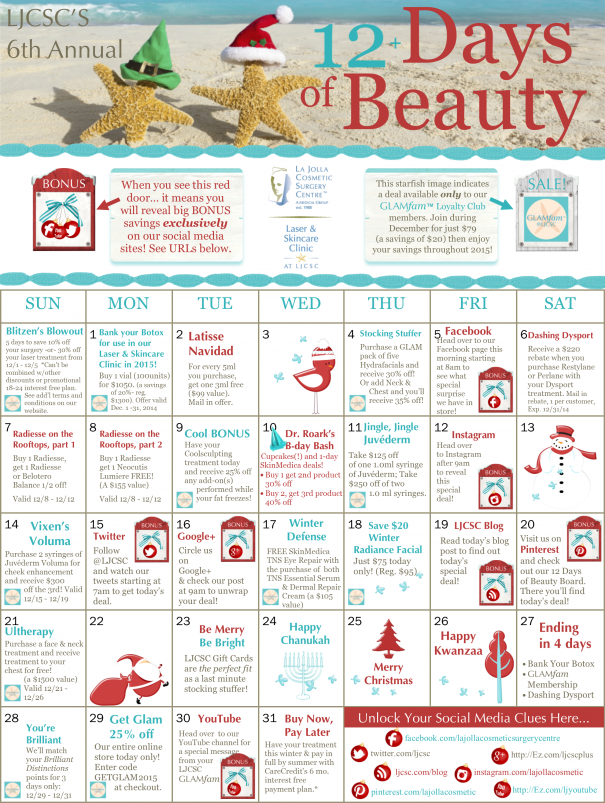 Entire Month of December Deals:
Join GLAMfam during the month of December for just $79 (reg. $99 – Save $20) GLAMfam
Bank Your Botox: Buy 1 vial (100 units) for $1050 (a savings of 20% – reg. $1300). Offer valid Dec. 1 – 31, 2014 GLAMfam
Week 1 – Weeklong Deal – December 1 – 5, 2014:
Blitzen's Blowout: 5 days to save 10% off your surgery
-or-
30% off your laser treatment from 12/1 – 12/5*
December 2nd – Latisse Navidad: For every 5ml you purchase, get one 3ml free ($99 value). Mail in offer.
December 4th – Stocking Stuffer: Purchase a GLAM pack of five HydraFacials and receive 30% off! Or add Neck & Chest and you'll receive 35% off!
December 5th – Head over to our Facebook page this morning starting at 8am to see what special surprise we have in store!
December 6th – Dashing Dysport: Receive a $220 rebate when you purchase Restylane or Perlane with your Dysport treatment. Mail in rebate, 1 per customer. Expires 12/31/14
Week 2 – Weeklong Deal – December 8 – 12, 2014:
Radiesse on the Rooftops, Part 1: Buy 1 Radiesse, get 1 Radiesse or Belotero Balance 1/2 off! Valid 12/8/14 – 12/12/14
Radiesse on the Rooftops, Part 2: Buy 1 Radiesse, get 1 Neocutis Lumiere FREE! (A $155 value) Valid 12/8/14 – 12/12/14
December 9th – Cool Bonus: Have your Coolsculpting treatment today and receive 25% off any add-ons performed while your fat freezes! GLAMfam
December 10th – Dr. Roark's Birthday Bash – Cupcakes and 1 day SkinMedica Deals.
Buy 1 product, get 2nd product 30% off
Buy 2 products, get 3rd product 40% off
December 11th – Jingle, Jingle Juvéderm: Take $125 off of one 1.0 ml syringe of Juvéderm; Take $250 off of two 1.0 ml syringes.
December 12th – Head over to Instagram after 9am to reveal this special deal. http://instagram.com/ljcsc
Week 3 – Weeklong Deal – December 15 – 19, 2014:
Vixen's Voluma: Purchase 2 syringes of Juvéderm Voluma for cheek enhancement and receive $300 off the 3rd! Valid 12/15/14 – 12/19/14
December 15th – Follow @LJCSC on Twitter and watch our tweets starting at 7am to get today's deal. Click here: https://twitter.com/ljcsc
December 16th – Circle us on Google+ and check our post at 9am to unwrap your deal!
https://plus.google.com/+LaJollaCosmeticSurgeryCentre/posts
December 17th – Winter Defense: FREE SkinMedica TNS Eye Repair with the purchase of both TNS Essential Serum & Dermal Repair Cream (a $105 value)
December 18th – Save $20 Winter Radiance Facial: Just $75 today only! (Reg. $95)
December 19th – Read today's blog post to find out about today's special deal.
http://www.ljcsc.com/plastic-surgery-center/blog/
December 20th – Visit us on Pinterest and check out our 12 Days of Beauty Board. There you will find today's deal.
http://www.pinterest.com/lajollacosmetic/12-days-of-beauty-deals-2014/
Week 4 – Weeklong Deal – December 21 – 26, 2014:
Ultherapy: Purchase a face and next treatment and receive treatment to your chest for free! (A $1500 value) Valid 12/21/14 – 12/26/14
December 23rd – Be Merry. Be Bright. LJCSC Gift cards are the perfect fit and a great last minute stocking stuffer!
December 27th – Ending in 4 Days: Bank Your Botox, GlamFam Membership, Dashing Dysport
Week 5 – 3 Days Only – December 29 – 31, 2014:
You're Brilliant: We'll match your Brilliant Distinctions points for 3 days only! Valid 12/29/14 – 12/31/14
December 29th – Savings on Entire LJCSC Store! Enter Code: GETGLAM2015 at checkout to save 25% off your entire order.
December 30th – Head over to our YouTube channel for a special message from your LJCSC GLAMfam. https://www.youtube.com/user/LaJollaCosmeticCentr/
December 31st – Buy Now, Pay Later: Have your treatment this winter and pay in full by summer with CareCredit's 6 mo. interest free payment plan!
*Holiday Elves Fine Print: Each sale begins on the date listed on the calendar and ends when sold out. Items will not be sold before the listed day. Sales are limited to the item(s) listed for that day! So take advantage of the offers and shop, shop, shop! These specials are not valid with any other offers, deals, or discounts, and are not redeemable for cash. Some offers may be manufacturer rebates. Offers do not apply to past purchases or services already booked and/or performed. Some offers are for savings on medical treatments, so it is necessary to have a consultation with one of our plastic surgeons to determine if you are a candidate. Quantities are limited on each special. First come, first served. No back-orders. No rain checks or substitutions. Important notes for online orders: Must complete checkout to ensure item. Putting the item in your cart does not guarantee its availability. The purchase transaction is not complete until your information is received and verified. For this item to be taken out of our inventory, the checkout process must be completed. We are not responsible for any problems such as, but not limited to lost, interrupted, slow, or unavailable connection to our web site for any reason, or other technical problems that may inhibit participation. Standard shipping charges are waived for online orders over $75 (or feel free to stop buy and pick it up at our office!). If you have questions, feel free to call our office (800) 336-3996.
It's NEWvember at LJCSC!
NEW Zimmer ZWave!
Our latest addition is enhancing the following treatments:
Thermi RF™ – Reduces swelling and healing time
CoolSculpting™ – Increases fat reduction and maximizes results
Bonus! Zimmer ZWave is included in pricing for these treatments!
NEW $220 Filler Rebate!
Receive a $220 mail-in rebate when you combine Dysport® treatment with either Restylane® or Perlane® by 12/31/2014.
Limited supply, so hurry before they're gone!
NEW 6 Months Same as Cash!
Use GLAMfam for more savings! Now combine CareCredit's promotional interest free program with your GLAMfam preferred savings and pay in full next year!
---
Get up to $400 back from Sientra Breast Implants
Have your breast augmentation at LJCSC using Sientra silicone breast implants and you may be eligible to participate in the Sientra OASIS study to assess patients' long-term experience with their implants. Participants complete a series of online surveys and periodic office visits to earn back up to $400. Click here for more info»
---
Not a GLAMfam™ member yet? Join for only $99
Join our GLAMfam™ VIP Savings Club powered by RenewAdvantage today! One payment of $99 gets you 12 months of savings and exclusive deals on all services & products at LJCSC! Get started now >>
When you enroll in the GLAMfam Program, you'll receive instant savings on cosmetic surgery procedures with our plastic surgeons, laser and skincare treatments in our Laser & Skincare Clinic including CoolSculpting, Ultherapy, HydraFacial MD, SkinMedica Peels, and more. Plus, you'll earn points on all of your skin care purchases… all year long!*
Interested in learning more? Click here to order a brochure explaining this exciting program and benefits! Just put "GLAMfam Brochure" in your email subject line! Or visit our website.
Must be a GLAMfam™ Member to be eligible for specials. Sign up at ljcsc.com/glamfam
---
La Jolla Cosmetic Surgery Centre
9850 Genesee Ave – Suites 130 & 380
La Jolla, CA 92037
Click for Map & Directions