San Diego Plastic Surgery Specials
Thanks to You, We Won Two! September = Celebration Time! Check out all we have to offer: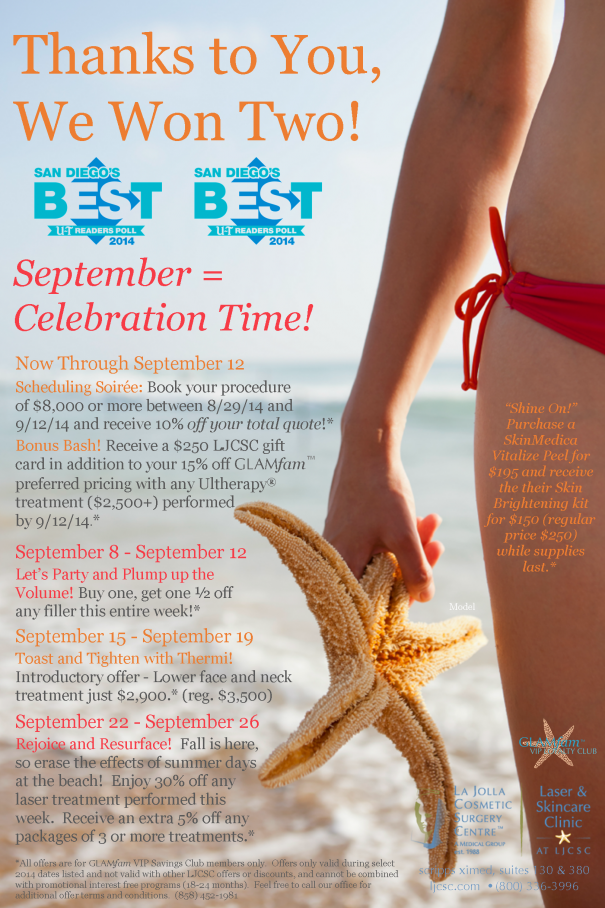 ---
Now Through September 12
Scheduling Soirée: Book your procedure of $8,000 or more between 8/29/14 and 9/12/14 and receive 10% off your total quote!*
Bonus Bash! Receive a $250 LJCSC gift card in addition to your 15% off GLAMfam™ preferred pricing with any Ultherapy® treatment ($2,500+) performed by 9/12/14.*
September 8 – September 12
Let's Party and Plump up the Volume!
Buy one, get one off any filler this entire week!*
September 15 – September 19
Toast and Tighten with Thermi!
Introductory offer – Lower face and neck treatment just $2,900.* (reg. $3,500)
September 22 – September 26
Rejoice and Resurface!
Fall is here, so erase the effects of summer days at the beach! Enjoy 30% off any laser treatment performed this week. Receive an extra 5% off any packages of 3 or more treatments.*
Shine On!
Purchase a SkinMedica Vitalize Peel for $195 and receive the their Skin Brightening kit for $150 (regular price $250) while supplies last.*
---
Get up to $400 back from Sientra Breast Implants
Have your breast augmentation at LJCSC using Sientra silicone breast implants and you may be eligible to participate in the Sientra OASIS study to assess patients' long-term experience with their implants. Participants complete a series of online surveys and periodic office visits to earn back up to $400. Click here for more info»
---
Not a GLAMfam™ member yet? Join for only $99
Join our GLAMfam™ VIP Savings Club powered by RenewAdvantage today! One payment of $99 gets you 12 months of savings and exclusive deals on all services & products at LJCSC! Get started now >>
When you enroll in the GLAMfam Program, you'll receive instant savings on cosmetic surgery procedures with our plastic surgeons, laser and skincare treatments in our Laser & Skincare Clinic including CoolSculpting, Ultherapy, HydraFacial MD, SkinMedica Peels, and more. Plus, you'll earn points on all of your skin care purchases… all year long!*
Interested in learning more? Click here to order a brochure explaining this exciting program and benefits! Just put "GLAMfam Brochure" in your email subject line! Or visit our website.
*Offer Details: All offers are for GLAMfam VIP Savings Club members only. Offers only valid during select 2014 dates listed and not valid with other LJCSC offers or discounts, and cannot be combined with promotional interest free programs (18-24 months). Feel free to call our office for additional offer terms and conditions. (858) 452-1981
CoolSculpting® and the CoolSculpting® logo are registered trademarks of ZELTIQ Aesthetics, Inc. The "snowflake" mark is a trademark of ZELTIQ Aesthetics, Inc. Copyright © 2011, ZELTIQ Aesthetics, Inc.
---
La Jolla Cosmetic Surgery Centre
9850 Genesee Ave – Suites 130 & 380
La Jolla, CA 92037
Click for Map & Directions