San Diego Plastic Surgery Specials
Check out our spooktacular savings and events for October: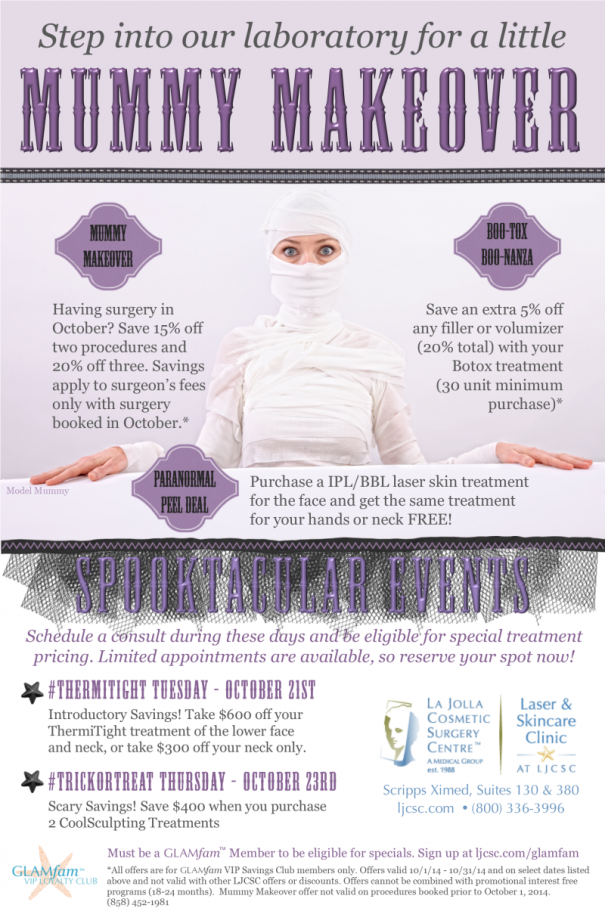 ---
Step into our Laboratory for a Little Mummy Makeover
Mummy Makeover
Having surgery in October? Save 15% off two procedures and 20% off three. Savings apply to surgeon's fees only with surgery booked in October.*
Boo-tox Boo-nanza
Save an extra 5% off any filler or volumizer (20% total) with your Botox treatment (30 unit minimum purchase)*
Paranormal Peel Deal
Purchase a IPL/BBL laser skin treatment for the face and get the same treatment for your hands or neck FREE!
Spooktacular Events
#ThermiTight Tuesday – October 21st
Introductory Savings! Take $600 off your ThermiTight treatment of the lower face and neck, or take $300 off your neck only.
#TrickorTreat Thursday – October 23rd
Scary Savings! Save $400 when you purchase 2 CoolSculpting Treatments.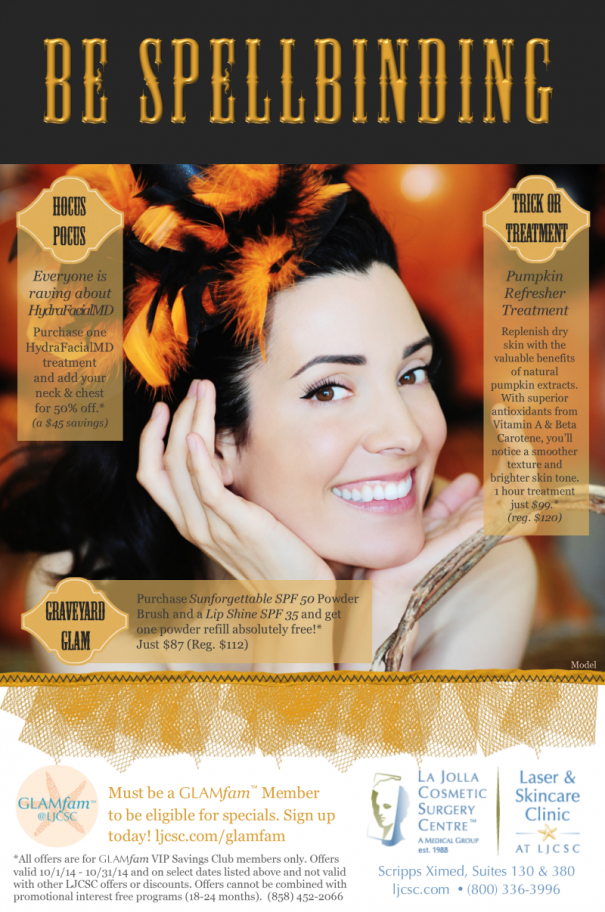 Be Spellbinding
Hocus Pocus
Everyone is raving about HydraFacialMD. Purchase one HydraFacialMD treatment and add your neck & chest for 50% off.* (a $45 savings)
Trick or Treatment
Pumpkin Refresher Treatment. Replenish dry skin with the valuable benefits of natural pumpkin extracts. With superior antioxidants from Vitamin A & Beta Carotene, you'll notice a smoother texture and brighter skin tone. 1 hour treatment just $99.* (Reg. $120)
Graveyard Glam
Purchase Sunforgettable SPF 50  Powder Brush and a Lip Shine SPF 35 and get one powder refill absolutely free!* Just $87 (Reg. $112)
---
Get up to $400 back from Sientra Breast Implants
Have your breast augmentation at LJCSC using Sientra silicone breast implants and you may be eligible to participate in the Sientra OASIS study to assess patients' long-term experience with their implants. Participants complete a series of online surveys and periodic office visits to earn back up to $400. Click here for more info»
---
Not a GLAMfam™ member yet? Join for only $99
Join our GLAMfam™ VIP Savings Club powered by RenewAdvantage today! One payment of $99 gets you 12 months of savings and exclusive deals on all services & products at LJCSC! Get started now >>
When you enroll in the GLAMfam Program, you'll receive instant savings on cosmetic surgery procedures with our plastic surgeons, laser and skincare treatments in our Laser & Skincare Clinic including CoolSculpting, Ultherapy, HydraFacial MD, SkinMedica Peels, and more. Plus, you'll earn points on all of your skin care purchases… all year long!*
Interested in learning more? Click here to order a brochure explaining this exciting program and benefits! Just put "GLAMfam Brochure" in your email subject line! Or visit our website.
Must be a GLAMfam™ Member to be eligible for specials. Sign up at ljcsc.com/glamfam
*Offer Details: All offers are for GLAMfam VIP Savings Club members only. Offers valid 10/1/14 – 10/31/14 and on select dates listed above and not valid with other LJCSC offers or discounts. Offers cannot be combined with promotional interest free programs (18-24 months). Mummy Makeover offer not valid on procedures booked prior to October 1, 2014.  Feel free to call our office for additional offer terms and conditions. (858) 452-1981
---
La Jolla Cosmetic Surgery Centre
9850 Genesee Ave – Suites 130 & 380
La Jolla, CA 92037
Click for Map & Directions