Most of us don't think about how closely our hair is tied to our identity—until we start losing it. While extremely common, hair loss can have a significant impact on a person's appearance and self-confidence. And, whether we like it or not, hair loss can cause others to perceive us as older or less healthy than we actually are.
Now here's the good news: you can restore your own natural hair without major surgery
SmartGraft® is the latest technology in FUE (follicular unit extraction) hair transplants and is available at La Jolla Cosmetic Surgery Centre & Medical Spa. It's designed to quickly and precisely replenish hair in thinning or balding areas without a scalpel incision or resulting linear scar. In just one session, using local anesthesia, our hair transplant team can relocate healthy hair follicles from the back of your head to restore a natural hair pattern to thinning areas.
The many benefits of SmartGraft® include:
Little-to-no downtime. Most patients return to work within a couple of days with very few activity restrictions. You can even wash your hair after just a day or two!
Virtually invisible scarring. Unlike older hair transplant procedures, which remove a strip of skin from the back of the head, SmartGraft® extracts individual follicular units through tiny, pin-prick incisions. This dramatically reduces procedure risk and recovery time, plus means you can wear your hair however you want after SmartGraft® without worrying about hiding a long scar.
Enhanced hair transplant survival. SmartGraft® protects follicles from start to finish, so you get the long-lasting results you want. Gentle suction avoids follicle damage during extraction. A protected chamber, equipped with a special cooling system, keeps the harvested follicles cool and moist—ideal conditions for survival while they await transplant. No other hair transplant technology uses this unique cooling system.
A totally natural, low maintenance look. With SmartGraft®, you can treat your hair transplants just like your natural hair—because it is your natural hair. Cut, color, and style as you like, and never worry about your hair when you go swimming or during intimate encounters.
Excellent for men and women. SmartGraft® is completely personalized to your needs. Whether you are suffering male pattern baldness or overall hair thinning (more typical in women), we can help you restore a naturally fuller head of hair.
Why choose the LJC Hair Transplantation Center?
A lot of doctors offer hair transplants, but for the very best care, you need a specialist who understands the needs of hair transplant patients and has the skill and expertise to deliver lasting, natural results—and at La Jolla Cosmetic, that specialist is board-certified plastic surgeon Dr. Hector Salazar-Reyes. Hair restoration patients are among his favorite to work with, as they experience some of the most dramatic improvements in their self-confidence and outlook on life after their procedures.
Dr. Salazar and his staff at LJC were very personable and helpful with answering all my questions and explaining the process from start to finish. They explained how to better care for my new hair to maximize the best results. I would definitely recommend anyone to this practice who is looking for the best.
Actual LJC Hair Transplant Patient
In addition to 17+ years of medical and surgical training, Dr. Salazar trained side-by-side in Houston with Dr. Alfonso Barrera, one of the world's most highly respected hair transplantation experts, where he mastered the latest technologies and aesthetic principles of hair restoration for men and women, including SmartGraft FUE to treat male and female pattern baldness, receding hairline, balding at the crown, and thinning temples.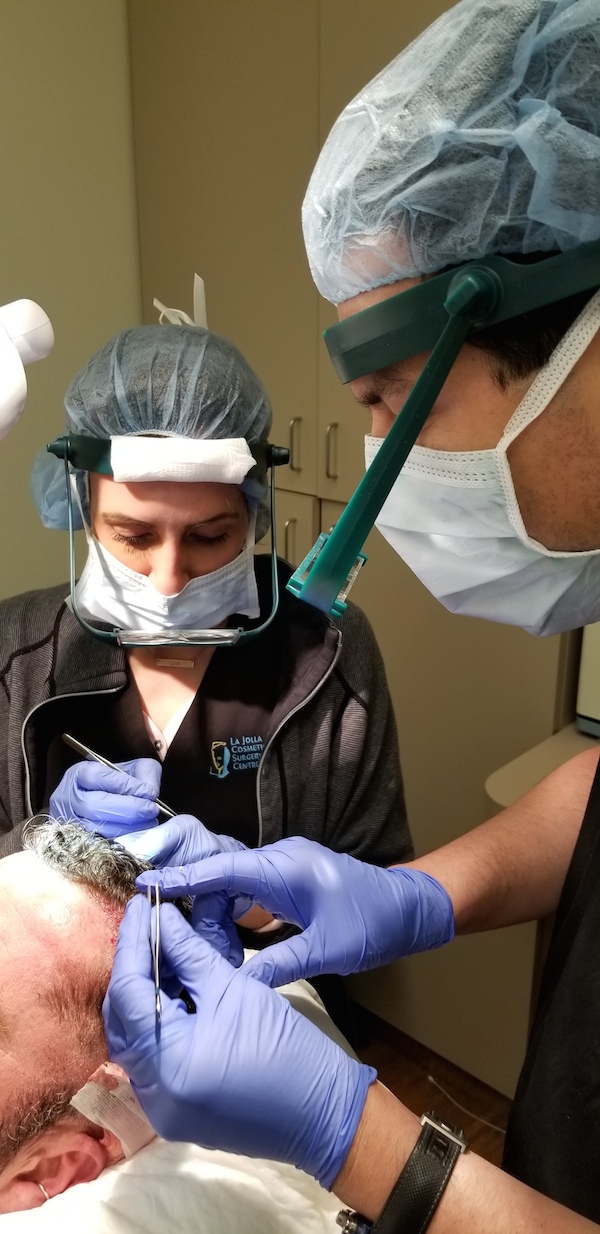 Dr. Salazar personally designs and directs every hair restoration treatment plan. He and our highly trained hair transplant technicians work seamlessly together to ensure each patient completes their SmartGraft procedure with the confidence that they are only a few months away from a fuller, natural head of hair!
Get the 5-star patient care you deserve at LJC
Our promises to you
For more information or to schedule a free SmartGraft® consultation with Dr. Salazar, call or text La Jolla Cosmetic at (858) 452-1981 or contact us online. Our San Diego location is conveniently located near the 5 and 805 freeways.