So you've decided to consider breast augmentation. We can help! We have information, before and after pictures, special sizing programs, financing options, and real patient stories to help you decide what is best for you as you consider breast enlargement. We're committed to educating our breast augmentation patients and helping them make informed choices about breast implant size, type, and shape. We believe that interaction and communication make for the best surgical experiences!
Click to see more Breast Augmentation Before & After Photos
Why is LJCSC the best place to get breast implants in San Diego?
At La Jolla Cosmetic Surgery Centre, we've got experience you can count on. Our board certified plastic surgeons perform more breast augmentations than virtually than any other plastic surgery practice in the United States. We are the largest private practice user of Mentor breast implants in the country and Mentor is the largest breast implant maker, with statistically proven breast implants. Breast augmentation is the number one plastic surgery procedure nationally and it is also the number one procedure in our practice. We offer free consults.
How much does breast augmentation cost in the San Diego area?
We provide "ballpark" surgical prices that are only fee estimates* on our web site; actual plastic surgery fees depend on the operating time involved, surgical technique used, and type of anesthesia. You will be given an individual fee quote after your personal consultation that is good for six months.
Breast Augmentation with Saline Implants: $5,675
Breast Augmentation with Silicone Implants: $6,490
Breast augmentation prices include:
Surgeon's fee (Board Certified Plastic Surgeon)
All visits before and after surgery
Operating room time and supplies (AAAASF certified center)
Anesthesia (Board Certified Physician Anesthesiologist)
Saline or silicone gel breast implants  (your choice)
Bra
Free Breast Augmentation Consultation

Choosing your new breast size is important and personal. To help you, we've created a special program called the Curves Connection. Your breast augmentation consultation includes a unique sizing appointment. We help you try on new sizes until you find the look you like. Once you are happy, we take "before and after" photos of your new look and give you a copy to take home so that you can share your dream with your friends and family.
Breast augmentation patients are statistically happy with their decision with 95% patient satisfaction reported nationally. Women who've had breast augmentation talk about the positive changes in their life—self-confidence, more positive self image, and the freedom to wear clothing they had avoided in the past.
Understanding Breast Augmentation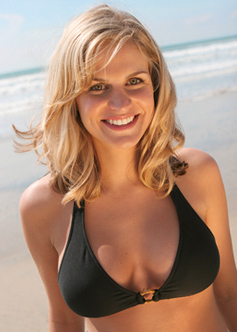 Breast augmentation is intended to give you larger and shapelier breasts. If you have one breast that is noticeably smaller than the other, breast enlargement surgery can usually equalize the size and come close to matching the shape. An additional procedure that would enhance the result of a breast augmentation is a breast lift, if the breasts are saggy in addition to being small.
Breast augmentation is a surprisingly straightforward and safe surgery in the hands of experienced surgeons. At La Jolla Cosmetic Surgery Centre, we perform breast augmentations on an outpatient basis using general anesthesia. Newer pain control techniques reduce post operative discomfort to very acceptable levels.
Breast augmentation incisions may be in the breast crease, around the nipple, or in the armpit. A saline or silicone implant is inserted under the breast tissue, or under the breast tissue and the underlying muscle.
Breast Augmentation Patient Stories
Meet La Jolla Cosmetic Surgery Centre Patient "Kathryn"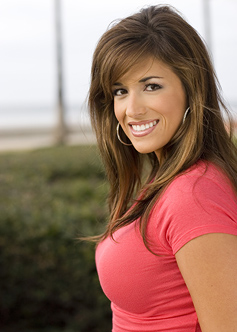 Kathryn, 18 years old, has lived in San Diego most of her life. She enjoys being out in the sun, singing, dancing, and shopping. She chose to have a breast augmentation to even out her body proportions and to make her breasts more symmetrical.
This is what she had to say: "I have numerous friends who have had surgery at LJCSC, and I loved their results and their comments regarding their experience they had at LJCSC. It has made me feel more comfortable in and out of clothes, my self esteem has gone up and has given me the confidence most teens lack now a days in our society to love my body."
Meet La Jolla Cosmetic Surgery Centre Patient "Jordan"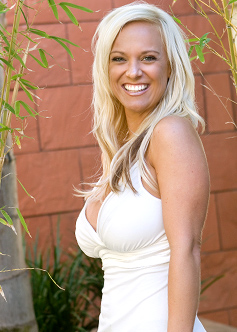 Jordan, 31 years old, was born and raised in San Diego. She is happily married with 3 children. She made the decision to have plastic surgery because she had a lot of excess skin after her last daughter from breastfeeding.
In Jordan's spare time, she enjoys going to the river and spending time with her friends and family.
"I spend my summers at the river. I am more confident- now I don't have to spend months looking for a bikini top to make me look decent."
"Dr. Brahme was so warm and welcoming. I wanted a conservative doctor who listened to me and truly cared about my results. I am so thrilled with my results. Dr. Brahme and his staff made this a wonderful memorable experience. Thank you so much!"
Learn more about Breast Augmentation: