You may be a candidate for a facelift (rhytidectomy) in San Diego if you have experienced a loss of skin elasticity and muscle tone of the face and neck. A facelift may also be desirable if you have the appearance of jowls and deep creases between the base of the nose and the corners of the mouth, or developed facial and neck wrinkles. If you believe you lack youthful chin and neck contours and/or feel you have a tired facial appearance, a facelift may be the answer. A facelift is intended to give you a more rested and youthful contour to the face.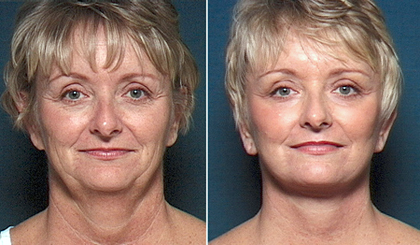 Facelift Before & After Pictures
A facelift can range from $7,000–$10,000 depending on whether you would benefit from a mini or standard. Apply for financing now!
You may desire a neck lift if you have sagging skin and folds in the frontal part of your neck, or if you have deposits of fat in the neck and under the chin. The neck lift procedure is intended to produce a more youthful appearing neck with a well-defined contour.
A combined standard facelift and neck lift can range from $12,000–$13,500.
Affordable payment plans available for as little as $111 per month!*
The Facelift & Necklift Procedure
Facelifts range in size from "mini" to "standard" depending on location and extent of skin laxity. The procedure is done on an outpatient basis under local anesthesia with sedation, or under general anesthesia. Incisions are made within the hairline (or along the hair margin) above the ear, extending down around the lobe and ending in or below the hairline behind the ear. The subcutaneous layers and neck muscles are tightened, the facial skin is re-draped and lifted, and the excess skin is removed.
Preoperative planning with your plastic surgeon will have determined how the surgery will be performed. Imaging will be performed at La Jolla Cosmetic Surgery Centre in order that you can actually "see" what the result would look like with more or less correction.
Please call La Jolla Cosmetic Surgery Centre, San Diego, at (858) 452-1981 for more information on cosmetic surgery procedures including facelift surgery.
Note
The specific risks and the suitability of facelift surgery for a given individual can be determined only at the time of consultation. All surgical procedures have some degree of risk. Minor complications that do not affect the outcome occur occasionally. Major complications are rare. The information on this web site is not a substitute for a consultation. Call us at (858) 452-1981 or contact us online to schedule your complimentary personal consultation with one of our San Diego plastic surgeons.